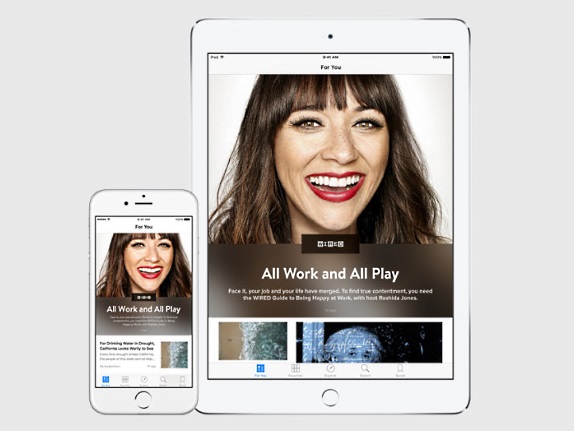 At the WWDC 2015, Apple also announced an all-new News app alongside previewing the next version of its mobile operating system, iOS 9. The News app essentially collects all the stories in one place in a customized newsfeed called 'For You'. It will ship with iOS 9 this fall and will be first available in the US, UK, and Australia
The News app is powered by the new custom-designed Apple News Format, which is a digital publishing format that allows publishers to create beautiful layouts, something similar to Flipboard interface. Apple News Format can also automatically customize the layout for each screen size, whether it is a 4-inch iPhone 4s or big screen iPhone 6 or an iPad.
The content can include photos and galleries, audio, video, maps and rich interactions such as parallax and animation, says company. Readers will be able to see the publisher channels and topics they're following in Favorites. To discover new content, the app includes an Explore feature that provides suggestions based on what user have already read.
For the News app launch, Apple has so far partnered with nearly 20 publishers representing more than 50 titles, including ESPN, The New York Times, Hearst, Time Inc., CNN, Bloomberg, and more. The New York Times will push 30 free articles everyday, while partners like ESPN will bring videoclips and infographics.
"News seamlessly delivers the articles you want to read in a beautiful and uncluttered format, while respecting your privacy, because Apple doesn't share your personal data," said Eddy Cue, Apple's Senior Vice President of Internet Software and Services. "We already have nearly 20 publishers representing more than 50 titles joining us, including Condé Nast, ESPN, The New York Times, Hearst, Time Inc., CNN and Bloomberg."