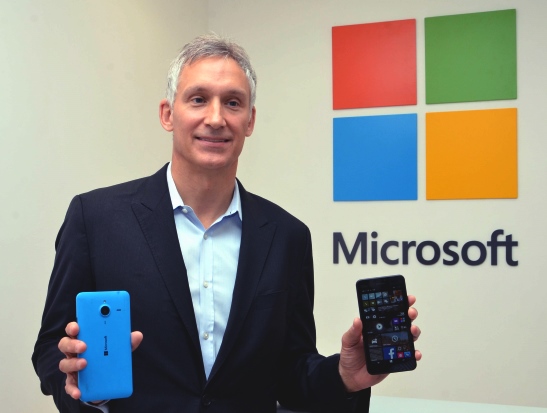 On Tuesday, the world's first rebranded Microsoft Priority Reseller Store was inaugurated in India by Chris Weber (Corporate VP, Mobile Device Sales at Microsoft), and we got hold of the man for more information about this transition and his/ Microsoft's thoughts on the overall boom in smartphone/ Android market.
First up, about the Microsoft stores, the transition will be made across a total of 8,872 Nokia Priority stores and 119 Nokia Care centres in India itself, which according to Chris Weber should get completed by the end of June, "It's the first one we have done globally, anywhere in the world, happened here in India, that's one of almost 9,000 stores that we will migrate to the Microsoft brand between now and end of June."
FoneArena: So why it took you so long to change the store branding, and why now, when you could have done this last year when you rebranded Nokia Lumia to Microsoft Lumia?
Chris: I think there is number of things, we actually are moving quite quickly on these things. So first thing is there is a brand that called here Nokia, just to make the switch there, we wanted to make sure that we had all the assets together make sure it was done right and that there was a promise in terms of the value around that brand to switch to Microsoft, not just about changing sign or something, thats the easy part, again making sure we have a consistent experience from online to offline and there is something that holds up to that brand and promise, so those were the things that were being done. Quite frankly though, if you look at it from my prospective, we are moving wicked fast on that and then you look at it, now that we have made that first one we will do almost 9,000 stores right now in the end of June.
FoneArena: So what are you expecting out of this Microsoft rebranding for the stores, how is that going to translate in to numbers?
Chris: You know.. I won't get it in to waste by saying that, hey we think it's going to go uplift by 'X' percentage but have you? Our whole goal with this is to showcase the Microsoft experience, the broader Microsoft experience, as a fact the high-end stores like these we launched today, it has phone, it has PC, tablet, even Xbox in there, so showing the experiences. The goal overall is to able to showcase that we have a strong value proposition, showing that value proposition, we believe we get more usage of the Microsoft products, so that those business results you talk about happen, but the first thing is to make sure that we can bring that experience to the life of retail and get more usage on the products.
FoneArena: What do you think about the online flash sale model, that everyone is adopting these days?
Chris: Our view is, a brand is sustainable, so our goal is building a brand, I don't think what's happening with those things is brand building, so I think our strategy is different than that and in terms of brand, it sustains.. and the whole thing is making sure we have a brand promise that holds up to consumers and make it sure it's consistent across all channels.
FoneArena: So Microsoft is not considering that at all?
Chris: Again.. as I say.. we continue to evaluate, but the end of the day our strategy is that we want to build a brand and have brand promise that resonate with consumers, as the other day I think the only sustainable in this consumer goods market is brand.
On a different note, we tried to get some information for our readers about the successor device to Nokia Lumia 1020 and the popular Nokia PureView camera technology.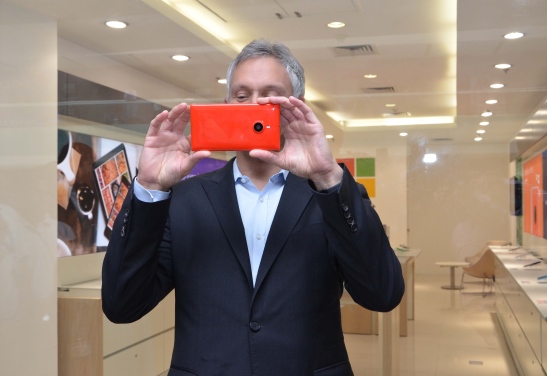 FoneArena: So what about the Nokia PureView technology and is there any successor to Nokia Lumia 1020 in making?
Chris: What I would say without getting in to details is our imaging has been a strength of ours, whether it's a 1020 or other devices, you will continue to see imaging be an area of innovation and very excited about what we are doing, particularly as we launch high-end phones, we will have some phenomenal imaging capabilities. The other thing that I think there is a real opportunity is to make sure that imaging experience crosses from phones to tablets to PC, as we are a part of Microsoft, you will see a much more consistent photo experience or imaging experience across devices, so we are quite excited about that. So hopefully that's enough to entice your readers to tune in."
Though Chris didn't give a straight answer to the Lumia 1020 successor, he did confirm that Microsoft will launch a flagship device in 2015, "Within the calendar year is the intent is to launch in the flagship premium devices. We are really excited about that."
Talking about the other Android players taking away the market share, he pointed out that Microsoft is happy with its progress and wants to do more in terms of more low to mid-range devices along with high-end innovative device to make the mark.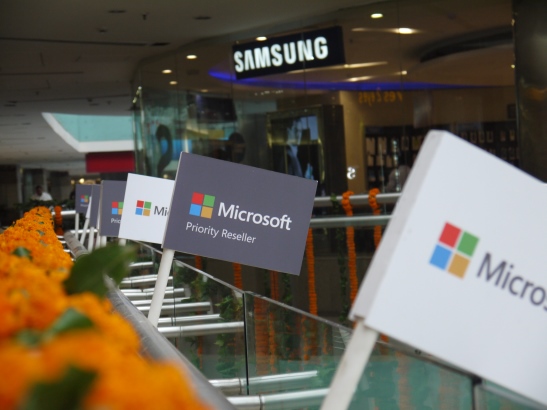 "Well first of all I feel very good with our progress, this doesn't mean that we don't have more work to do and certainly Android is the largest player out there, so natural when you talk about some of these other brands, and that makes sense.. but that doesn't mean we are not making progress, also doesn't mean we don't have more work to do, and there is multiple things on that front. We have to keep pushing price points lower, that is the growth segment, so we will continue to look on how we can push price points lower, at the same time we need to re-enter the high-end to create the innovation, the noise the buzz."