Worldwide smartphone shipment reached 291.2 million units in Q1 2015, reporting a 9.2% decrease compared to previous quarter, according to latest research from TrendForce.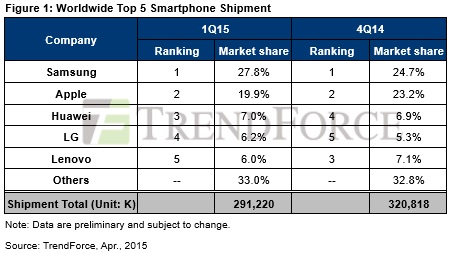 Samsung maintained the lead with more than 80 million units shipped with 27.8% of the market share. TrendForce estimates the shipments of these two flagship models will surpass 20M units in the second quarter. Apple came in second with 45 million units and 19.9% market share. Huawei is first among Chinese brands and takes third place in global ranking.  Huawei's smartphone shipments in the first quarter exceeded 20M units thanks to Ascend Mate 7. LG came in fourth with  first quarter shipments reached 18M units whereas its market share stated at 6.2% followed by Lenovo that shipped 17.5 million units with only 6% market share.
As per TrendForce's forecast, China's smartphone market will see visible recovery in the latter half of the second quarter at the earliest, and the shipments of Chinese smartphone brands will reach 122M units in total, or a 14.8% increase over their first quarter shipments. TrendForce's report also lists the top five smartphone makers in China in the first quarter: Huawei, Lenovo, Xiaomi, TCL, and Coolpad. Huawei stole the No. 1 spot in China from Lenovo.