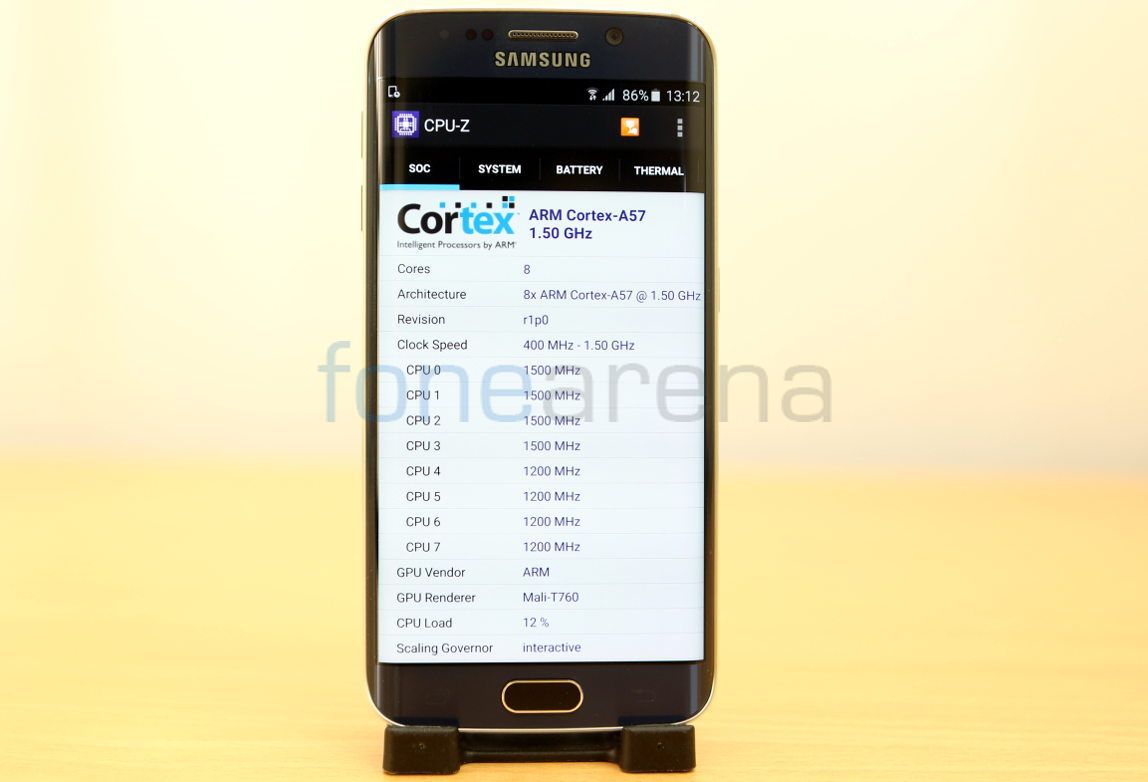 Samsung launched the Galaxy S6 Edge smartphone in India last month starting at Rs. 58,900. It went on sale today, and we unboxed it too earlier today. Now let us check out the benchmarks of the smartphone. The Galaxy S6 Edge is powered by a Octa-Core 14 nm Exynos 7420 SoC which has four ARM Cortex A57 CPUs clocked at 2.1 GHz and four ARM Cortex A53 CPUs clocked at 1.5GHz. It has 772 MHz Mali T760 MP8 GPU and 3GB RAM LPDDR4 RAM. The smartphone has a 5.1-inch Quad HD (2560×1440 pixels) Super AMOLED display and runs on Android 5.0.2 (Lollipop)
Quadrant Benchmark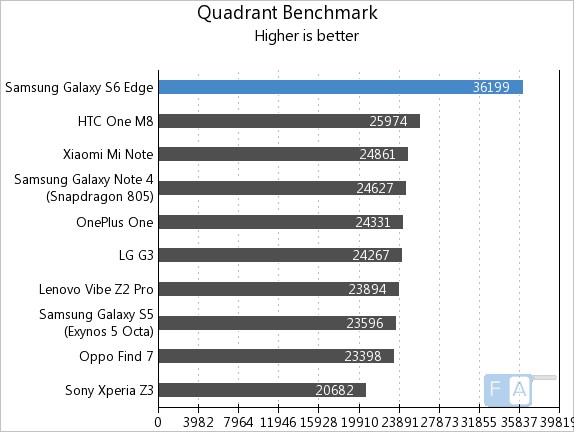 It scored 36199 points and tops the Quadrant Benchmark, better than all the other Android smartphones.
AnTuTu Benchmark 5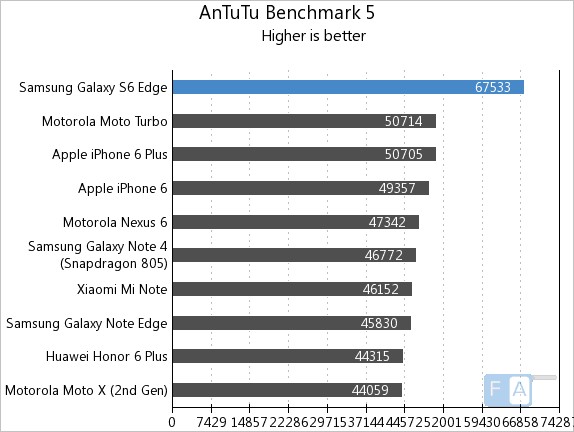 It tops the AnTuTu Benchmark 5 too by scoring 67533 points.
Vellamo 2.0 HTML5
It scored 2660 points in the Vellamo 2 HTML5 browsing benchmark.
Vellamo 2.0 Metal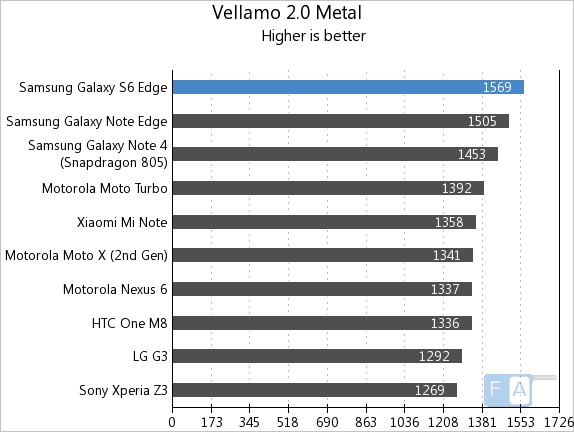 It tops the Vellamo 2 Metal CPU subsystem performance test by scoring 1569 points.
Linpack Single Thread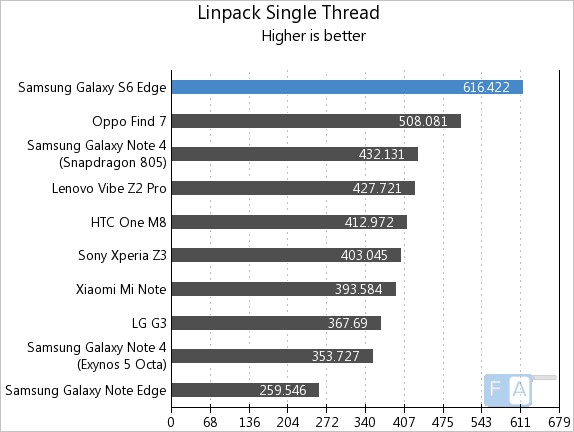 It tops the Linpack Single Thread benchmark by clocking 616.42 MFLOPS.
Linpack Multi-Thread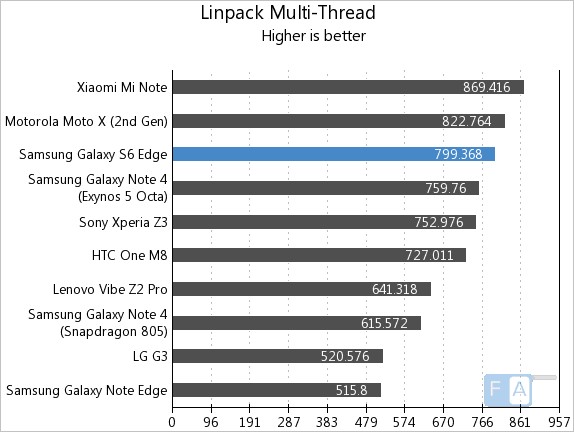 It clocked around 799.38 MFLOPS in Linpack Multi-Thread benchmark.
Geekbench 3 Single-Core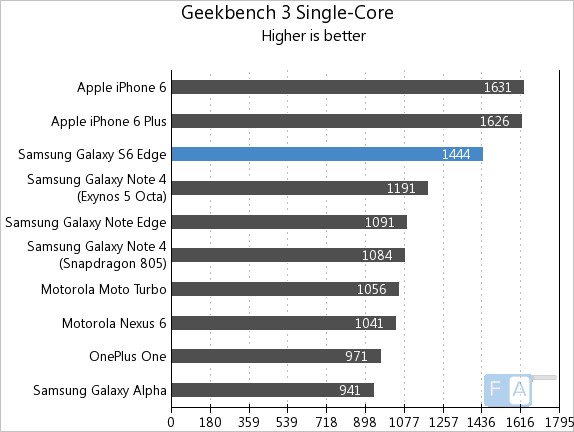 It scored 1444 points in the Geekbench 3 Single-Core benchmark, behind the iPhone 6 and 6 Plus.
Geekbench 3 Multi-Core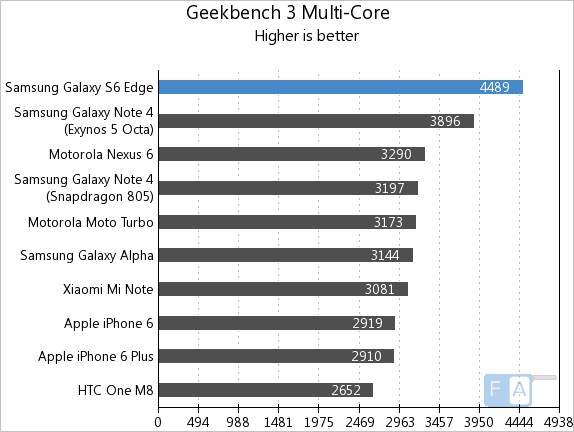 It topped the Geekbench 3 Multi-Core benchmark by scoring 4489 points.
NenaMark 2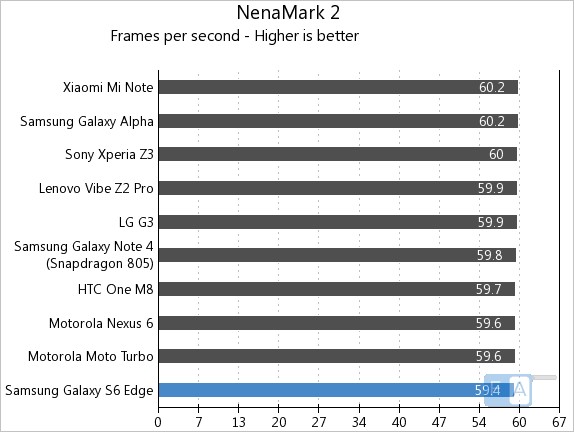 It managed to clock 59.4fps in the NenaMark 2 benchmark.
GFXBench 2.7 T-Rex (On screen)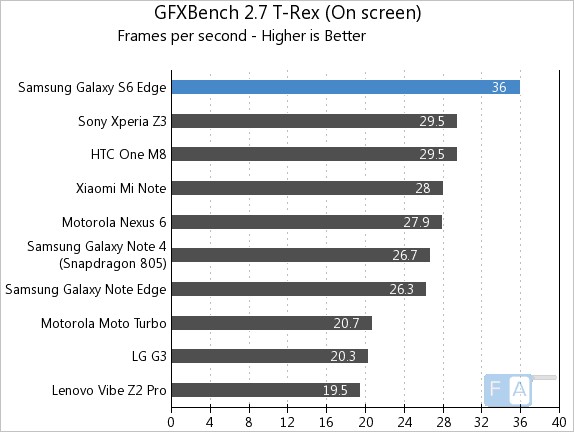 It clocked 36fps in the GFXBench 2.7 T-Rex OnScreen benchmark.
GFXBench 3.0 Manhattan (On screen)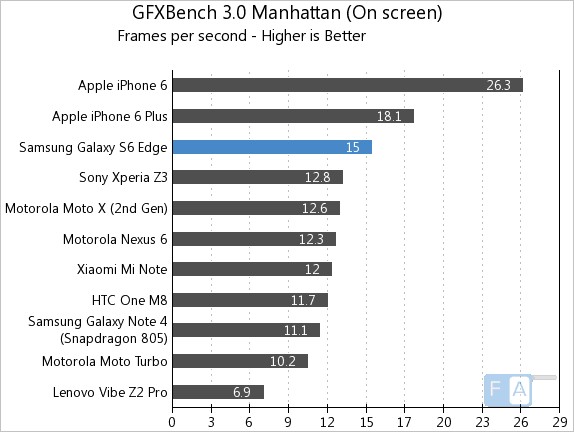 It clocked 15fp in the GFXBench 3.0 Manhattan OnScreen benchmark.
3DMark Ice Storm Unlimited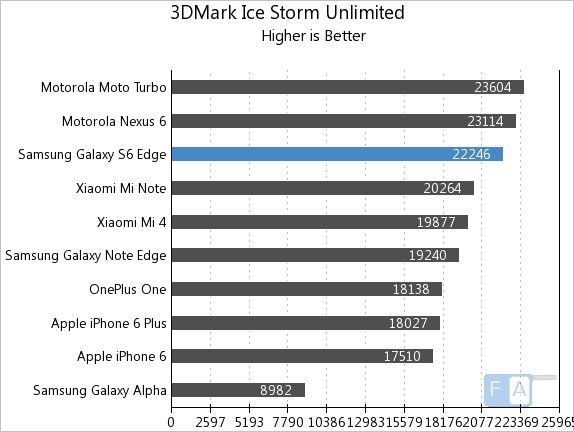 It scored 22246 points in the 3DMark Ice Storm Unlimited GPU benchmark.
Basemark X 1.0 HD (Onscreen)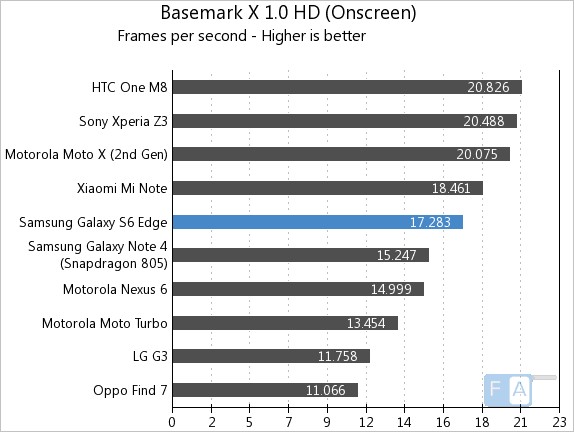 It clocked around 17.2fps in the Basemark X 1.0 OnScreen benchmark.
Basemark X 1.0 HD (Offscreen)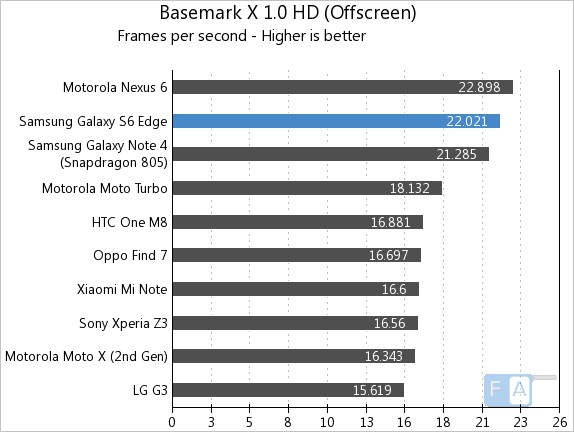 In the Basemark X 1.0 Offscreen benchmark it clocked around 22.02fps.
Basemark OS II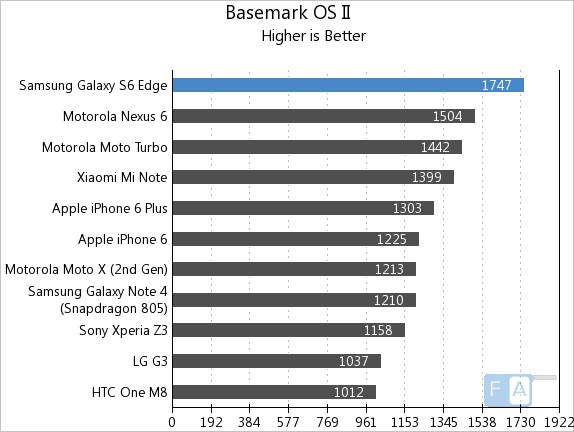 It scored 1747 points and grabs the top spot in the Basemark OS II benchmark. Even though the CPU-based scores were good, ones that were based on GPU is not impressive. We will be testing out some games on the smartphone to test out the gaming performance. Keep an eye on our YouTube Channel for that.
Update: We ran the tests again and found scores in GPU benchmarks were higher. The graphs have been updated accordingly.