Opera Mini app for Windows Phone which is still in beta has received an update. The latest update brings the app to version 8.0.0.6730 and adds a couple of UI changes.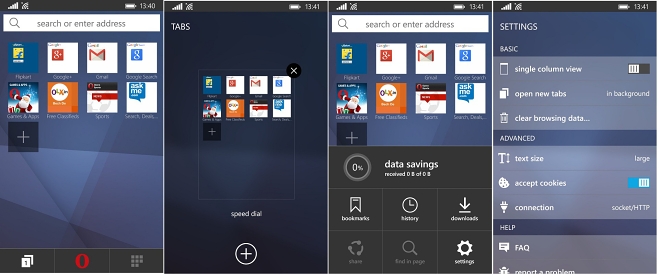 The UI update gives the app  a new refreshed look. Users can now see how much data has been saved within a certain time period an check daily, weekly and monthly progress. An improved download manager gives more control of your downloads. Users can Preview open websites and organize tabs in a natural, intuitive way. The update adds easily accessible bottom bar for more unified navigation. The search and address bars are combines thereby saving your time. The Opera Mini will offer suggestions from your Speed Dial, history, bookmarks and Google.
The speed dial is more accessible, allowing you to visit your favorite sites with ease. When switching between open tabs, you now get thumbnail previews of the content on that tab. Since Opera Mini uses Opera's server-side compression, web sites should load faster of mobile handsets and consume less data. Opera claims its compression can cut web site size down by as much as 90%. The browser offers large buttons, makes it easy to share content to social networks, and maintains users' privacy and security.
App Link –  Opera Mini