Twitter has teamed up with Jet Airways to launch real time flight status and airfare on Twitter. The initiative, developed in collaboration with Twitter and technology partner, TravelSpends.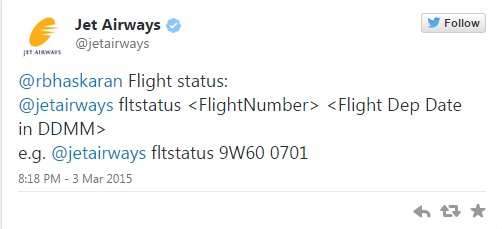 "Twitter always has and will continue to encourage innovation on our platform. This is a first for us in the field of aviation in India and we congratulate Jet Airways for their creative use of Twitter."

said Arvinder Gujral, Director, Business Development, Twitter India and SE Asia.
In order to use #JetInstant, guests will first need to follow @jetairways, the carrier's official Twitter account. To get the flight status, guests can Tweet "@jetairways fltstatus <Flight No> <Departure Date in DDMM format>.For example, to search for the lowest fare for a flight from Mumbai to Delhi on the 4th of March with a return trip the next day, flyers can Tweet: '@jetairways lofares BOM DEL 0403 0503′. The update will be sent as a direct message to the Twitter account. For receiving low fare details users will need to tweet "@jetairways lofares <Origin> <Destination> <Departure Date in DDMM format> <Return Date in DDMM format>.