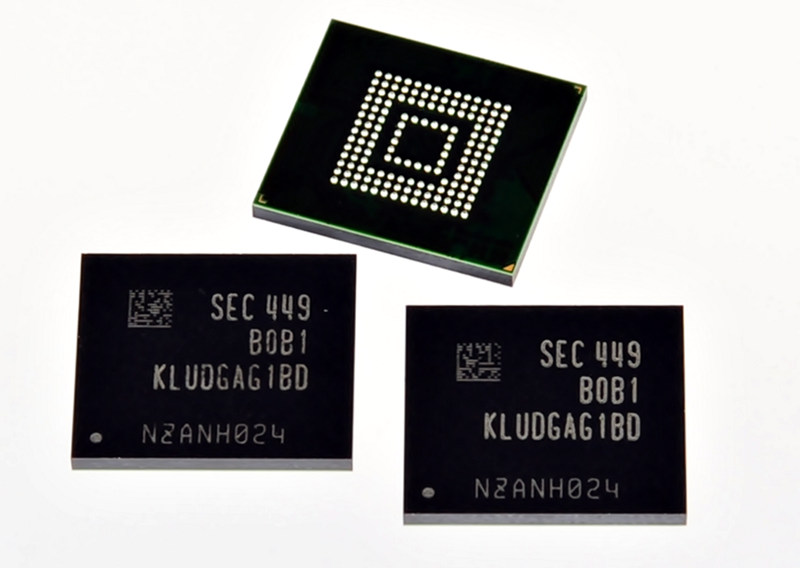 Samsung today announced that they have started producing world's first 128GB ultra-fast embedded flash memory based on Universal Flash Storage (UFS) 2.0 standard for next-generation flagship smartphones. The company already has 128GB eMMC Pro that uses eMMC 4.5 standard, this one uses UFS 2.0 standard, which promises better sequential read and write performance, closer to SSD and 50 percent decrease in energy consumption.
UFS memory utilizes Command Queue, a technology that accelerates the speed of command execution in SSDs through a serial interface, significantly increasing data processing speeds compared to the 8-bit parallel-interface-based eMMC standard. UFS memory conducts 19,000 input/output operations per second (IOPS) for random reading, which is 2.7 times faster than eMMC 5.0 and 12 times faster than that of a typical high-speed memory card and 14,000 IOPS for  random writing, 28 times compared to external memory card.
Samsung expects to use eMMC solutions for the mid-market and use UFS for high-end segment. It already introduced eMMC 5.1 flash memory in 64GB, 32GB and 16GB capacities. The UFS embedded memory comes in 128GB, 64GB and 32GB versions. This supports ePoP (embedded package on package) solution, hence saves about  50 percent less space.
It is possible that we can see the 128GB UFS 2.0 flash storage in the Galaxy S6, since Samsung has confirmed that it's for next-generation flagship smartphones.