WhatsApp Mesenger's much anticipated voice calling feature is rolling to Android devices. A Reddit user Pradnesh Patil (pradnesh07) posted screenshots and a video of WhatsApp's new interface that features voice calling.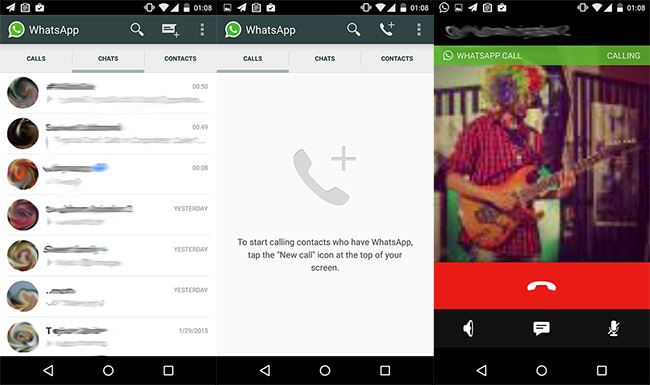 The newly launched voice calling feature will only be accessible on the 2.11.508 version of WhatsApp. As per the screenshot, we can see that the interface gets three new tabs for calls, chats and contacts.  It keeps a record of your recent WhatsApp calls and also shows the name and WhatsApp image of the person you are calling.
Pradnesh said that he was using the app APK, which is an install file for Android phones, available directly through the WhatsApp website and not the one downloaded from the Google Play store. He said that the voice calling feature will be rolled out via an invite system. This means that someone who already has the calling feature available on the app will need to use it to call another WhatsApp user in order to unlock it.
The recent screenshots of the voice calling features are in line with the previously leaked ones in December. WhatsApp CEO Jan Koum had said in October that the voice calling feature had been delayed till Q1 of 2015 due to some technical difficulties. The service crossed 700 million monthly users last month. WhatsApp has not officially launched the voice calling feature yet. Last month, the popular mobile messaging service rolled out web client that lets users chat from within the Google Chrome browser.