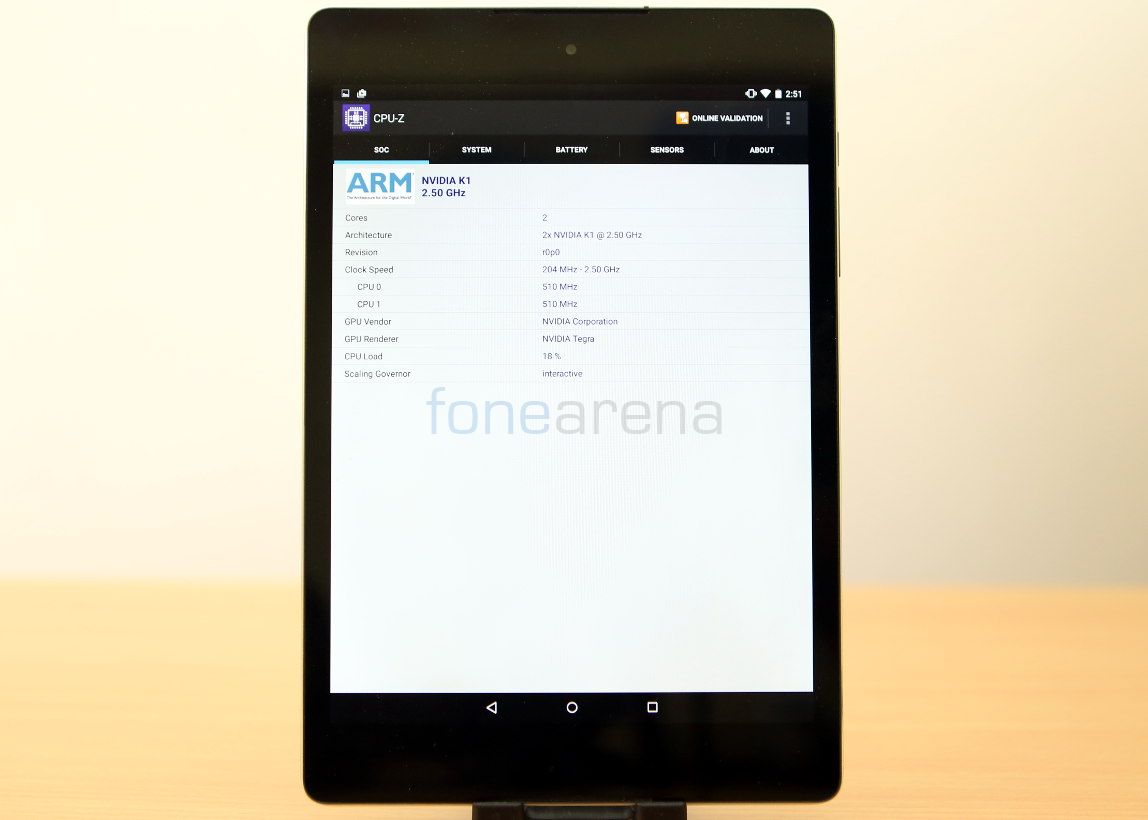 Google announced the Nexus 9 tablet made by HTC last month, and it is expected to launch in India soon, starting at Rs. 28,990. We brought you the photo galley and the unboxing of the tablet recently. Here we have the benchmarks of the tablet. The Nexus 9 has is powered by a 64-bit NVIDIA Tegra K1 processor with two Denver CPUs clocked at 2.5GHz per core, rather than the traditional 4+1 Cortex A15 setup. The Kepler GPU has single SMX/GPC design, which amounts to 192 CUDA cores. Even though it has the same Kepler graphics architecture found in its latest generation of PC GPUs such as NVIDIA GeForce Titan, this consumes less than 2W of power. The Nexus 9 has 2GB of RAM and  8.9″ (2048×1536 pixels) IPS display. Check out the synthetic benchmark scores below.
Quadrant Benchmark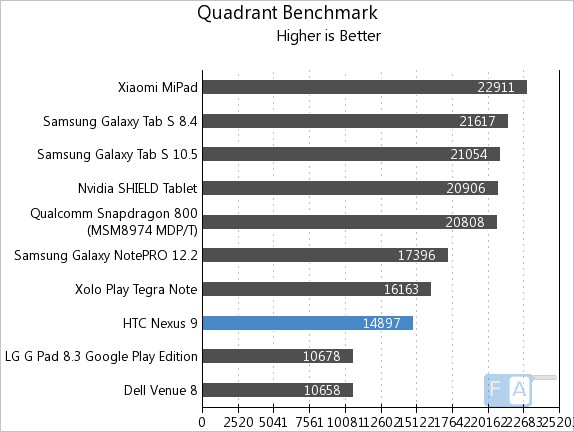 It managed to score 14897 points in the Quadrant benchmark.
AnTuTu Benchmark 4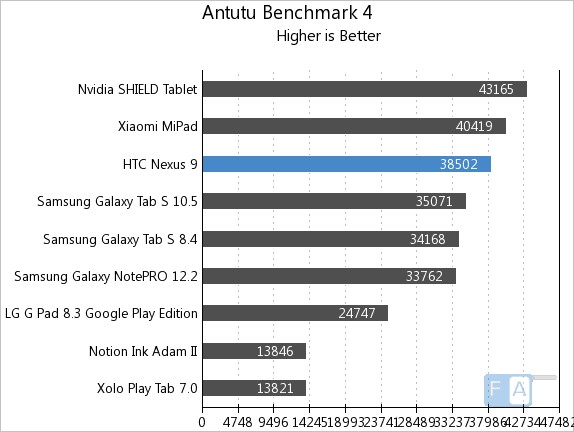 It scored 38502 points in the AnTuTu Benchmark 4 and lies behind the Xiaomi MiPad tablet that is powered by a quad-core 32-bit Tegra K1 chip.
Vellamo 2.0 HTML5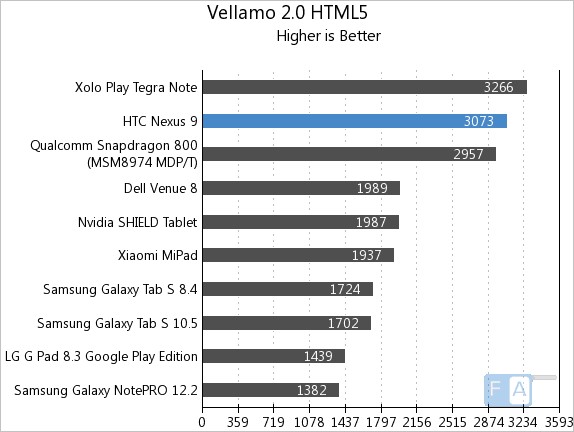 It scored 3073 points in the Vellamo 2 HTML5 browser benchmark and grabs the second spot behind the Tegra Note tablet that has a NVIDIA Tegra 4 processor.
Vellamo 2.0 Metal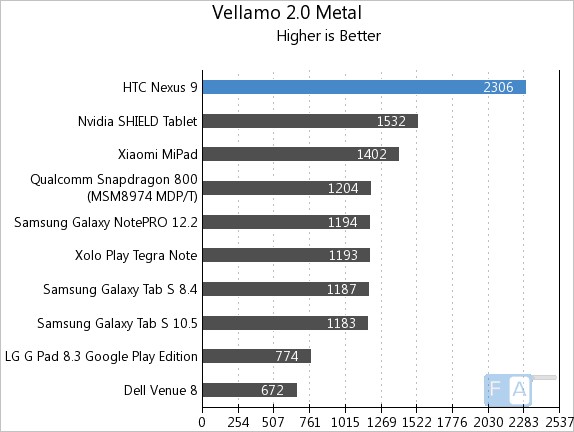 It tops the Vellamo 2 Metal CPU subsystem performance test by scoring whopping 2306 points.
Linpack Single Thread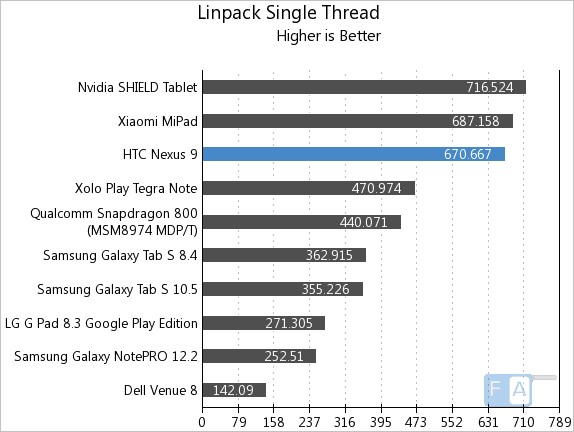 It clocked around 670.6 MFLOPS in the Linpack Single Thread benchmark.
Linpack Multi-Thread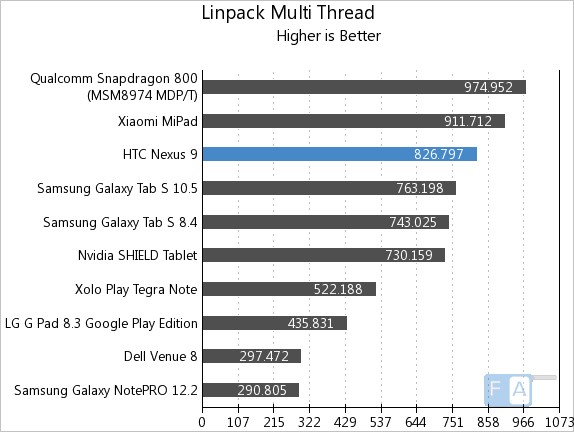 It clocked around 826.7 MFLOPS in the Linpack Multi-Thread benchmark.
Geekbench 3 Single-Core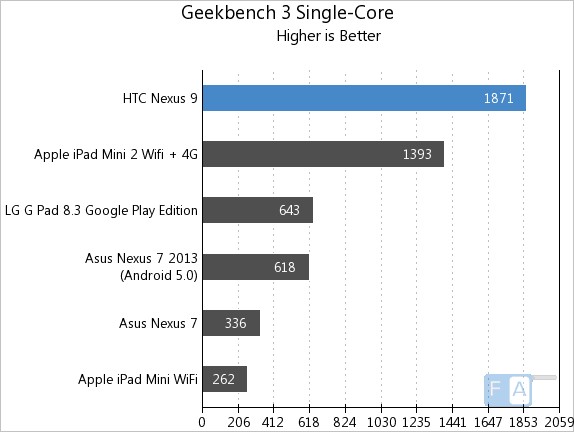 It scored 1871 points in and topped the Geekbench 3 Single-Core benchmark.
Geekbench 3 Multi-Core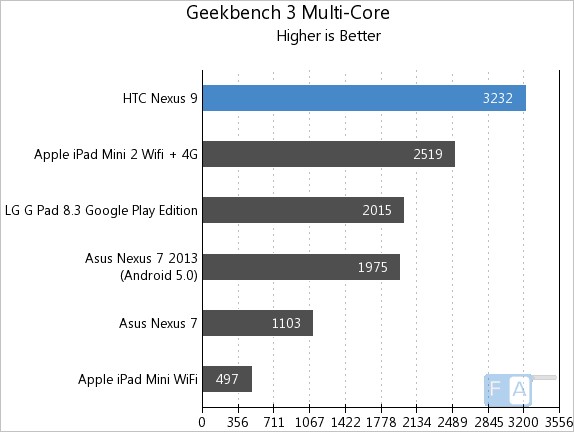 It topped the Geekbench 3 Multi-Core benchmark too by scoring 3232 points.
NenaMark 2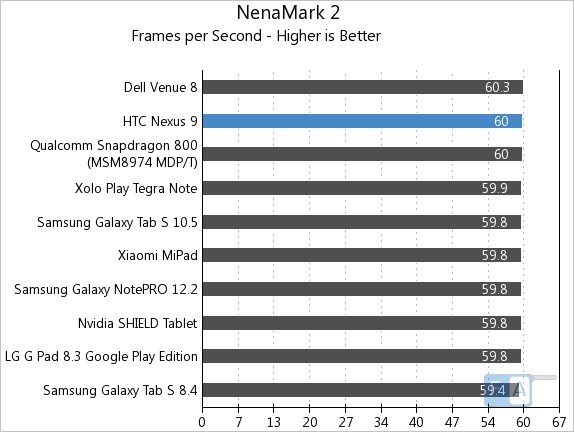 It clocked 60fps in the NenaMark 2 GPU benchmark.
GFXBench 2.7 T-Rex (On screen)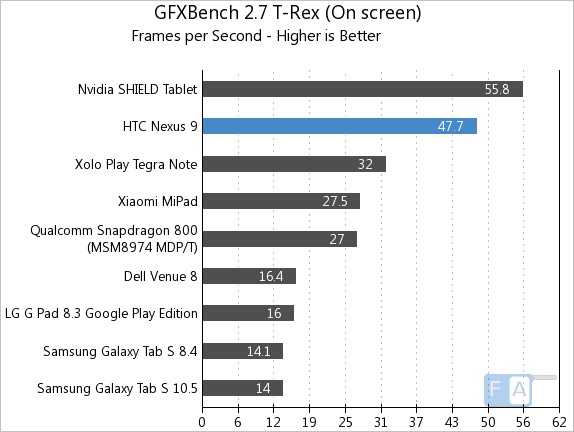 It grabs second spot by clocking 47.7fps in the GFXBench 2.7 T-Rex OnScreen benchmark and lies behind the NVDIA Shield tablet that has a quad-core 32-bit Tegra K1 processor.
3DMark Ice Storm Unlimited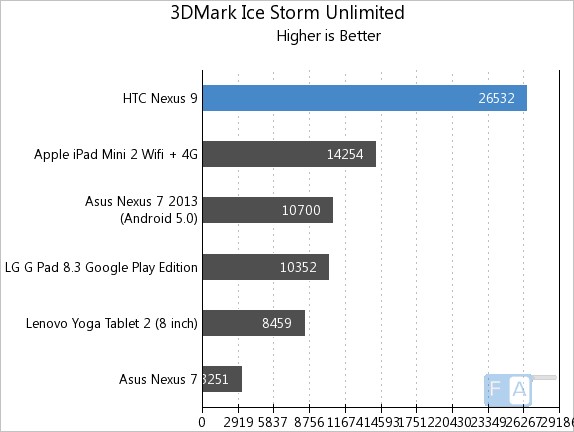 It topped the 3DMark Ice Storm Unlimited GPU benchmark by scoring 26532 points, pushing other tablets behind.
Basemark X 1.0 HD (Onscreen)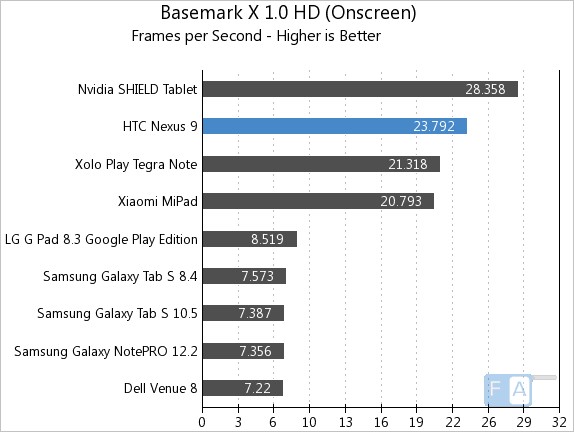 It clocked around 23.7fps in the Basemark X 1.0 OnScreen benchmark.
Basemark X 1.0 HD (Offscreen)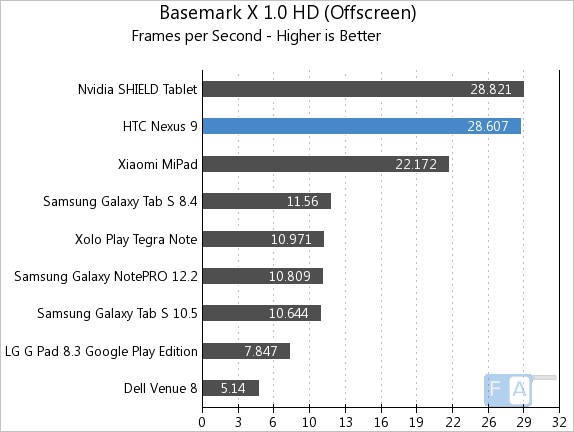 It clocked around 28.6 fps in the Basemark 1.0 OffScreen benchmark.
Basemark OS II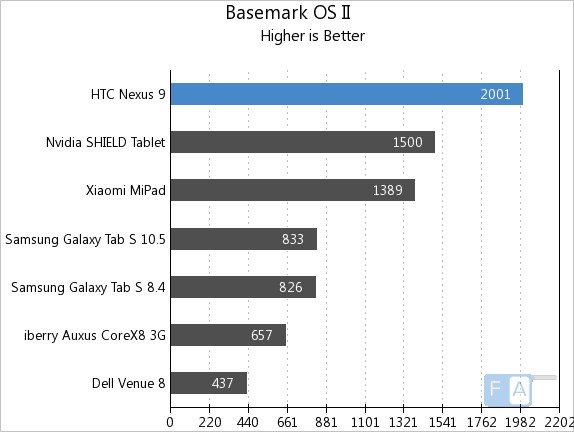 It topped the Basemark OS II benchmark by clocking 2001 points. These are just synthetic benchmark scores, and the real life performance might be different. We will let you know about it in the complete review soon. In the mean time check out the gaming review to know more about the gaming performance of the tablet.