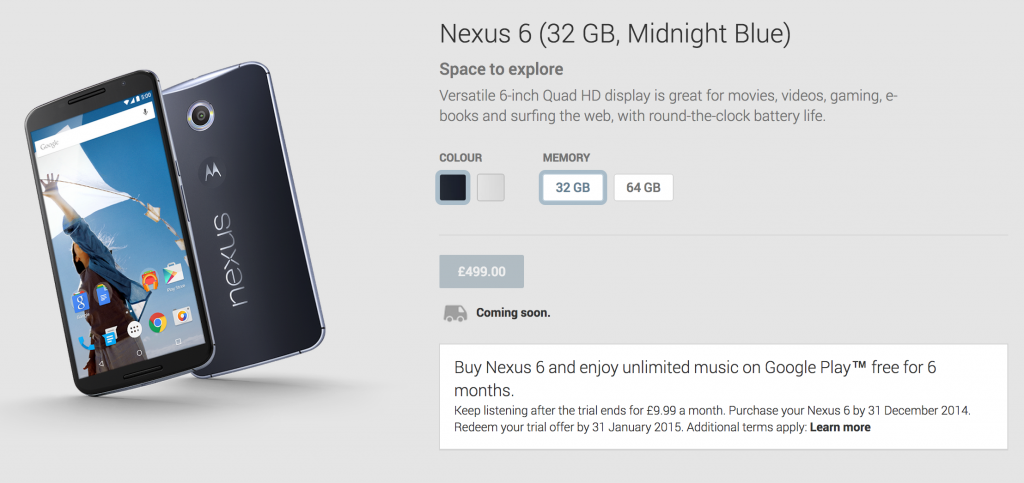 Waiting to get your hands on the Nexus 6 in the UK? The wait appeared to be nearing an end after we saw an online retailer put the handset up for contract pre-orders earlier this week. Now Google has released the UK pricing for the Nexus 6 on Google Play and it's certainly much dearer than past Nexus handsets.
The Nexus 6 will be available in both 32GB and 64GB variants like its American siblings and will cost £499 and £549 respectively. At present, both the midnight blue and cloud white colour variants are showing as coming soon with a release expected on December 1st. For users who purchase the Nexus 6 before 31st December, Google is offering 6 months free access to Google Play Music, which normally costs £9.95 per month and has a library of over 20 million songs.
Looking at the Nexus 6 page on Google Play, it's not immediately clear if the handset is sold out – within minutes of the handset launching on Google Play in the US, all stocks were exhausted and we're not sure whether the same applies in the UK.
With the handset set to launch in a few weeks time, there's plenty of time for Google to get enough stock although, like past Nexus devices, initial stock will sell out pretty quickly.