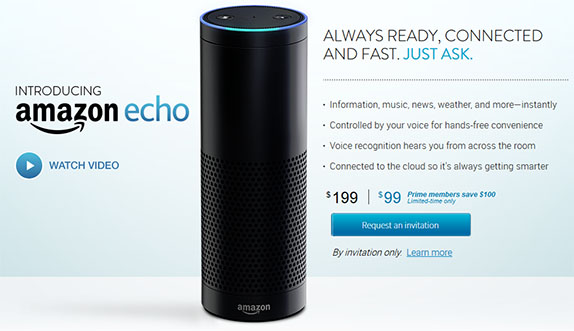 When you think Amazon, you think e-commerce, but closer to the present, you'd also think about the Fire phone, its failure to make money and so forth, but you never would have imagined that the same company, at this time, would come up with a virtual assistant in the form of a speaker. It is surprising and yes, that's Amazon's new product, called Echo, a cloud-powered home speaker that you can talk to. The Echo, always listening and connected to Amazon's cloud aka AWS, accepts input primarily in voice and can perform many of the functions of already existing virtual assistants like Siri and Cortana. It's also a bold play for the living room, where information is less personal. The device, priced at $199 for regular people and $99 for Amazon's Prime customers, is set to launch in the coming weeks, and is currently invite-only.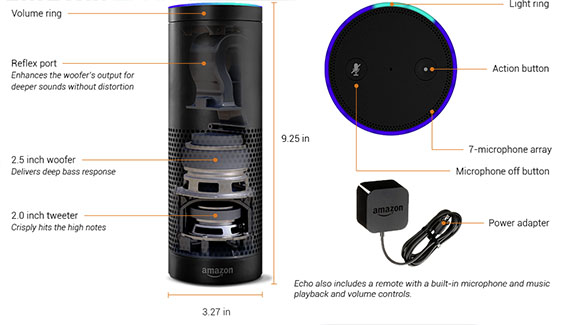 When it comes to hardware, the Echo is pretty simple. It's designed to look like any modern wireless speaker, with size-appropriate audio power. There's a 2.5 inch woofer and a 2 inch tweeter, with placement meant to provide omnidirectional sound. Amazon claims it can easily fill a room, and it certainly looks like it can. The top has all sorts of controls, including a ring for volume, a light ring that changes colours, a 7-mic array and the two feather touch buttons for action and turning off the microphone. It can play music, with or without Bluetooth(It can stream directly from Amazon Prime, TuneIn etc.), but the underlying intelligence is what makes it more powerful.
The Amazon Echo is the name of the product, but the cloud powered virtual assistant is called "Alexa", which is also the trigger word for waking the device up. With an array of seven microphones, the Echo will be able to hear you from afar, while the advanced noise cancellation makes it possible for Alexa to listen to you even when a song is playing. Just like other virtual assistants you can ask questions, set alarms, reminders.. etc. For example, Amazon lets you add wrapping paper to the shopping list, so, yes, surely they have their targets set on your wallet, but the overall intent seems different.
httpv://www.youtube.com/watch?v=KkOCeAtKHIc#t=151
This is the first time we are seeing Amazon introduce a virtual assistant, not on its phones or tablets, which already have an established base and a platform, Fire OS, but on a completely new device that is less personal. Amazon wants the echo to be in your living room and it wants to quickly get not only you, but your family too, the needed information without people individually yelling at a smartphone. Microsoft is the only other company to have tried this "living room voice assistant" with the Xbox One, but we all know what happened.
Like Siri, Google Now and Cortana, Alexa can give you basic information, sourced from Wikipedia, help you with basic calculations, sets timers and ultimately seems like a stripped down version of the more powerful ones. Amazon, which just says the Echo is powered by it cloud, promises to update the backend regularly, to make Alexa more intelligent. It is not clear whether Alexa, the web analytics company Amazon acquired, is the inspiration behind the name, but the lack of strong information on the back end makes us think it might be a possibility. Anyways, the Echo will be out soon, and Amazon would certainly hope for anything but a repeat of the Fire Phone, which is highly likely with the kind of risk this project comes with.