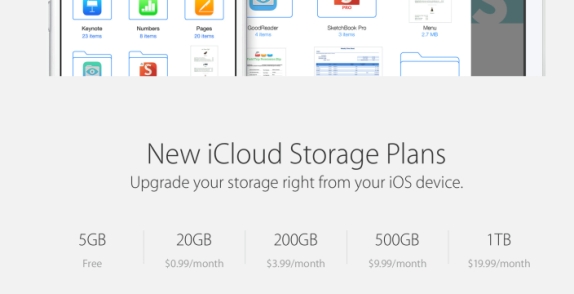 Apple has announced the new pricing details for its iCloud service. Back at the company's World Wide Developers Conference, Apple did mention that 20GB storage would be priced at $1 per month and all the consumers enrolling to its service would get 5GB of free storage.
Today, the Cupertino giant has revealed the pricing details for all the tiers it has on offer. Apple is providing you 200GB of cloud storage for as low as $3.99 a month. If you think 200GB isn't sufficient, then you have the 500GB plan that comes to you at a price of $9.99 a month.
If you are from an enterprise or if you are a person who utilizes lots of cloud storage, then the 1TB plan suits you the most. The highest tier service carries a price tag of $19.99 a month.
Apple is trying its best to match the service of its competition like Google and Dropbox in the cloud service.
Meanwhile, if you are new to iCloud, then you might want to know that the service allows you to access your music, photos, documents, and more from whatever device you are on.