WeChat has introduced a new feature that lets you recall last message sent via its mobile apps on Android and iPhone. Messages can be unsend within two minutes after there are sent.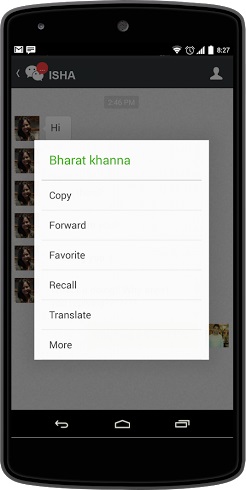 In order to recall messages, you will need to simply tap on them and select recall option and your messages will disappear from both your chat screen and that of the recipient's. Along with chat messages, the feature also supports photos. Moreover, the update 5.3.1 brings Tags for contacts feature that lets your manage you contacts. You can add tags like BFF, c0-workers, family in order to find contacts easily.
The update also lets you save messages in one package so you can quickly view them without browsing through the messages individually. In order to save them, you will have to long press on multiple messages and tap 'Favorite Message' icon.  Finally, WeChat also gets a cleaner UI that allows easy sliding between your favourite features and effortlessly use the upgraded search bar.
WeChat recently added real time location sharing and message translation to its Android app.
You can update the Android app here and iPhone app here