Although most Chinese manufacturers have been trying to shed their traditional image of clone makers, there are still a few who thrive in the business in the same old manner. One such maker is GooPhone, notorious for their innumerable Samsung and iPhone clones.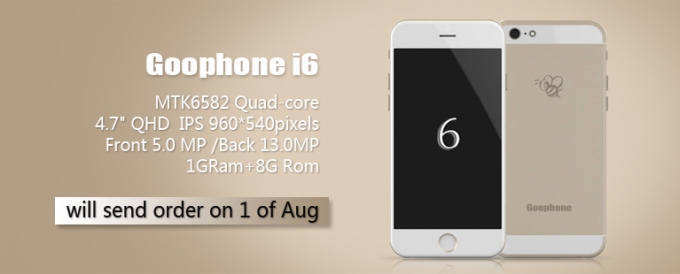 The clone maker today launched the GooPhone i6, which as you'd have guessed, takes inspiration (putting it mildly) from leaked models and design of the upcoming iPhone 6. As you are already aware, Apple is expected to launch the next iPhone in two avatars, one with a 4.7-inch display and one with a 5.5-inch one. GooPhone have chosen to replicate the smaller of the two, i.e., the 4.7-inch version.
Specifications
4.7-inch 960 x 540p display
1.3GHz quad-core MediaTek MT6582 CPU
1GB RAM
8GB on-board ROM
13 mega-pixel rear camera
5 mega-pixel front camera
The specs set doesn't really match up to what the iPhone 6 is expected to come with, but so does the price tag; the GooPhone i6 is set to go on sale 1st August with a price tag of around $150.
Have you ever owned a cloned device? If yes, which? Trust us, we won't judge you!