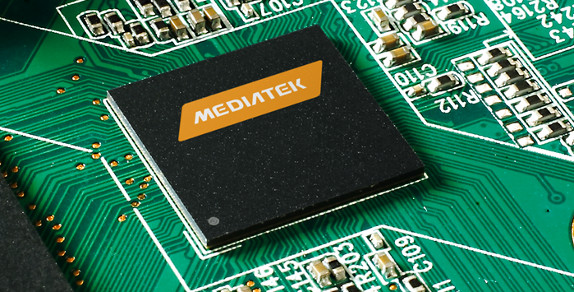 MediaTek has just announced MT6795, the world's first 64-bit Octa-Core smartphone SoC with built-in 4G LTE and 2K display support. It has 4 ARM Cortex-A53 CPUs and 4 ARM Cortex-A57 CPUs with clock speed of up to 2.2GHz and True Octa-Core capabilities. It has MediaTek CorePilot technology for Heterogeneous Multi-Processing (HMP) that uses all the eight cores and thermal control. It has support for dual-channel LPDDR3 clocked at 933MHz, H.265 Ultra HD (4K2K) video recording & playback, support for 2K displays and more.
It has support for 120Hz displays and Super-Slow Motion Technology capability that captures high fps videos and uses MediaTek's advanced image processing pipeline to view the 1080p videos at 480 frames per second (fps). Unlike the Qualcomm Snapdragon 810 that is based on 20nm processor technology, this still uses 28nm process. MediaTek announced the MT6595 SoC earlier this year that has built-in LTE and 2K display support, but it has 4 ARM Cortex-A17 and 4 Cortex-A7 CPUs.
Highlights of MediaTek MT6795 SoC
4 ARM Cortex-A53 64-bit CPUs (Clocked up to 2.2GHz) and 4 ARM Cortex-A53 64-bit CPUs ( clocked up to 2.2 GHz)
Integrated Imagination Technologies 700 MHz PowerVR G6200 GPU
MediaTek CorePilot unlocks the full power of all eight cores
Dual-channel LPDDR3 memory clocked at 933MHz
2K on device display (2560×1600)
20MP camera ISP capability
120Hz mobile display with ClearMotion and Response Time Enhancement Technology
480fps 1080p Full HD Super-Slow Motion video recording and playback
H.265 Ultra HD (4K2K) video record & playback
Ultra HD video playback support for H.264 & VP9
Integrated 4G LTE Multi-Mode Modem Rel. 9, Category 4 FDD and TDD LTE with data rates up to 150Mbits/s downlink and 50Mbits/s uplink
Support for Wi-Fi 802.11ac/Bluetooth/FM/GPS/Glonass/Beidou/ANT+
Multi-mode wireless charging supported by MediaTek's companion multi-mode wireless power receiver IC
The MediaTek MT6795 platform would be commercially available by the end of of 2014 for the OEMs.