Google Now is allowing you to take your power naps during transit without the worry of missing your stop. The intelligent personal assistant from Google will now alert you when you reach your destination.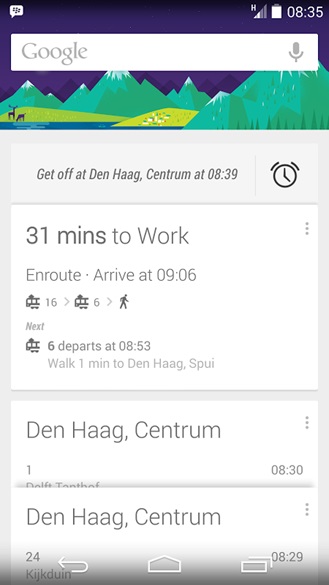 Android users can set an alarm and tap it to activate while you are travelling in either bus or train. The alarm gets triggered when you reach your desired destination and it can be shut down by tapping on it. As Google already knows you Home and Work locations, it can easily alert you at the time of travelling from one place to another and vice versa.
It does not integrate with the standard alarm feature in Android available through the Clock app, according to Android Police The feature is not a major one but is surely handy and will be helpful for users who travel large distances on a daily basis. It is not clear as to in which countries is the update available except for the US, Canada and UK.
Google Now already offers flight schedules and navigation details in general along with details about public transit. Last month, it added Parking reminder card that enables users to automatically detect where you have parked your car and help you find that spot later.