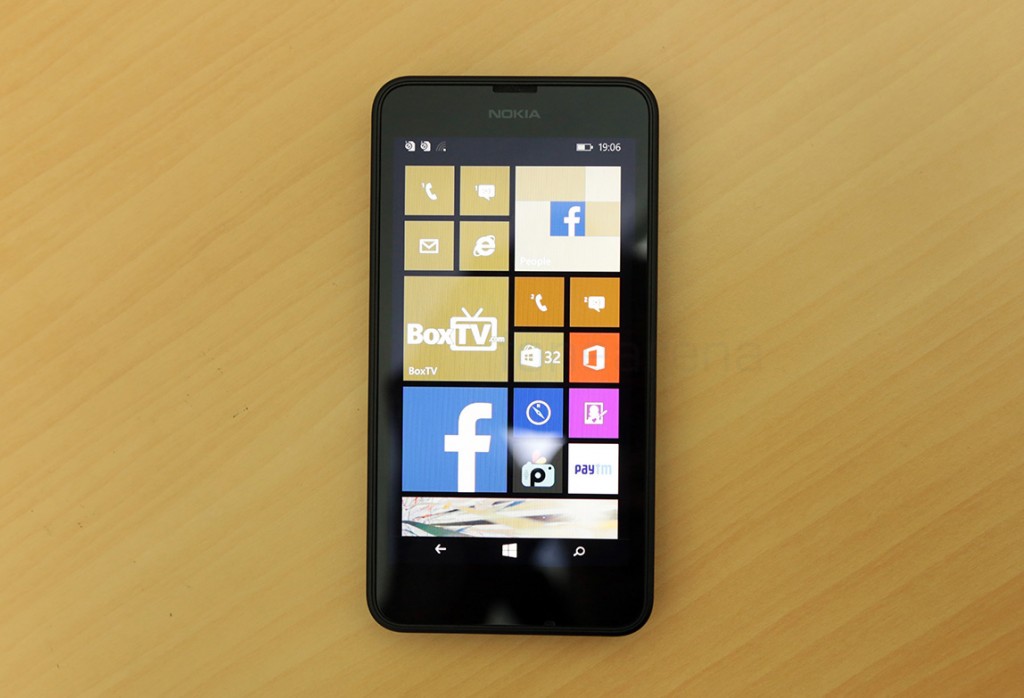 Nokia's devices and services division, now officially part of Microsoft, unveiled the Lumia 630 Windows Phone at their developer conference at San Francisco. This low end Windows Phone, which will cater to the budget customer, has a number of firsts and even a last, in terms of features. It is the first Windows Phone 8.1 device to be launched into the market, it is the first Dual SIM Windows Phone, it is the first Windows Phone with a quad core Snapdragon 400 chip and also the first one to support on-screen navigation buttons. But, having launched before April 25th, this, along with the Lumia 930, will be the last Windows Phones with a "Nokia" brand on them. Sporting a price tag of Rs. 11,500, the successor to the yesteryear Lumia 620 sports a bigger screen, with roughly the same resolution, undercuts it by a couple of thousands, but loses the LED flash and goes for a cheaper bill of materials (referred to as BoM from here on) generally. With the RAM staying at 512 MB, does the Lumia 630 Dual SIM Windows Phone strike a good balance between price and specifications in this crucial segment? Lets find out in our full review.
Unboxing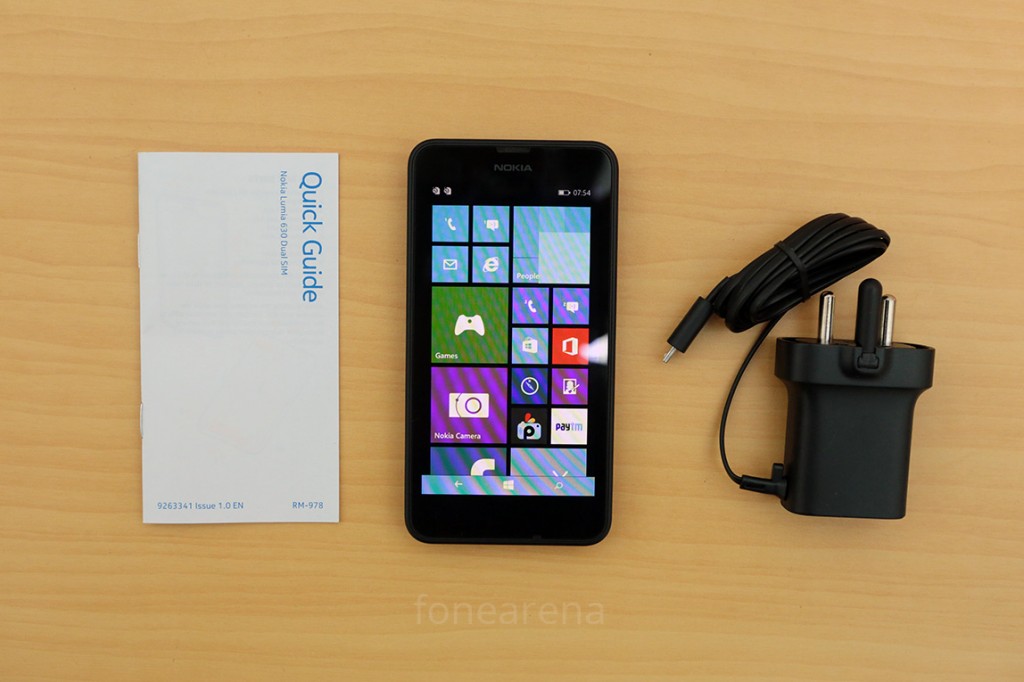 We had unboxed the device a while ago, only to find that the box had nothing but the device, a micro USB travel charger, an information manual and the removable battery. Clear signs of cost cutting here, and this is kind of the whole theme around which Nokia has worked on this device, just to make it more competitive, we guess.
Design, build and hardware walkthrough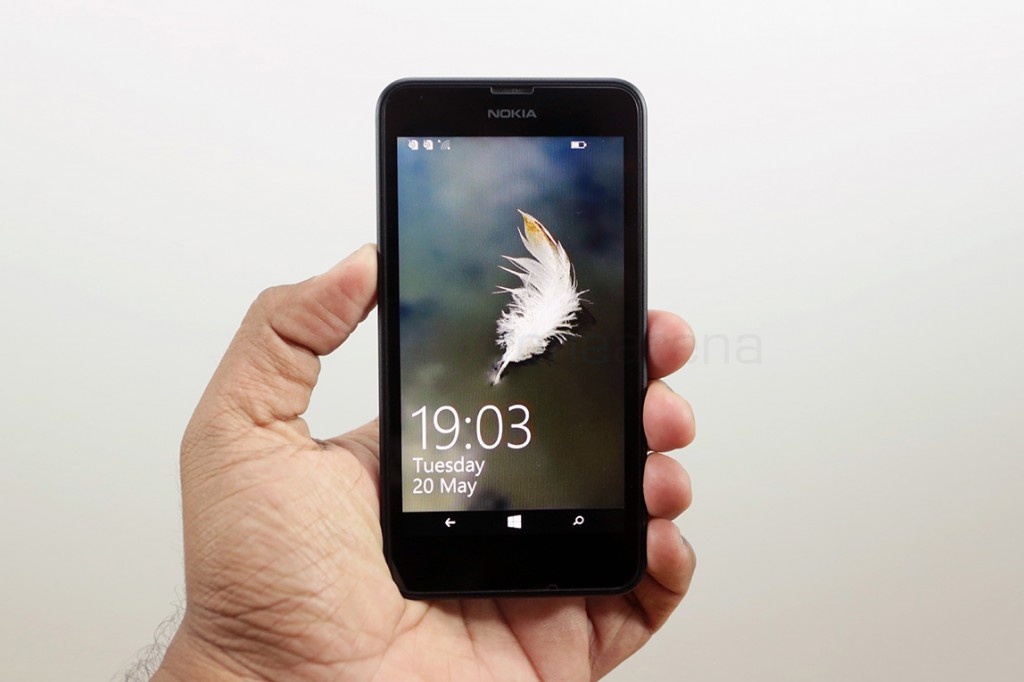 The Lumia 630 is designed to look just like the successor of the 620, carrying forward the curved corners and a flat look at the front, with sizable bezels. The bezels, despite losing the capacitive touch buttons, are proportionately the same size, which frankly waste a lot of space.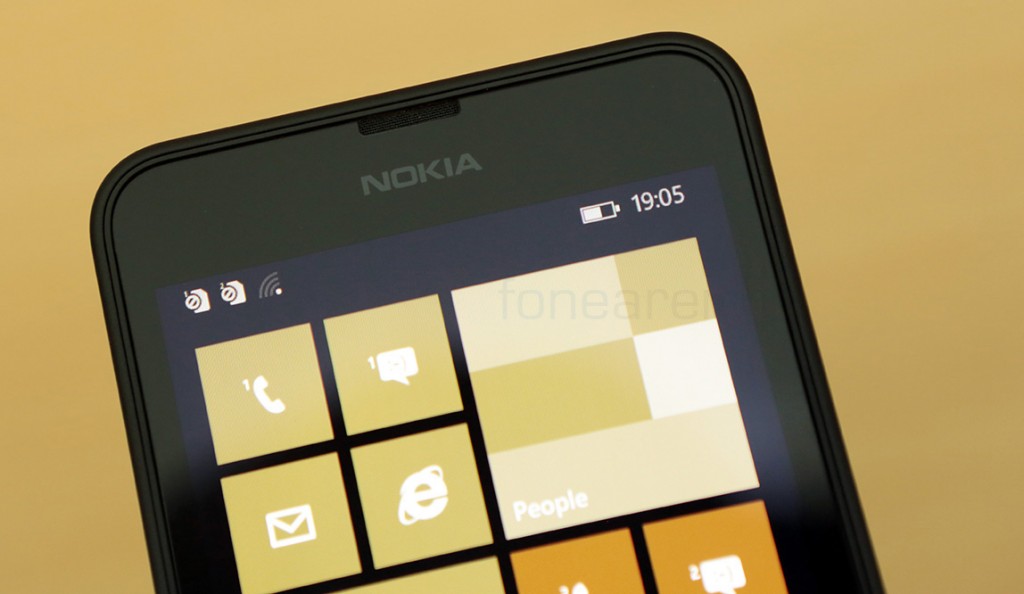 Right above the 4.5″ display is the ear piece and hidden beneath the bezel is a proximity sensor. Surprisingly, there is no ambient light sensor on the device, so automatic brightness is a non-feature here.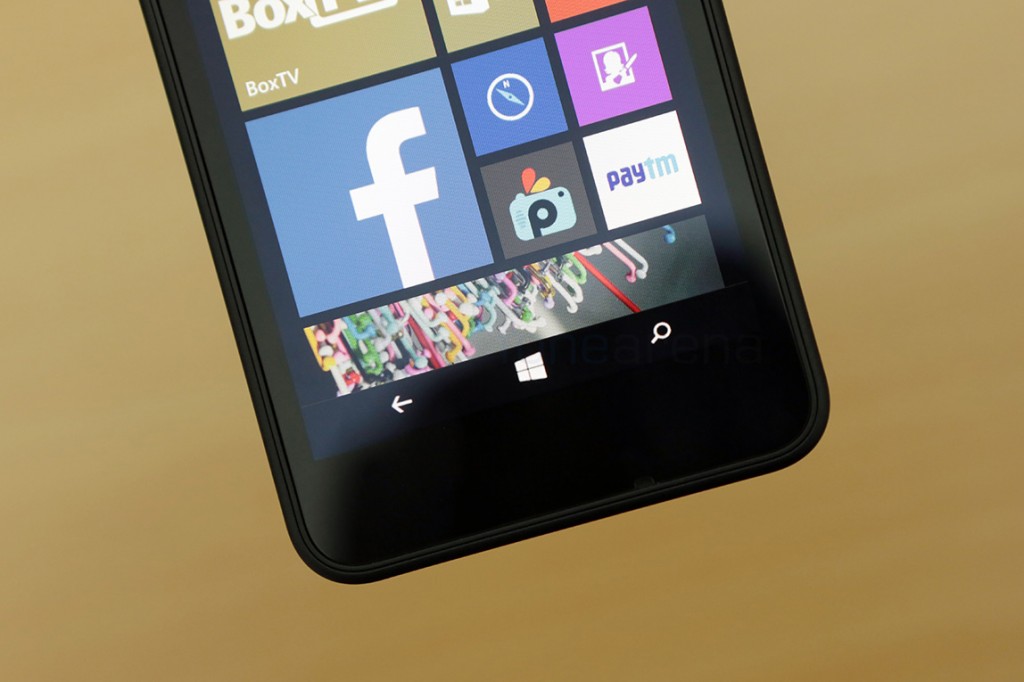 The on-screen buttons are now rendered on the display, but exhibit pretty much the same functions as before. There is no flexibility to them, as they don't vanish even when you are watching videos. Basically, they are just capacitive touch buttons, rendered on to the screen, and they are always on. Between the frame and the glass sits a lone microphone for high quality audio in video, and of course, for voice calls.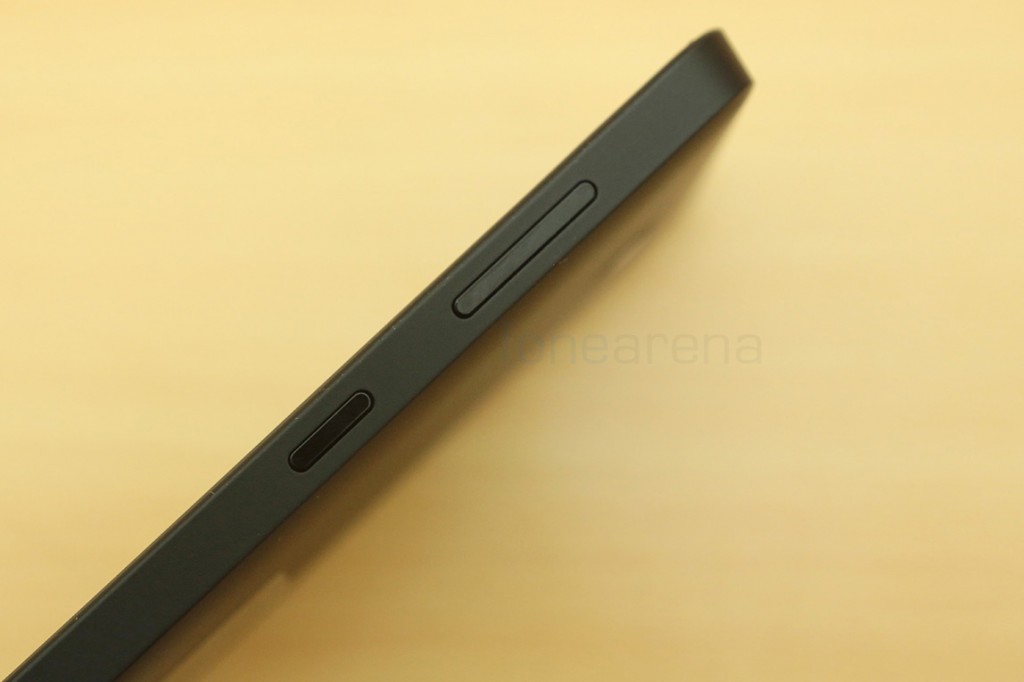 Turning to the sides, we have the power lock switch and the volume rocker on the right side. Here, you can note that the design has changed from a curved back to a blocky beveled build. The material has also changed from the dual-coloured shell to a soft touch finish, that resembles the Lumia 520 more than the 620. It has a good grip and doesn't tend to slide off, but it does feel cheaper than the 620's finish, but that aside, it is better than the competing devices in the same price range, which has been a strong point for all Nokia devices.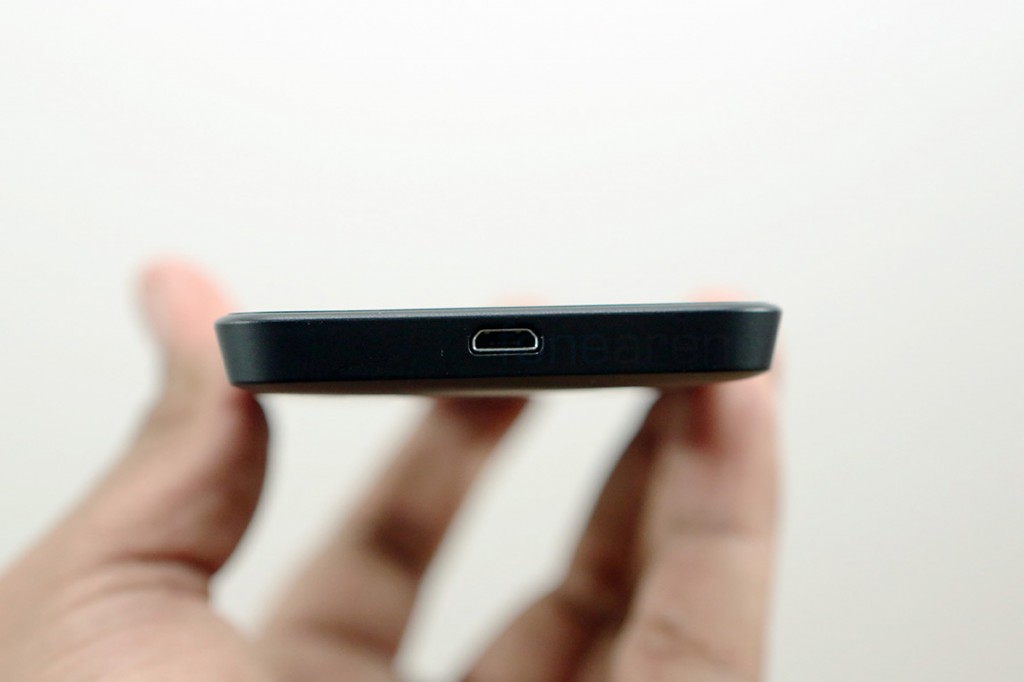 Over at the bottom, we have the micro USB port and the top houses the 3.5mm audio jack.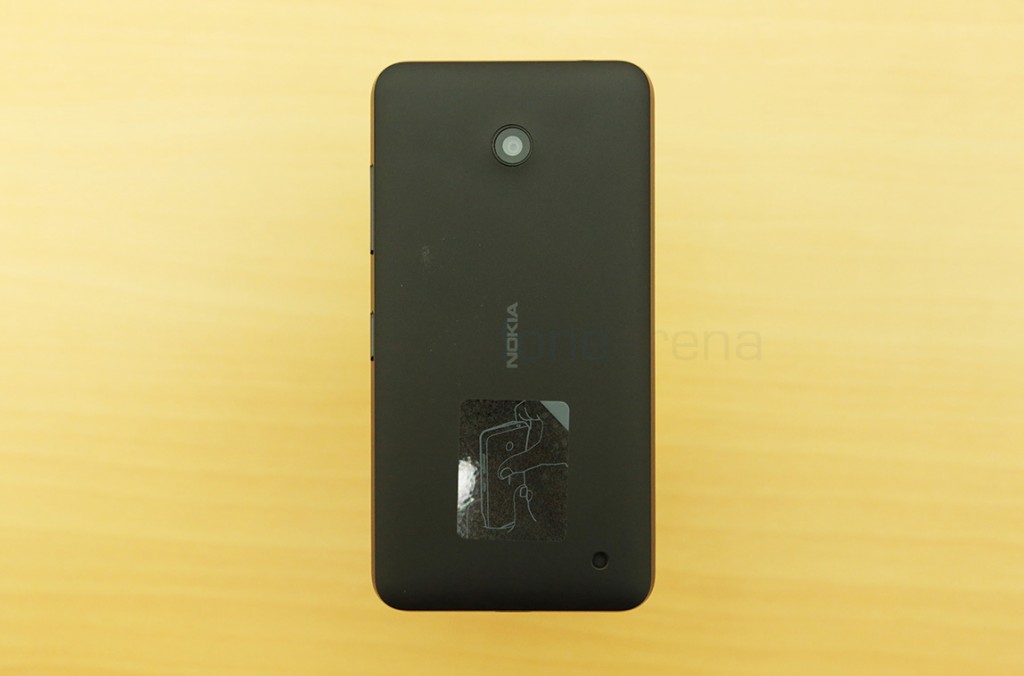 Over at the back we have the 5 MP camera and the Nokia branding(might be the last time you see this on a Windows Phone device), and also, out of the box, you have a sticker that tells you that the back cover is removable, even though it looks like it is a unibody device. There is also a loudspeaker at the bottom, which is surprisingly loud and clear.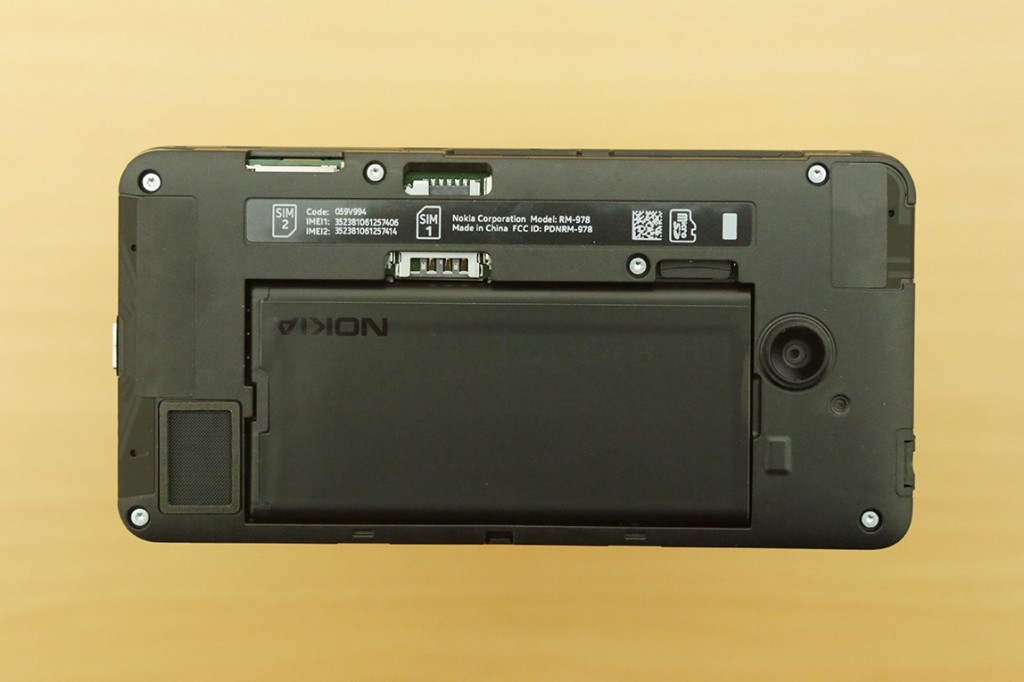 On removing the back cover, the 1830 mAH battery and the micro SIM and micro SD slots are revealed. Both the SIM card slots are micro SIM and the micro SD slot supports upto 64 GB cards. More on the dual SIM functionality later. Lets move on to the finer details in hardware then.
Display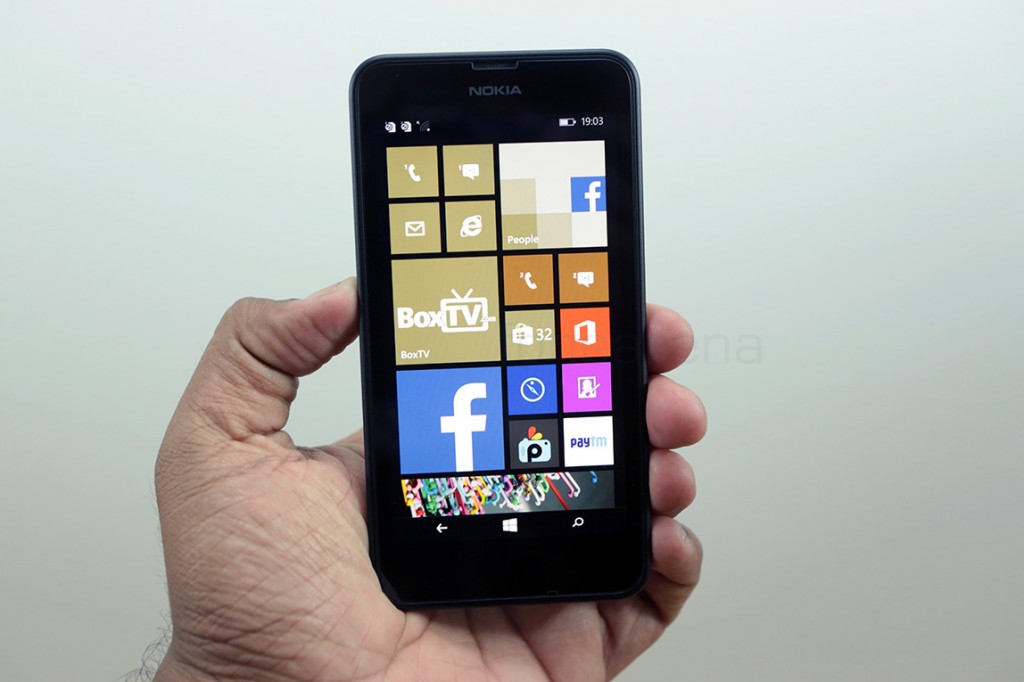 The Lumia 630 has a 4.5 inch IPS LCD screen, with a resolution of 854×480. It also has Nokia's clearblack coating that helps in better visibility under sunlight, but as mentioned earlier, the biggest problem with this display is the lack of auto brightness. Yes, this issue is bigger than the lackluster ~217 ppi that the screen has, as every time you take the device you take the device out in the sun, you have to change the brightness to high and change it back to medium indoors, and then tone it down to low in darkness. Apart from this, after getting used to various high res displays, even in mid range phones like the Moto G, the resolution is something we found hard to adjust to. It also has the refresh rate problem we have been seeing in many low end devices. Sometimes, you will be seeing horizontal bands when slightly tilting the display. These issues aside, the display does have decent performance when it comes to brightness and colour reproduction, and even viewing angles, but it's sad to see something worse than the 620's display, which was actually good. At this price, it's not surprising to see a display at this resolution, but the other issues could have been avoided.
Camera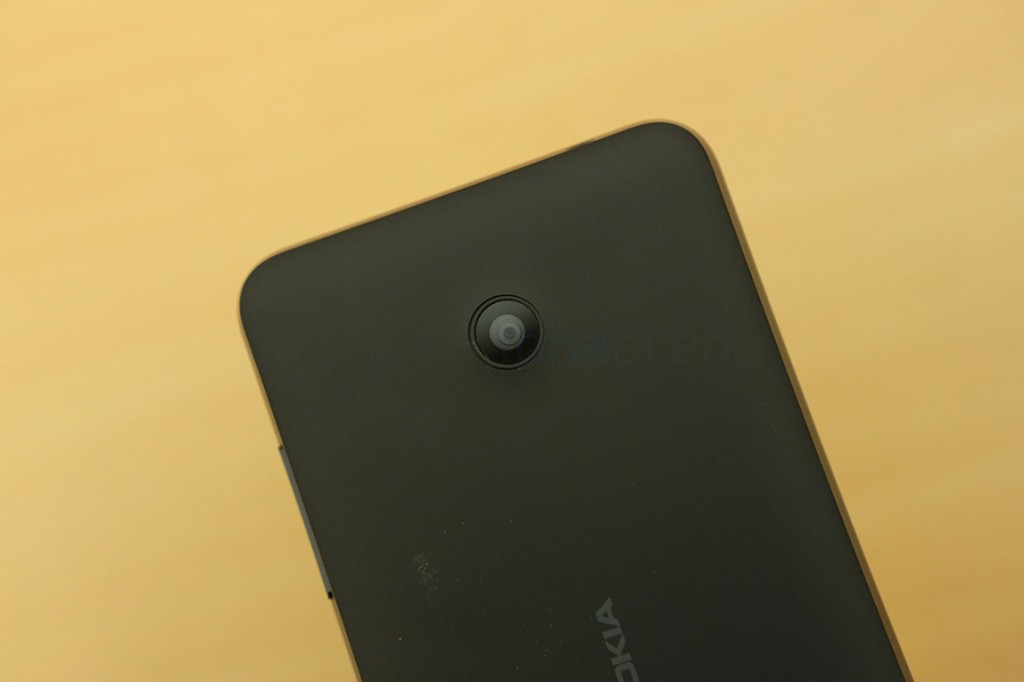 The camera on the back of the Lumia 630 is a 5 megapixel unit. Compared to its predecessor, it loses the LED flash(which worked horribly anyway) and the secondary microphone for noise cancellation and stereo audio recording, making these omissions a byproduct of the stringent BoM. However, there are slight improvements in the performance, as it takes more detailed shots than its predecessor and most definitely other competitors in this price range. There are not many issues as such, it works a-ok out of the box, and even has a maximum of 1 second shutter speed and manual focus thanks to the Nokia Camera app. We had taken a complete look at the performance and the UI of the camera in the camera review video that we did earlier, here is how it went –
Here are some full resolution camera samples –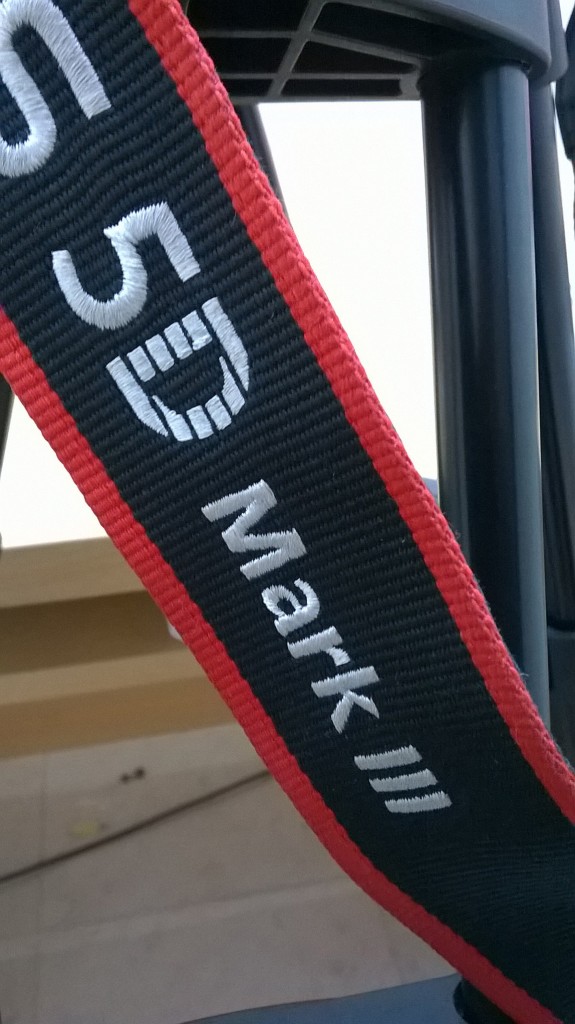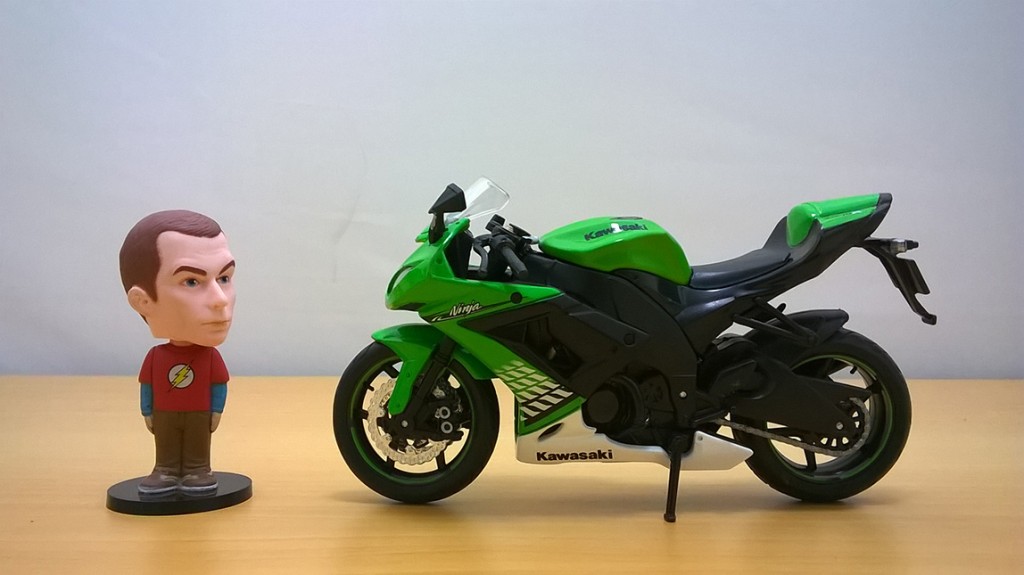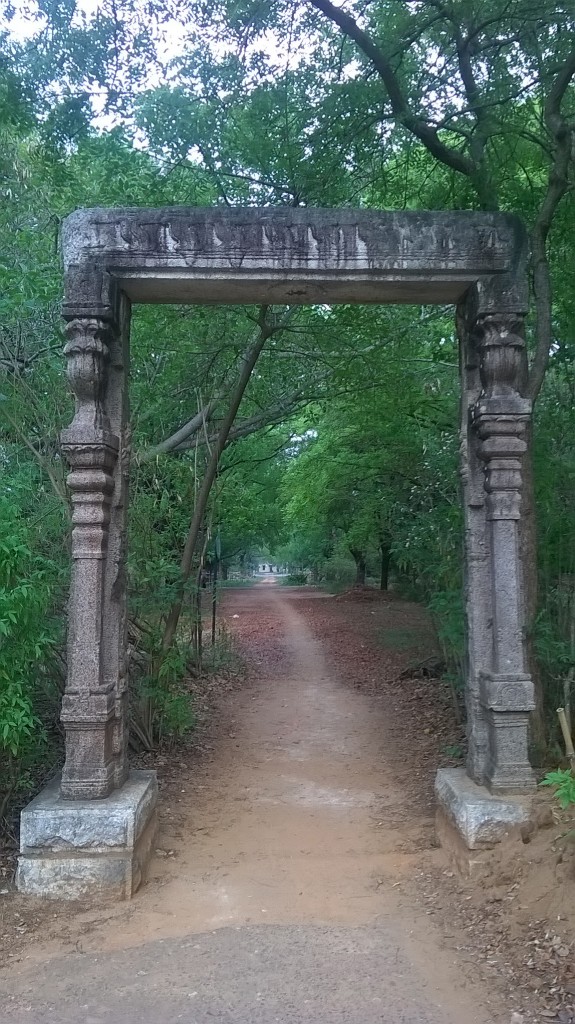 You can take a look at all the other camera samples here, and finally, here is the 720p video sample, which has typically decent image quality, but the audio recording was pretty good, watch –
As you can see from all the camera samples shown above, the performance of the camera is generally good, keeping the price point in mind. In broad daylight, the purple fringing is definitely an issue, and low light imaging plainly sucks, but that is fairly expected in this kind of a device. The overblown purple fringed highlights indicate that Nokia have gone for a cheap lens and sensor setup, which can excel in controlled lighting or anywhere except the bright sun, like for example taking pictures of people in apt lighting, but will falter elsewhere and in lowlight. The brand always has huge expectations, so we might be asking too much at this price really.
Internals and Performance
Windows Phones always had strict chassis requirements, especially when it came to internal hardware. With Windows Phone 8.1 though, Microsoft has partnered with Qualcomm for support on most of its chips, including the new and popular Snapdragon 400 Quad Core chip that has been showing up on devices like the Grand 2 and the Motorola Moto G. This particular variant, the MSM 8226 (same as the Moto G) that is present inside the Lumia 630 comes with Dual SIM support and is generally zippy. It has four Cortex A7 cores clocked at 1.2 GHz with the Adreno 305 giving company for graphic duties. The processor is definitely powerful enough to render the Windows Phone 8.1 operating system, but the main bottleneck is in the form of RAM, at 512 MB.
While the OS is really light, 512 MB of RAM is still a bottleneck when it comes to selection of games in the Windows Phone store, which need to be specifically tweaked for devices of this kind. Even though Lumia 520 was and still is the most popular Windows Phone ever, the situation has not really improved and we think, this might be the cause of general lag in the OS too, especially on the 630, because even the Lumia 525 with its 1 GB of RAM felt smoother than the 630. This could also be because of an isolated case of out unit having a bad touch screen, because the main deterrent in the performance was the touch screen rather than app performance. But either way, what we got was poor scrolling performance mostly. It's certainly not a deal breaker level of lag, but it could be noticeable if you are coming from any other decent device, even the 520.
In terms of gaming, the Lumia 630 is again only limited by the RAM requirement, but the performance is pretty good, considering it boasts the Adreno 305. It can possibly play all the games well but we'll never get to know. However games have already been optimized, and some popular titles include Temple Run 2 and Asphalt 8, which play very well on the 630, no doubt. To get an idea of what the graphics are like, here is a screenshot from Asphalt 8 –
Storage wise, the Lumia 630 has no issues at all, as with Windows Phone 8.1, you can literally install anything and everything on the SD card, if installed. You can even move apps between the phone memory and the SD card, thanks to the plentiful options in the operating system. This proves to be an interesting advantage when Android devices having this support in this price range have been fairly inconsistent. Some have capabilities to move, and some, to install, but the feature is always a hit or a miss, unlike the 630, which will definitely have this as a OS feature. In the OS, this is called Storage Sense
Dual SIM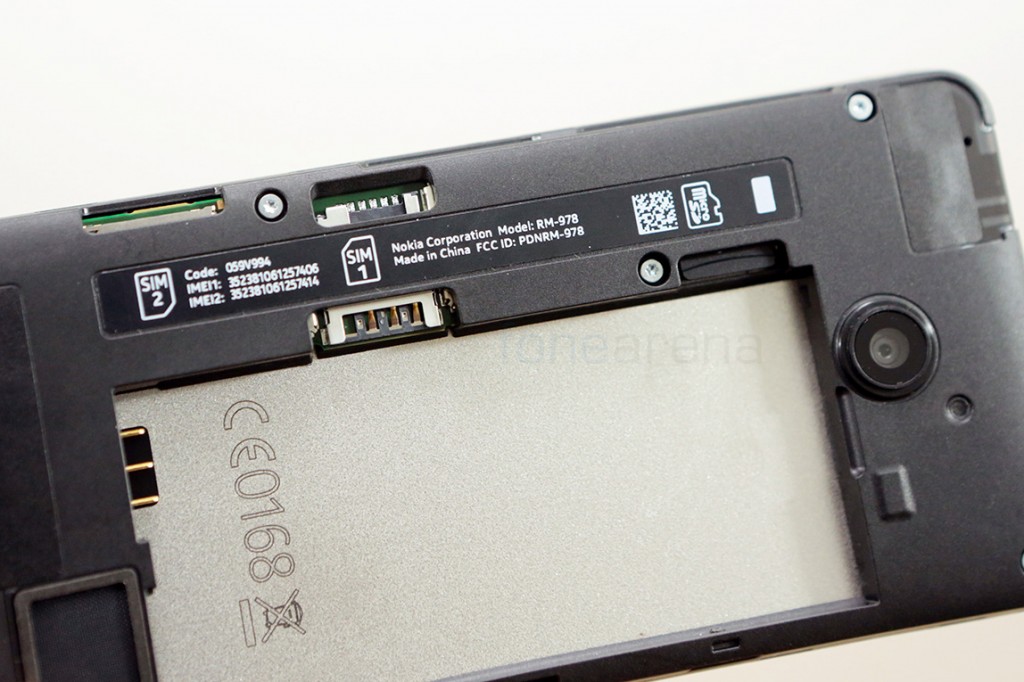 The Dual SIM features have finally made an interesting debut on the Windows Phone platform, and they seem really useful for people seeking this particular feature. By default, there are two sets of tiles for calls and SMS, respective to the two SIMs. Using this one can place calls on the corresponding SIM immediately, but fret not, even if you are in the dialer or inside the SMS app, you can very quickly switch between the SIMs using a nice little toggle over at the top. This switch is present on both the set of apps, and comes in really handy. As usual, you'll also be able to set defaults for data, which works from only one network at a time, but both the SIM cards will support 3G data.
All these settings, including the ability to manage the two SIMs exclusively, with internet APNs, call waiting and such, are present inside the "Mobile + SIM" settings page. There is also a Smart Dual SIM feature, reminding us of the ones present of Samsung's devices, which enable call forwarding between the two SIMs, so that people will always be able to reach you, even when you are on a call with one SIM in use. Overall, we think Windows Phone has one of the best default implementations of Dual SIM, which, while late, is a nice thing to have.
Sensorcore
Among the many other firsts, this is also the first time that a Windows Phone device is armed with a "Sensorcore". This is supposedly a Qualcomm-made product that is pretty much like the Apple M7 motion co-processor that is able to collect motion related data, like walking steps and so on. The Lumia 630 sports this feature through the "motion data" setting, which can be toggled.
To take advantage of this feature, Microsoft updated its Bing health and Fitness app, which shows a step count and lets you find out how much of walking you are doing on a daily basis. It also calculates the amount of calories you have burned this way, which could be advantageous for the health conscious person in you. The step tracking seemed accurate for the limited amount of time I tried it, because lets face it, people sitting behind a computer rarely do field work or, ahem, exercise. This will soon permeate other devices too, as Nokia have said, so consider this to be a default in all of Lumias. Microsoft's health vault, a service designed to mine personal health data could be the primary beneficiary of this hardware addition, as major companies like Samsung and Apple are starting their health push in several ways.
Other Connectivity
As mentioned earlier, the phone comes with 3G Dual SIM connectivity, but there are other other interesting additions to Windows Phone too, like for example, Miracast wireless display support, which made its way onto all Android devices after 4.2. We tested this functionality out with a Miracast receiver we had, called the Netgear Push2TV PTV3000, and it worked surprisingly well, even better than Android devices, when it comes to full HD video streaming. Yes, the phone support playback of full HD videos, here's the demo video we shot using the Miracast receiver –
Software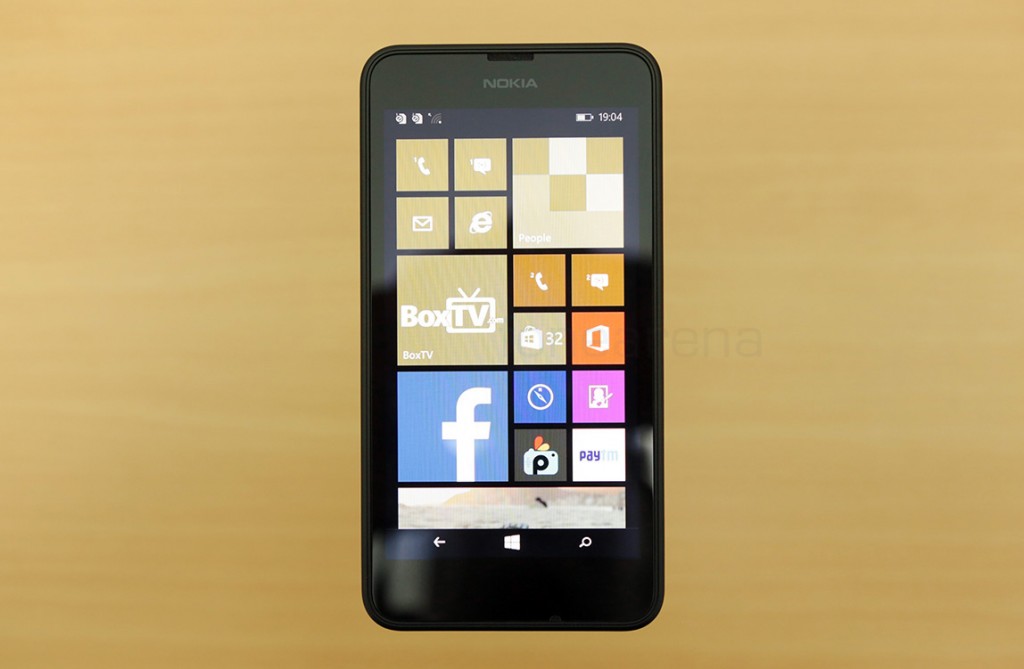 Windows Phone 8.1 has been a huge update for Microsoft. The third ecosystem cemented its place in the market with a low marketshare of around 3% with Windows Phone 8 and the buoyancy created by the Lumia 520 sales proved to be a defining point for the platform. For the first time ever, a hit device ensured that developers could target the platform and reach a decent audience, at least in markets like India where a lot of local apps were released for the platform, along with its iOS and Android counterparts. Windows Phone 8 was a rewrite under the hood and brought lot of developer features, but fast forwarding to 8.1, Microsoft has delivered on the most wanted user-facing features like a notification center, for example. With the platform opening up to support more kinds of devices and chipsets, Microsoft has clearly aiming at closing the feature gap between it and iOS, Android. Here are some highlights of the operating system –
Highlights of Windows Phone 8.1
Action center – Notifications center on Windows Phone, finally!
Cortana – Highly personal digital voice assistant
Start screen wallpapers – Parallax scrolling for the wallpapers
Lock screen themes – Make your own lock screen animations or use presets
Word Flow keyboard – Like Swype, but Microsoft claims it is faster
Skype integration to dialer
New default apps – Calendar, Xbox Music, Video and new Podcasts
People Hub can integrate with 3rd party apps
New type of e-mail accounts supported – including iCloud
New camera UI and gallery app
New utilities – WiFi sense, Storage sense and Battery saver
New enterprise features and a lot more
Lastly, a new file manager to help manage local files
These are only the highlights of the operating system, if you really want to get to know about it more, wait for our review in the coming days, or here is a long video featuring Joe Belfiore, explaining all the important features –
These aside, Nokia has its own layer atop the platform, usually denoted by its alphabetical naming scheme. This time, it's called Nokia Cyan, and it enables a host of features that are not available on stock Windows Phones, like for example, the Nokia Camera app, which uses its own APIs, the Network+ app that enables the Smart Dual SIM feature, Dolby audio support for music and so on. This layer is also the one that enables Miracast display support on a firmware level, and without it, these features won't work. On other devices, like the Lumia 930 or the 1520, the Cyan update also enables features like the Glance screen, which is non existent on the Lumia 630. There is no double tap to wake either, so these are some Nokia Cyan features you won't find on this device. However, this being the first Windows Phone with on-screen buttons, you do have options to use an accent colour for those buttons, adding a splash of colour to the otherwise static-looking navigation buttons. But we realized then that the screenshots were all 800×480, which cut the navigational buttons out of the picture, so here is a photo –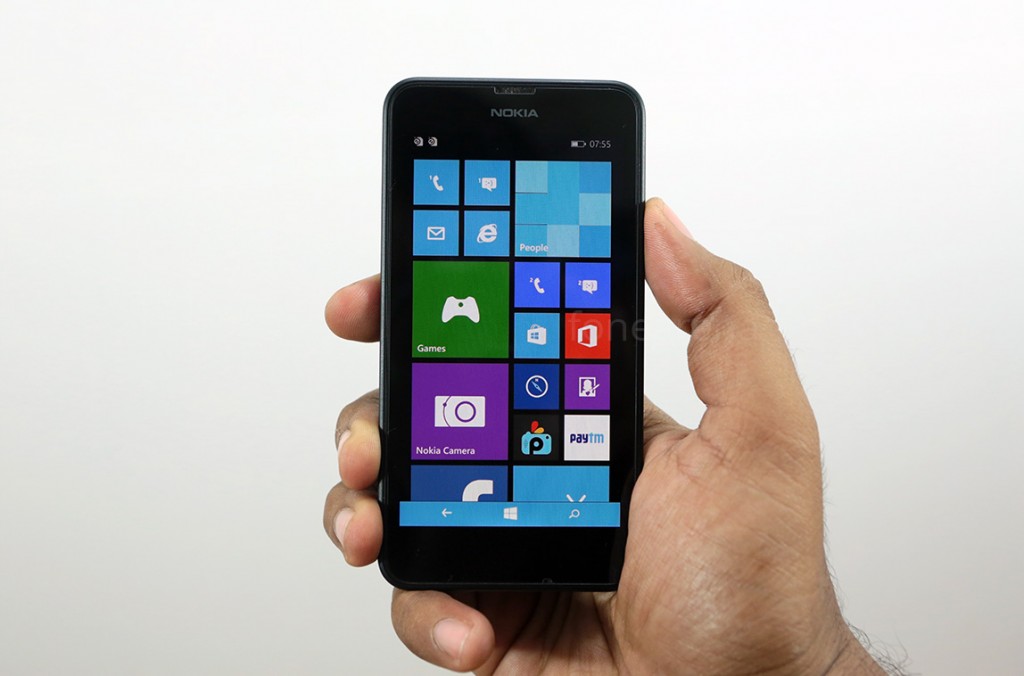 Software features aside, everyone's number one question regarding Windows Phone is, has the app situation improved? The answer is yes, and no. Yes, there are enough mainstream apps on the platform, like even Instagram, the one app that everyone madly wanted is now on the platform, but we still don't have Snapchat, or say, the new hot app, Secret. Your iOS/Android friends are enjoying a newly released game? Good chances that they won't be available for Windows Phone. Got a smartwatch? High chances of them not working with the platform. And not only that, the apps of important services like Twitter, or Whatsapp, or even Facebook are rarely updated in tandem with the iOS/Android release cycle. Whatsapp even had an outage from the store for a good two week long period, which was unfortunately the time we got to review the 630. This made the use of Whatsapp literally impossible on the phone, as there was no other way to even install it apart from the store method, which didn't work, obviously. So, in the end, what we have is an app experience that is still inferior to other platforms, while the OS features have slowly caught up, with 1.0 level functionality.
Microsoft has its work cut out here, it needs more and more developer attention on its platform, and that can't happen without marketshare. This could be just a low end device, but people buying it as a first smartphone will still feel left out when their friends have different devices with obviously a greater selection of apps and services. So, the chicken and egg problem still exists, and we are not sure how Microsoft is planning to fix it, because they need to do it, fast. But if you are already part of the Microsoft ecosystem, you'll fit right in, considering that the platform and its ecosystem can only improve from here.
Battery Life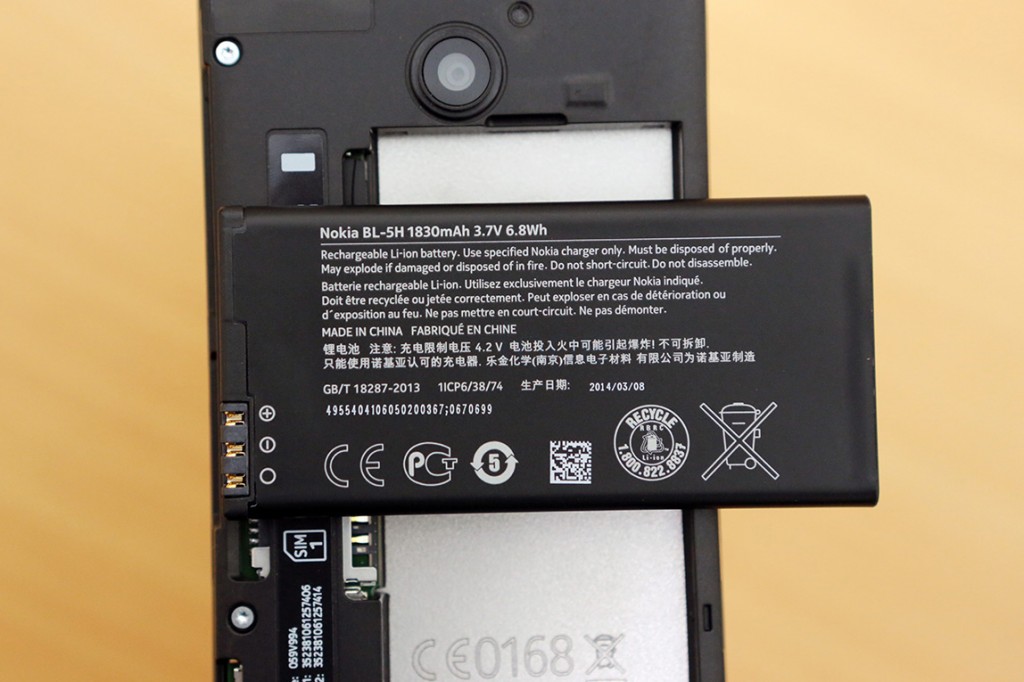 The 1830 mAH removable Li-ion battery on the Lumia 630 is fairly average. It mostly got us through a day of usage, but mostly faltered when used heavily. The display brightness here is again particularly to be blame, as under use, the setting doesn't automatically change and hence a potential burden on the battery. We got about 14-16 hours of battery life under moderate usage and it carries on in standby well. The "Battery Sense" app in Windows Phone can help activate the power saver mode if needed, which has granular control over which app can use background data in the power saving mode. This feature was very much needed earlier, and it's great to see usage statistics as well in the same app. Overall, we'd say the battery life is just average, nothing spectacular, but not too bad either. Just don't expect much.
Conclusion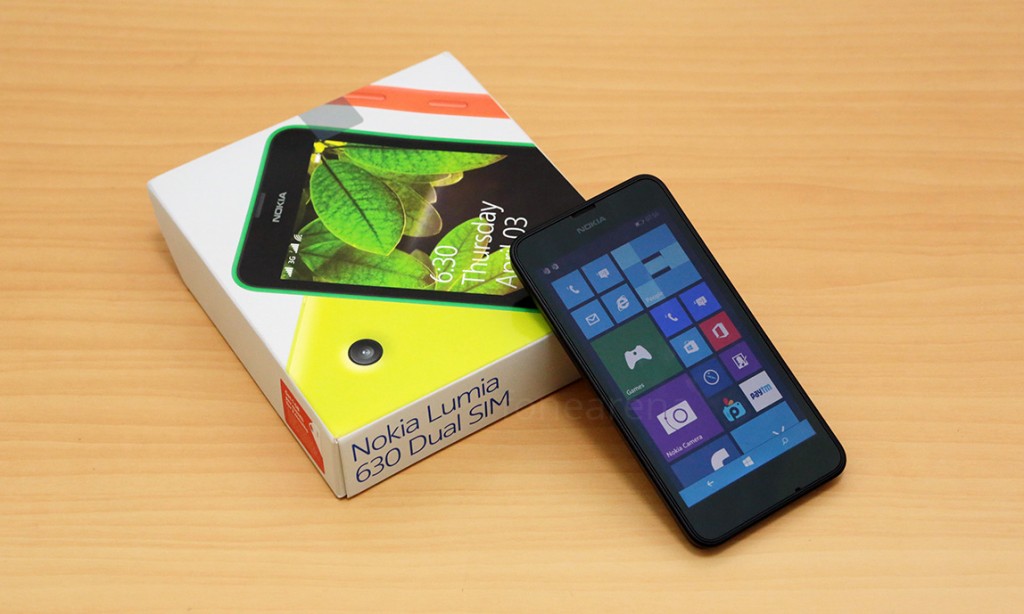 In the end, taking into account everything we have seen above, the Lumia 630 Dual SIM Windows Phone seems like a missed opportunity. It sits in a price bracket exactly between a mid range phone and a low-mid range phone, which has not been properly filled by any major manufacturer. And not only that, the introduction of Motorola's Moto G introduces unprecedented levels of competition in this price segment, which Nokia could have tackled, with the Lumia 630. It has the same internals and even has an extra slot for adding storage, which is not present on the Moto G. A lower resolution screen and a cheaper BoM could have eventually undercut the Moto G, but may be Nokia took it a little too far. The lack of an ambient light sensor is baffling, the display has refresh rate issues, the performance is not so great and the 512 MB of RAM is a bottleneck, among many other things. The Lumia 630 with 1 GB of RAM and a slightly pricier bill of materials could have resulted in a repeat of the 520's success, but again, all of this seems like a missed opportunity now, which could end up frustrating even the most hardcore Windows Phone users. If you are in the market for a cheap Windows Phone, the Lumia 525 is currently a better choice, as it becomes way more capable with Windows Phone 8.1's Storage sense, but if you are looking for a Dual SIM option, the 630 is all you got. To summarize better, here are the pros and cons of the Lumia 630 Dual SIM smartphone –
Pros
Decent build quality for the price
Above average camera in its class
Sensorcore proves useful for the health conscious
Dual SIM features are well thought out
Windows Phone 8.1 out of the box brings a lot of much needed features
Cons
No ambient light sensor
Low resolution 4.5″ display with minor issues in refresh rate
Laggy scrolling performance
512 MB of RAM is a dealbreaker for gamers
Average battery life