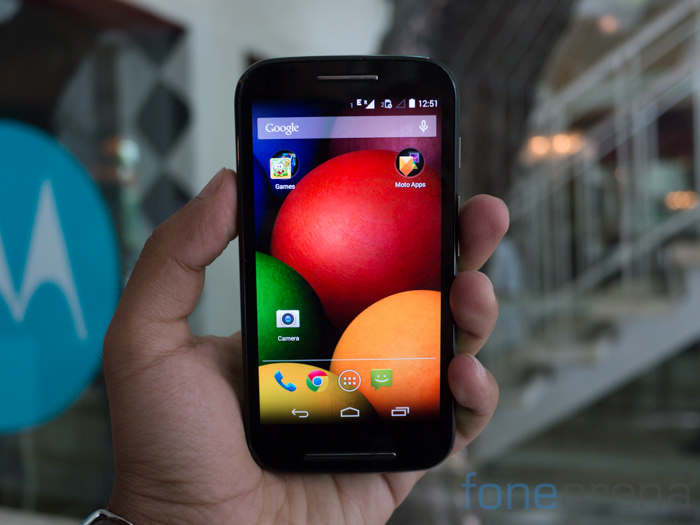 [Update – May 23rd, 2014: Both the Black and White variants of Moto E are back on stock on Flipkart. But it will be available only till stocks last.]
[Update – May 22nd, 2014: Flipkart has just announced that the Moto E will be back in stock from 11.00 A.M onwards on 23rd May 2014]
[Update – May 20th, 2014: Motorola India has announced that they are working on restocking the Moto E and the stocks are expected early next week]
[Update – May 16th, 2014: Both the Black and White Moto E are out of stock on Flipkart again after the orders opened for few hours.]
Earlier: Motorola Moto E that was launched yesterday went on sale exclusively on Flipkart yesterday midnight went out of stock earlier today. Even though smartphone is currently out of stock, Flipkart has opened bookings for the phone so that users can still order it with launch day offers, but the delivery date is now between 7 to 10 days for new orders.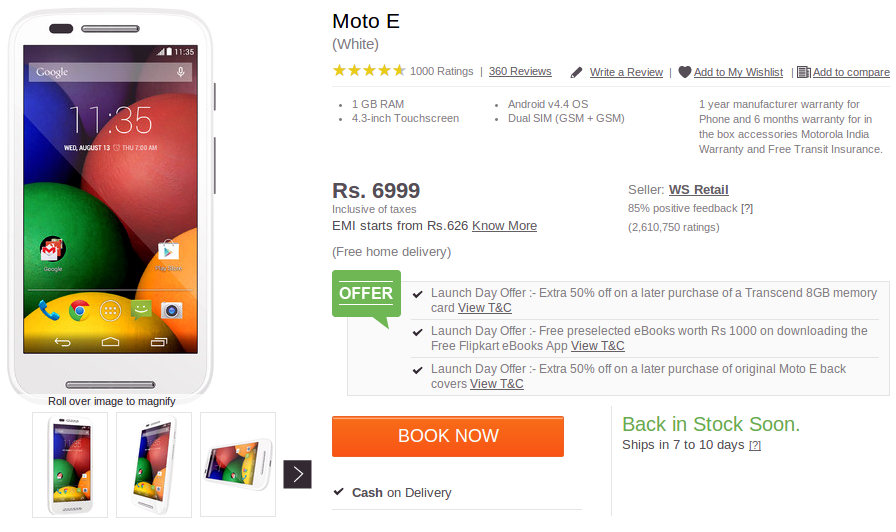 When the Moto E went on sale Flipkart offered same day delivery, and customers who ordered it has started getting their smartphone already. It also offered in-a-day delivery in other places where it could not deliver by today. When more customers started ordering the phone it stopped offering in-a-day delivery and pushed back the delivery date to Monday, 19th May. We have not heard from anyone regarding delay in shipments for the current orders.
The Motorola Moto G went out of stock in less than an hour when it went on sale on Flipkart leaving many prospective buyers frustrated. On the next day Motorola and Flipkart promised to ensure there is no outage and stock the phone.
Flipkart also introduced launch day offers that includes, 50% off on back panels and 50% off on Transcend 8GB micro SD cards. These could be redeemed between May 22nd and June 30, 2014 after the buyers get a confirmation mail regarding the offers. It also offer Rs. 1000 worth Flipkart eBooks that would be available to download within 48 hours after purchase.