In a bid to enhance its ad offerings, Google will soon start to roll out mobile app install ads in mobile search and YouTube. The company is following other tech giants like Facebook and Yahoo. Just last week Twitter also introduced app-install ads on its mobile platform.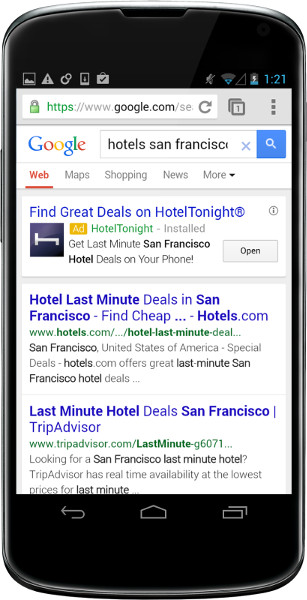 Google will let app developers target its mobile customers based on the apps they have already downloaded. This means users should expect more ads on Google's mobile search and YouTube in coming months. Giving an example, the company says someone who is regularly using a fitness app might see an app that lets you track your diet. YouTube's app install ads will run with TrueView, the in-stream service that allows users to skip through videos.
Furthermore, Google also stated its plans to promote increased app usage with an advertising tool called "deep ad linking". Users see a button marked "install" right next to the ad, or "open," if they already have the app but maybe haven't used it in a while.
With the debut of app install ads, marketers will be able to provide the same direct pathway into their apps from the search ads and display ads that they run on Google websites. That will help companies boost the amount of time that consumers spend using their mobile apps.
Facebook and Google currently contribute for over 50% of mobile ad revenue and the search engine giants plans to increase its share even further with this latest move.