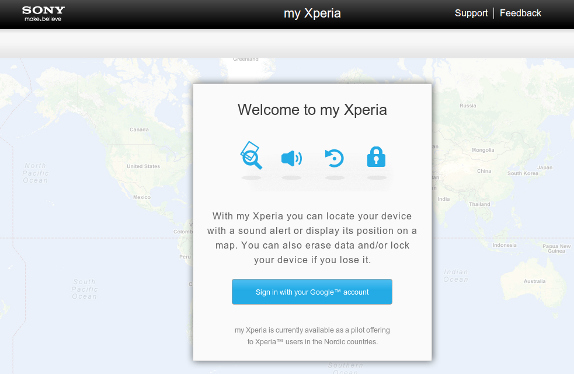 Sony has announced that they have started rolling out free remote security service called my Xperia for Xperia devices globally. Sony rolled it out starting from Nordic countries back in January 2013. Now after several months of beta testing and tweaks, the app has been graduated to stable version. This would let the Xperia users find the device remotely when it is lost, protect private information by locking the device or delete all the information on the device. It uses Google account to connect to the device.
Features of my Xperia service
Sound an alert to get someone's attention –it'll also override silent mode and wake the display
Map location via myxperia.sonymobile.com
Lock the phone to keep info private, and ping a message with contact details
Set a phone number where the finder can reach you.
Erase both internal and external SD card info / data if required
The service would be available select 2012 and 2013 Xperia devices over the next few weeks globally. Timing and availability may vary by model, market and carrier. Users can activate the my Xperia service from Settings > Xperia> my Xperia from their device, after that they can go to myxperia.sonymobile.com, signin with their Google account to use the web UI.