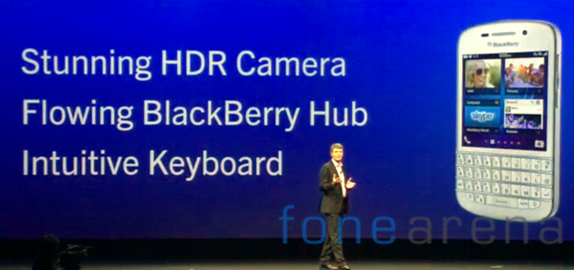 BlackBerry has just announced the BlackBerry 10.1 update for the BlackBerry Z10 and the Q10 at the BlackBerry Live conference in Orlando. It  brings HDR Camera, Better BlackBerry Hub features Support for PIN to PIN messages, Fine Cursor Control and lots more. It would also bring support for Skype finally and Keyboard Shortcutsand instant actions for the BlackBerry Q10.
New features in BlackBerry 10.1
BlackBerry Hub: Support for PIN to PIN messages for direct communication between BlackBerry smartphones has been added to the BlackBerry Hub. Plus, improved attachment support in the BlackBerry Hub makes it easier to view emails which have been sent as attachments to other messages.
Notifications: With BlackBerry 10.1 you can personalize the notifications for your accounts and contacts so you always know what is happening around you. Customize ringtones, vibration and the LED light by contact or by account for more personalized notifications.
Fine Cursor Control: BlackBerry 10.1 makes it easier and more accurate to pinpoint exactly where you want to type. Tap once to bring up the cursor. Grab the blue circle and drag it around to place it exactly where you need it. Tap either side of the circle to move left or right by just one character. It's easy to move around with speed and precision.
Camera: The 10.1 update adds HDR shooting mode for beautiful images in tricky lighting conditions. A standard image takes a picture at one exposure level. Where you have high contrast between light and dark areas of the photo, fine details can be lost. High Dynamic Range (HDR) mode takes multiple pictures at different exposure levels and layers them automatically to produce a single photo that combines the best of the dark and light areas.
Lots more to discover: You'll find lots of new improvements across the BlackBerry 10 OS like landscape support for the calendar, easier international dialing, improved red eye reduction in the picture editor and much more. The first step to discovering these new features is to update your BlackBerry 10 software.
Skype: It will also bring Skype support
The BlackBerry 10.1 update for the BlackBerry Z10 would roll out through carrier partners over the coming weeks. You'll get an alert in the notifications section of the BlackBerry Hub. You can also check for updates from Settings> Software Updates> Check for Updates>. No word on roll out for the BlackBerry Q10 yet.