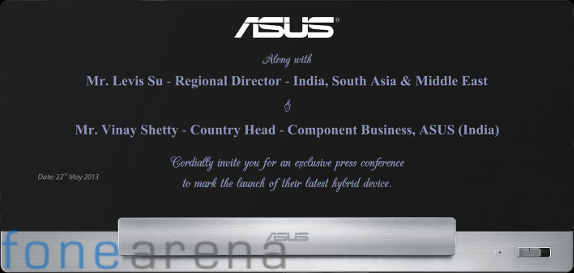 Asus Transformer AiO Hybrid tablet is finally coming to India. Asus has just sent over a press invite for the Transformer AiO launch event on 22nd May 2013 in India. The Transformer AiO all-in-one PC with a detachable tablet was unveiled earlier this year. It is actually a desktop PC with Windows 8, powered by a 3rd generation Intel Core processor with NVIDIA GT 730M graphics. It seamlessly switches into a self-contained tablet running Android 4.1 with an NVIDIA Tegra 3 quad-core processor at the touch of a button. It has a 18.4-inch Full HD (1920 x 1080 pixels)  LED-backlit IPS multi-touch display with 178-degree wide viewing angles.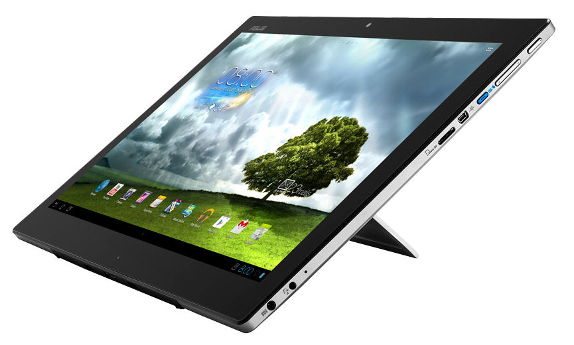 The connectivity options include, Mini HDMI port, Dual-band WiFi 802.11 a/b/g/n (2.4 GHz and 5 GHz) (PC Station), WiFi 802.11 a/b/g/n (Tablet), Bluetooth 3.0 (PC) & Bluetooth 4.0 (PC Station), USB 3.0 ports, 1MP webcam, up to 1TB SATA 7200RPM hard drive (PC), up to 8GB RAM, Up to 32GB eMMc (Tablet) and wireless keyboard featuring Android hotkeys. The tablet has a 38WNon-removable Polymer Battery that would offer up to 5 hours of usage.
The Asus Transformer AiO went on sale in the U.S. last month at a price tag of $1,299. Wonder how they'll price it for the Indian market. Stay tuned to FoneArena to find out more details about the device.