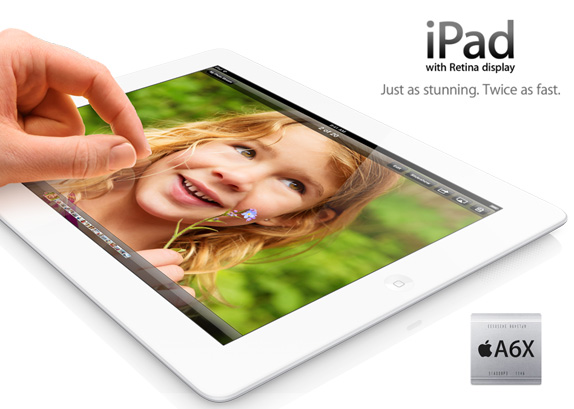 Along with the iPad Mini , Apple has also  introduced the new 4th Generation iPad (iPad 4). Apple had launched the previous iPad (iPad 3rd) just 7 months ago in March , and in a surprising move Apple has updated the iPad already. In terms of hardware the new iPad looks almost identical to the iPad 3 but packs the all new Apple A6X chip which is two times faster than the previous A5X chip.  The 30-pin connector has been replaced with the new Lightning connector. Apple is also stating improved WiFi performance and additional support for more LTE networks in the latest iPad.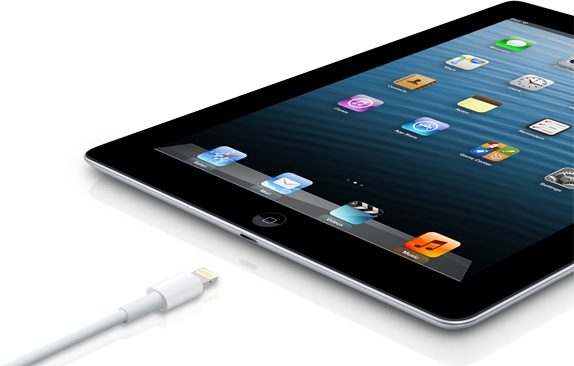 Interestingly the iPad 4 still uses a microSIM card for cellular data while the iPad mini uses a nano SIM card like the iPhone5. In terms of specs the iPad 4th gen weighs and measure the same as the iPad 3rd gen.
The new iPad you just got home is already out dated. I bought my iPad 3 in May earlier this year and it is barely 6 months old and it already feeling ancient.But looks like it is move by Apple to standardize it's product line up and accessories with the new lightning connector.If you own an iPad 3 , you should not bother upgrading to the iPad 4 but if you own an iPad 2 or earlier and looking to upgrade , the new iPad is totally worth considering.Would be interesting to see some benchmarks of the new A6X chip !
Pricing is the same starting at $499 (US) for the WiFi only 16GB model going up to $829 for the WiFi+Cellular model. Pre-orders will start this friday , October 26th in select countries and will go sale on November 2nd. The WiFi+Cellular models will be available in mid-November.