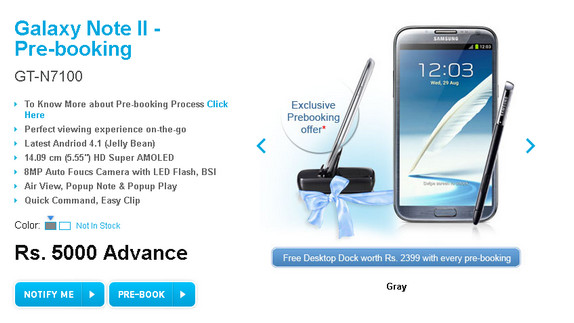 Samsung has just started Pre-Booking for the much awaited Galaxy Note 2 on it's India eStore. The device which is the successor to the original Note was unveiled last month at IFA Berlin along with the Galaxy Camera. The phone has a 5.5 inch display and runs Android JellyBean out of the box. Samsung is asking for Rs.5000 as an advance payment for the pre-booking which will be adjusted when the device goes on sale later this month.
Samsung is throwing in a free Desktop Dock worth Rs. 2399 for pre-order customers.
The Note 2 has some pretty interesting specs.  It packs a quad core processor and a 3100mAh battery.The Note 2 also comes with S-Pen stylus much like the previous the Note.
From what we have been hearing the Note 2 is expected to hit stores in India by Sep 24-28th. Just read the fine print and it says that "A pre-booking order cannot be cancelled once placed."
Samsung launched the Galaxy S3 recently at Rs.42500 few months back. How much would you pay for the improved version of the Galaxy Note ?
Thanks Ankur !