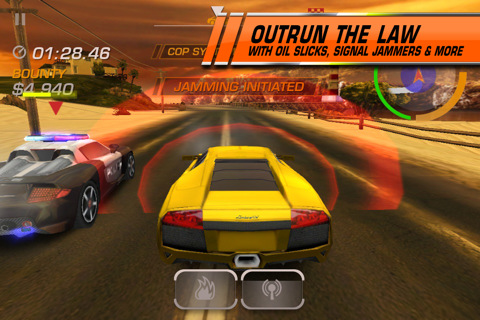 The NFS HotPursuit for iPhone/iPod/iPad got an important update which brings the racer mode to the game in which the user could play only as the Cop until now. NFS HotPursuit is one of the famous racing titles for iOS devices. EA games just pushed out an update which updates the game to v 1.0.2 and brings some great changes.
24 Racer Career Events across 4 different modes for double the gameplay depth
A full set of Racer Career achievements
15 cars to drive in the Racer Career, including 5 Racer exclusives
3 new Racer weapons – overdrive, jamming, and oil slicks
Color customization options for Racer cars
10 additional Cop or Racer cars that can be driven in head-to-head showdowns via local WiFi and Bluetooth
Quick Play Racer Mode for a whole new way to roll
Support for additional languages (Simplified Chinese and Korean)
And the game is available for an unbeatable price of $0.99. Goto iTunes and grab your copy now.