Home » Motorola, Software, Verizon
Motorola Droid X Gets A Software Update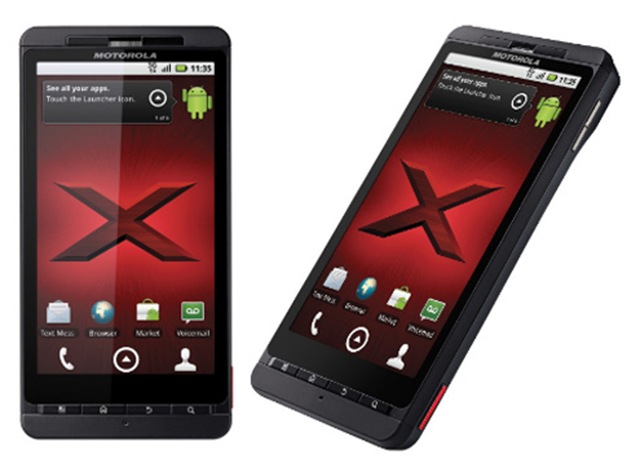 We have a good news for the Motorola Droid X users. Verizon Wireless has recently released a software update for the Motorola's powerful smartphone. The latest software update comes with numerous enhancements and improvements. Check out the complete changelog below.
Changelog

:

Enhancements:
Preloaded Madden NFL football game
Preloaded Adobe Flash Player 10.1
Preloaded MyVerizon application (v5)
Added Data Widget to home panel
Improved Android OS Froyo stability
Improvements:
Improvements to Microsoft Exchange ActiveSync: Enhancements to corporate email sync and push stop; PIN lock timeout now follows the server's settings; Enhancements to SMTP authentication.
Improvements to Visual Voice Mail: "Failed delivery to" message displays correctly when messages can't be sent; Audio routes correctly to speaker, even when connected to a mono Bluetooth headset.
Other improvements:
Device now supports MP3 media files after MR2 update
MusicPlay now runs smoothly and without lock-ups
Weather widget stays with assigned location updates, not current location
"Smart Profile: Face Down" feature will not permanently disable the phone's ringer
Enhanced audio sync when playing high quality WMV videos
Improved video playback
Clearer colors assigned to soft keys in applications such as Google Maps
In the Contacts widget, keyboard now appears when using "type to search"
Eliminated camera "Force Close" errors
Device lock remains, even after a long, hard key press
Quicker wake-up of display when on a call
The latest software update can be easily downloaded from Over-The-Air (OTA). It is always advised to backup your data before updating the device. For step-by-step instructions on how to perform the download, head over to this page.