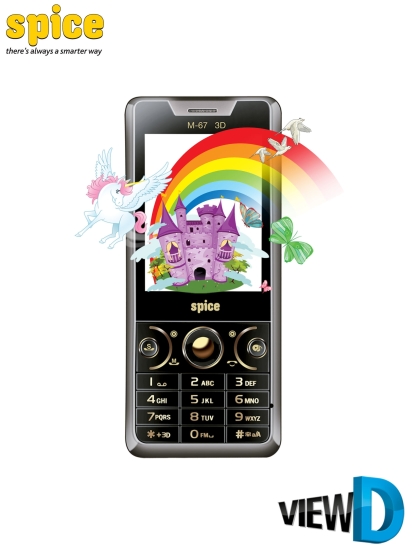 Spice Mobiles today launched the India's first 3D phone called View-D. The View-D phone features auto-stereoscopic display which will allow the mobile phone users to experience  images, videos and the interface in 3D without the 3D glasses. This is a first phone with auto-stereoscopic display and it comes  with with stereo surround sound and dual speakers. This phone also allow the users to switch between 2D/3D display. This phone also comes with remote wipe technology which clears the date in the phone by sending a SMS when its lost or stolen.
View-D Specifications:
Dual SIM (GSM+GSM)
Bluetooth
2.4 inch 3D display screen
2MP Camera
FM Radio
MP3 player
Expandable memory upto 16GB
GPRS and WAP
Price Rs 4299.
Mr. Kunal Ahooja, CEO & Director of Spice Mobiles said "View D the mobile device, with a 3D display has been launched in India for the first time. We have created this new device to fulfil the latest demands of smart mobile phone users. We expect that the View D will get popular amongst the youth, as they are always looking for smarter and newer ways of communication. The Spice View D satisfies ours hunger to bring in innovative technology as well as their need of trying something new and cool" .