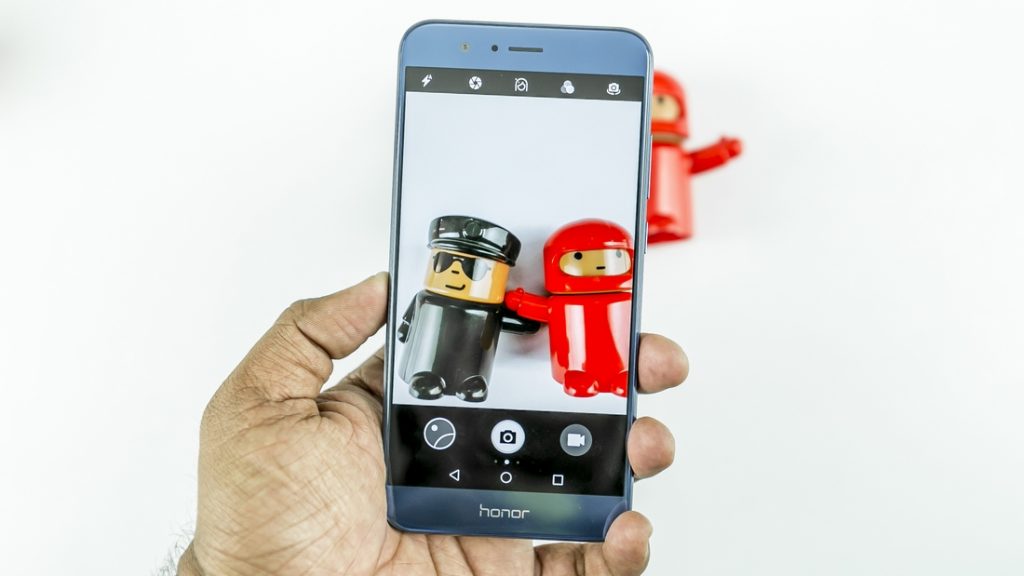 Honor recently confirmed the list of phones that will be getting the Android 8.0 Oreo update which also included the Honor 8 Pro. It started rolling out the update for Honor 8 Pro and the Honor 9 phones in the UK last week. Earlier this week it started rolling out the update for Indian users as well.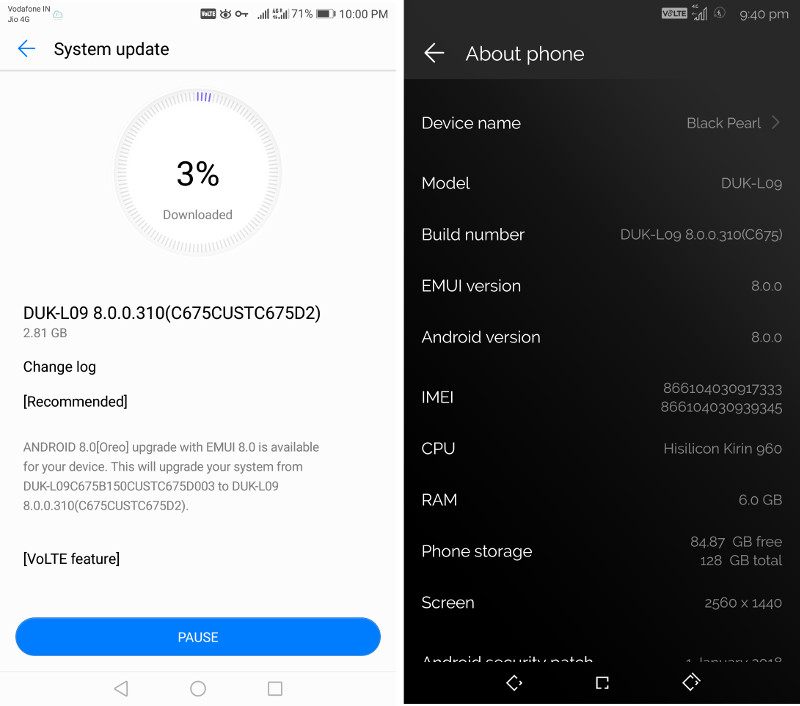 The Honor 8 Pro EMUI 8.0 Android 8.0 Oreo update (DUK-L09 8.0.0.310) is 2.81GB in size and includes Android security update for January 2018. It also brings VOLTE calls enabled for Vodafone and Jio as well as improvements and bug fixes. Check out the complete changelog below.
ANDROID 8.0[Oreo] upgrade with EMUI 8.0 is available for your device. This will upgrade your system from DUK-L09C675B150CUSTC675D003 to DUK-L09 8.0.0.310(C675CUSTC675D2).

[VoLTE feature]

VOLTE calls enabled for Vodafone and JIO.

[ User Interface]

EMUI 8.0 not only brings you the latest version of Android (8.0), it's also boosted with a lot of great features and improvements to make your device more intuitive, faster and safer. We highly recommend updating now.

[Navigation dock]

A new floating Navigation dock lets you perform frequently-used operations from anywhere on the screen. Newly added home screen shortcuts let you quickly access the app features you use most frequently. Simply touch and hold an app icon to display a shortcut menu.
You can drag your navigation to any where of screen once you enabled this brand-new feature.
How to set:Go to Setting > Smart assistance > System navigation > Navigation dock Or drop down status bar > Navigation dock.

[App Shortcut]

Long-tap on parts of apps launcher icons, a shortcut menu will display.
You can Tap and drag a shortcut to pin it to the device's launcher.
Play Store, Settings, Gallery, Dialler, Contacts, Messaging, Camera, Email, Themes, Clock, Calendar, Notepad, Sound Recorder, Downloads etc. support the feature.

[Touch protection]

Improved false touch protection functionality reduces unintended operations on the touch screen in a wider range of scenarios.

[Smart Tips]

Smart tips recommend you faster and smarter ways to operate your phone, appearing in specific usage scenarios and responding to your usage habits.

[Private space]

Enjoy enhanced protection for your system, privacy, and data with new updates to system security and PrivateSpace.
The PrivateSpace menu has been optimized, making it easier to create a PrivateSpace on your device. Files can now be moved between the MainSpace and PrivateSpace with ease.

[AI based optimization]

AI-based optimizations deliver greater stability, fluidity, and speed. The system boots faster, videos are more fluid, and images thumbnails load rapidly even in huge volumes.

[contacts]

Contacts and Email now let you sync the career details of your LinkedIn contacts.

[Settings]

Settings has been redesigned for clearer and more intuitive organization.

[Gallery]

Gallery new features a recycle bin that retains deleted photos for up to 30 days. Accidentally deleted photos can be restored with a single touch.

[Phone Manager]

Phone Manager has been simplified to make managing your device easier. Standard cleanups are faster and deep cleanups more thorough.

[3D features]

Take sweeping 3D panoramas, set 3D dynamic lock screen wallpapers, and discover new possibilities with a host of new features and settings. Use Portrait mode to effortlessly capture glossy, celebrity-worthy portrait shots with stylish bokeh effects.

[Google Security Patches]

Google security patches are merged to make your device more secure.

[Pre-Upgrade Considerations]

Downloading over WiFi is recommended. and make sure that the remaining power is greater than 50%.
It's recommended to backup all of your personal data, including phone book, text messages, emails etc. in advance.
Before upgrading, please ensure there is sufficient storage space for the update package on either the microSD card or the internal storage prior to proceeding with the update. Free storage space can be checked under system settings -> storage.
During downloading upgrade package, the operation of the device will not be impacted. Please note, upgrade procedure need have some minutes to let device reboot and flashing. During flashing, the device is not available to be used.
This version can roll back to old version. Please refer Rollback guidelines available with the release. and the roll-back will clear user data so backup is recommended.