Home » Android, Motorola, USA, Verizon
Motorola WX445 Android device leaked, headed to Verizon?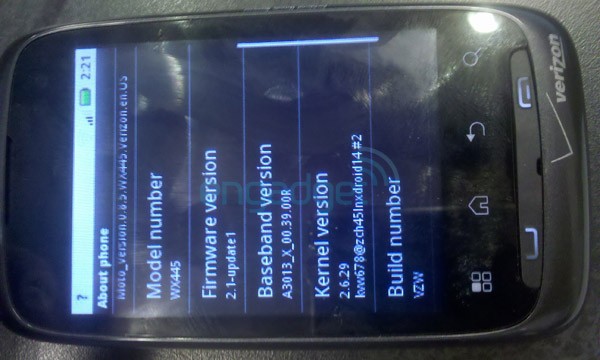 Folks over at Engadget got their hands on the leaked screenshot of an upcoming Motorola Android device that will hit Verizon. The phone name is unknown but it's model number is Motorola WX445. it's a low-end Android phone, that's running Android 2.1 with MotoBlur, It comes with an unknown pixel camera, the touchscreen is about 2.5 or 3 inches, and it's running on 1170mAh battery. Engadget is told that it's not an impressive device like the Droid X or EVO 4G, it's just a simple cheap device for casual use. This device can be a good alternative for the Motorola Devour. As Motorola announced later that they will introduce a lot of Android devices this year, so you can expect more device from Motorola in near future, and I believe that you will be able to see most of the devices on Verizon.
We'll hear some new information about this new leaked device soon. For more shots, head over to Engadget.