Home » Apple, Handsets, India, iPhone, News
iPhone 4 India Launch in September ? Price might be high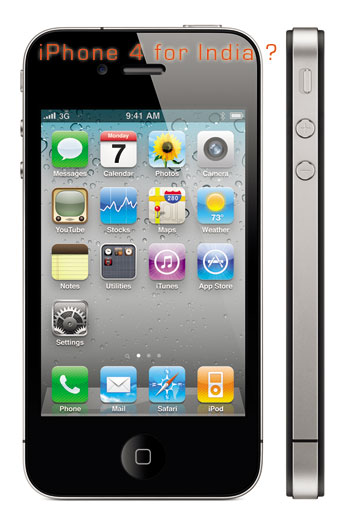 During the WWDC announcements today Apple announced that the iPhone 4 – the latest apple phone will be available in 88 countries by September this year. We are not sure if India is amongst the 88 countries listed. But since there are lot of iPhone fans in India , we would love to get our hands on the device pretty soon and not a year later. The iPad is expected to be launched in India soon.
But if the 4th gen iPhone or iPhone4 running on iOS4 comes to India, the Price might be really high and much higher than the 3GS.  But this phone will be a sure hit unless Apple has stock issues.This iPhone will sell just for 3 features – Retina Display , Facetime VideoCalling and Gyroscope . The 5 MP camera with HD Video Recording and iMovie – video editing is not to be forgotten.
Now tell me readers ? Is there a market for the iPhone 4 in India  ? Are you willing to buy it ?  How much are you willing to cough up?  We shall let Apple know this time so that they don't make us wait for ever !
PS: The device is going to be available in Singapore and Hongkong in July. India is not faraway !