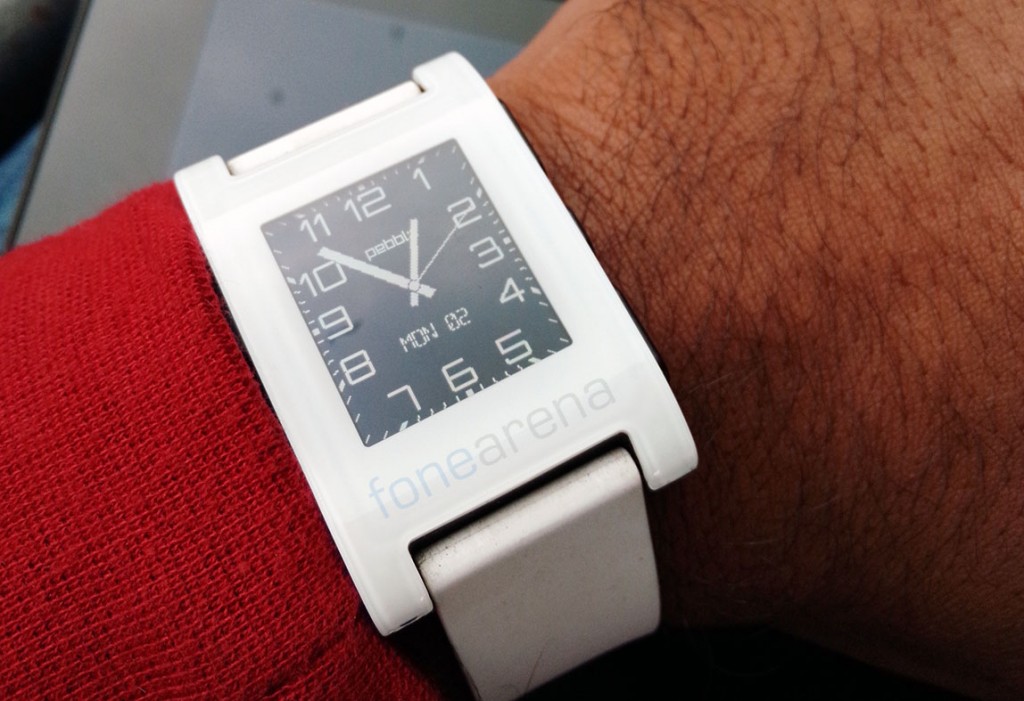 Pebble, the popular E-ink Smartwatch just recently got updated to support all iOS notifications and the new 2.0 SDK. But as an early Christmas present, the company has released another Firmware update(v1.14) for the Smartwatch that enables several new must-have features like Multiple Alarms with Snooze, Do not Disturb mode and improved notification control. We have been using this smartwatch for a while, and we must say, these additions were much needed and we are happy to see a small(but growing) company like Pebble deliver. The company, largely known as a Kickstarter success story, is on a path of refining the software for the Smartwatch, and the recent updates show that they are serious. With SDK 2.0 release, Pebble promised more app integration from the like of Foursquare and Runkeeper. While we are still waiting on that, it's good to see more features added to it in the meantime.
You can update your Pebble by just connecting it to your phone and opening the app. The app will do the rest.
These are all the new features that have been added to the Pebble Smartwatch in FW 1.14 –
What's New

Do Not Disturb. Block notifications for a set period of time (from Pebble: Settings » Notifications » Do Not Disturb).
Alarms app update. Create multiple Alarms, toggle Alarms on/off, and edit existing Alarms.
New "Snooze Alarm." Customizable via the Pebble Alarms app.
Improved Notification Control. Specify what notifications are displayed (Notifications On, Phone Calls Only, or Notifications Off). Notification settings are now accessible more quickly through a dedicated menu (Settings » Notifications).
Improved iOS performance. Notifications are now sent more quickly from your iOS device to Pebble. After exiting Airplane Mode, Pebble will now search for connectable iOS devices immediately, instead of waiting one minute.

Bug Fixes

Fixed an issue where Pebble may enter "Recovery Mode" immediately after updating to 1.13 firmware.
Fixed an issue affecting some iOS Pebblers experiencing dropped Bluetooth connections, a few seconds after connecting.
Fixed an issue where Caller ID data would not display on Pebble after receiving a missed call.
Fixed Bluetooth data transfer reliability issues, particularly during a firmware update.
Fixed an issue where Pebble would sometimes keep vibrating after dismissing or answering a phone call.
They have fixed a lot of bugs too apart from adding great features like Do not disturb – where it will stop notifying you in a set period of time, Alarms – Multiple alarms with snooze, Notification control – Can be just set to calls(YES!) and finally improved iOS performance. Yes, we can vouch for the earlier slowness, the notifications appeared slightly late on iOS than on Android where it was instant. Great update for Pebble users, any of you here? What do you think of the update?
Source Pebble Blog