As our phones become smarter and applications enable us to do more, the onus lies on the hardware to be able to keep up with our demands. Its a constant struggle to strike the right balance between power, battery consumption and the all important price point to create an end product that satisfies consumer requirements while also falling within the earlier mentioned criteria. While the likes of Qualcomm are focussing on making 'faster and better' cores, both Samsung and MediaTek are experimenting on increasing the number of cores themselves.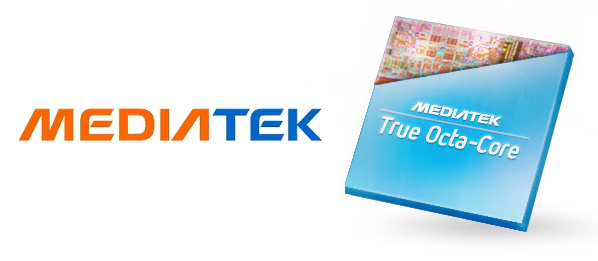 We recently got to spend some time with Dr. Finnbarr from Mediatek and talk about what the MT6592 chipset brings to the table. There's been a lot of hype around Samsung's octa core chipset for smartphones and now that MediaTek is trying to level the playing field by bringing their own solution into the mix, we thought it best to take a look at what sets the MediaTek 6592 apart from the competition.
Before getting into the game of cores itself, its important to know the difference in the architectures being used. ARM's Cortex A series of processors can be classified in three tiers based on performance. When we're talking about 32 bit processors, we can see that the Cortex A15 is the fastest followed by the A12 and then the A7 that is optimized for power efficiency. The die area used by a Cortex A15 processor is about 5 times that of an A7 and power consumption can go up to 4 times that of the A7. Hence multi threaded performance can be replicated by using a set of Cortex A7 cores instead of a single A15 chip. Unfortunately multithreaded applications to make use of it are still fairly limited on the mobile front. ARM's big.LITTLE heterogenous computing architecture is responsible for pairing low power cores with high performance cores as seen in the Exynos 5 Octa and now on the MTK 6592 as well. Created with the intention of enabling higher power efficiency and facilitating better scaling according to performance requirements. The big.LITTLE architecture can work in three ways out of which Cluster Migration and Heterogenous Multi Processing are the most relevant and we talk about them below.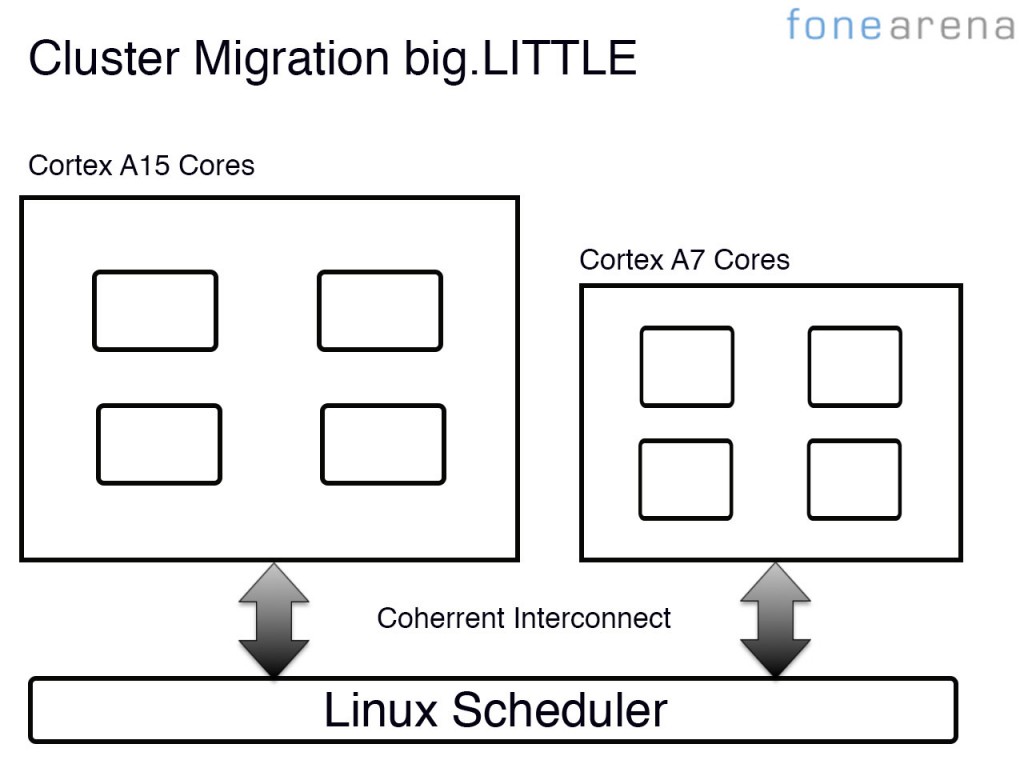 Cortex A7 and Cortex A15 cores have been designed to be feature compatible to make pairing them easier. Cluster Migration is the implementation that Samsung decided to go with for their Exynos 5 Octa (5410) chip. This implementation lets the chip alternate between the high performance A15 and the higher efficiency A7 cores depending on the use case. The system simply transitions from the Cortex A7 cluster to the Cortex A15 as the load surpasses a level on the cluster. The downside of this implementation however is that all eight cores cannot be accessed simultaneously. While this is not really an issue at the moment, highly multithreaded applications in the future would be bottlenecked by this restriction.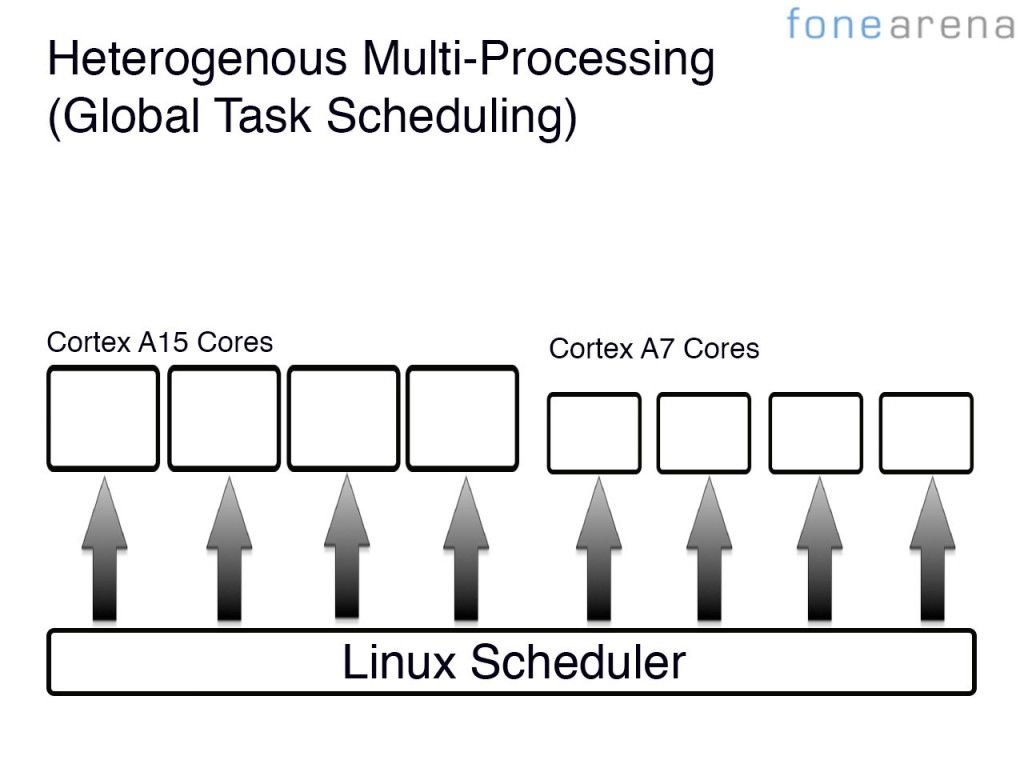 Heterogenous Multi Processing is the most powerful use case of the big.LITTLE architecture. Here all the eight cores can be used simultaneously. What this entails is that in a highly multithreaded application, high priority threads can be allocated to the Cortex A15 cores while the lower priority threads go over to the A7 cores. While theoretically it might be possible to have eight Cortex A15 cores, Dr. Finbarr reiterated that the thermal restrictions ensure that such a configuration will not be seen anytime soon. Samsung however is implementing Global Task Scheduling in its Exynos 5 Octa 5420 chip with four A15 cores and four A7 cores.
There are several advantages to using global task scheduling. These include:
Ability to use all cores to provide a peak performance boost in the SoC.
As the scheduler directly controls tasks between cores, kernel overhead is minimal and power saving is increased.
Global Task Scheduling supports non symmetric configurations.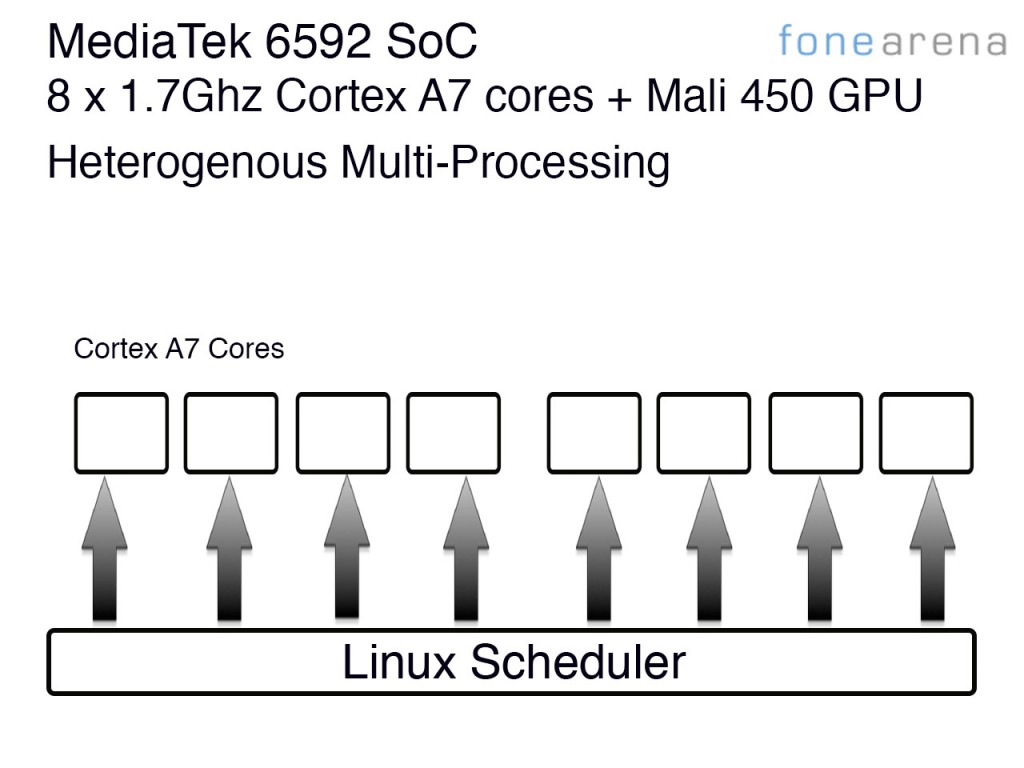 MediaTek has opted for an interesting combination in its 6592 SoC. Instead of creating clusters or having both A7 and A15 cores for heterogenous multi processing, it has instead opted for a grid of eight efficient Cortex A7 processors in its octa core configuration. Each of these cores can go right up to 2.0 Ghz but has been clocked at 1.7Ghz. With properly optimized applications, the benefits of having additional cores can outweigh the outward performance boosts gained by having A15 cores. Gameloft has come up with a tech demo showing the performance gains that can be had on MediaTek's platform and we suggest you the video below.
httpv://www.youtube.com/watch?v=eAasuhX0nLk
In concise, the added headroom provided by the extra cores lets developers enable additional post processing filters to give you god rays, specular effects, depth of field and more immersive water, shadow effects all of which add to the realism and aid in bringing your smartphone closer to a home console in terms of gaming performance. The 6592 SoC is built using the 28nm High K Metal Gate process and supports video output at up to Full HD resolution. It can also support up to 16MP cameras while video can be output as high as UHD 4K x 2k H.264.
We're more intrigued by the addition of support for new video codecs like VP9 and H.265. The benefit of this is to have higher resolution, bit rate content with lower data consumption hence reducing network congestion as well as the amount of data consumed. Additionally, MediaTek is doing some very interesting work on frame rate interpolation. By analysing individual frames using their own 'ClearMotion' technology, 24 or 30FPS video can be bumped up to pseudo 60FPS content that appears smoother.
MediaTek has made a pretty compelling case for their octa core implementation and how it may usher in the next wave of smartphone performance. Unfortunately, the reality is that an overwhelming majority of applications don't go beyond two cores.
httpv://www.youtube.com/watch?v=qdauwqhmsas
Qualcomm's Snapdragon processors with their Krait CPU cores have an architecture that is similar to ARM's Cortex A15 chip. With the current state of applications relying on a minimal number of cores, the likes of Qualcomm's Snapdragon chipset have a fairly large lead in terms of performance.
As we see more and more developers start writing applications keeping concurrency in mind, we'll start reaping real life benefits of having octa core processors. For now the benefits tend to be a bit limited other than in applications that have been specifically optimized to extract the most out of it like Gameloft's Modern Combat tech demo.