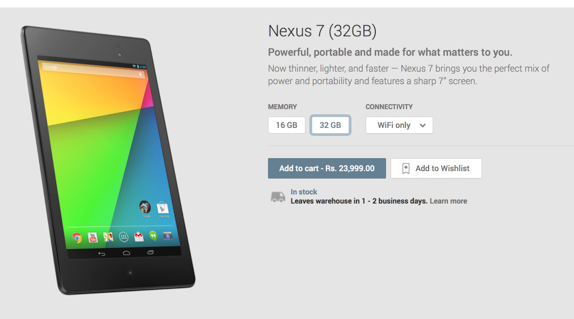 After a very long wait, Google has finally started selling the 2013 edition Nexus 7 tablets in India. The tablets have been priced rather competitively and start at just Rs. 20,999 for the 16GB variant. The 32GB WiFi only model will be available for Rs. 23,999 while stepping up to the LTE variant will bump up costs to Rs. 27,999. Shipping estimates suggest that the tablet would leave the warehouse by 26th November and we're expecting supplies to be a bit limited initially.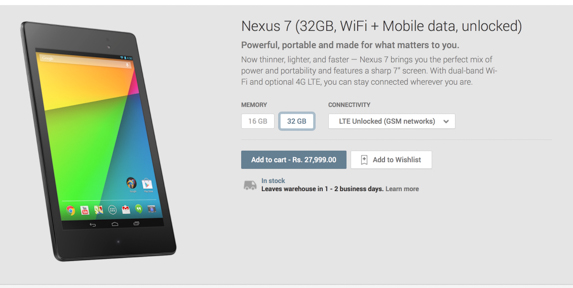 We've broken down the pricing structure in an easy to glance format:
16GB WiFi only Nexus 7 – Rs. 20,999
32GB WiFi only Nexus 7 – Rs. 23,999
32GB WiFi + LTE Nexus 7 – Rs. 27,999
Google's Nexus 7 tablet runs a stock build of Android and brings with it the promise of guaranteed updates for at least 18 months. The Nexus 7 has an absolutely stunning 7 inch Full HD display and powering it is a 1.5Ghz APQ8064 Snapdragon processor paired with 2GB of RAM. Given the size and aspect ratio of the tablet, it is particularly well suited for multimedia consumption on the go. In our Nexus 7 review, we found battery life to be less than stellar owing to the smaller pack 3,950 mAh battery pack used. The tablet includes all standard connectivity options as well as Qi wireless charging. Lacking a microSD card slot, you'll be limited to the built in storage. You can follow through the link below to buy the tablet from the Play Store.
[Source – Play Store]