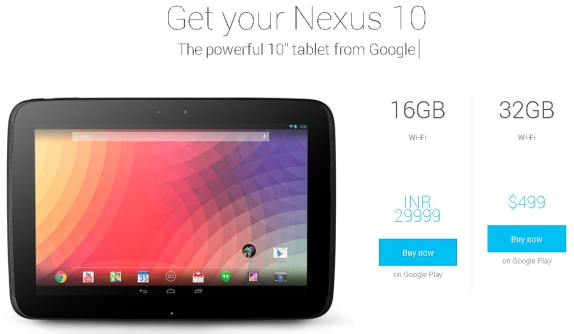 Looks like Google is bringing one more Nexus device soon to India but in this case a slightly old tablet the Nexus 10. The Nexus 10 was announced last year along with the Nexus 7 and Nexus 4 and went on sale in November 2012. Almost a year later there is an indication of this Android tablet coming to India on the Google Play Store when there are in fact rumors about the Nexus 10 version 2. The pricing is mentioned as Rs.29999 and the same tablet is sold in USA for $399 before taxes which is roughly about Rs.27000 approximately which is a tad high for a WiFi only Android tablet. The Nexus 10 is actually made by Samsung and has some interesting specs.
Nexus 10 Features
10 inch 2560 x 1600 px  display
Exynos 5 Dual core processor
2GB RAM
16/32GB storage
9000mAh battery
WiFi only (There is no 3G version)
Android 4.2 JellyBean but updatable to 4.4 KitKat
Currently the 16GB version is sold out in the US Play Store and says "We are out of inventory. Please check back soon".  The 32GB version priced at $499 is still available for purchase. Again take this news with a pinch of salt as the store might be display the India pricing by mistake as we don't have any official confirmation yet.
Thx Aditya!