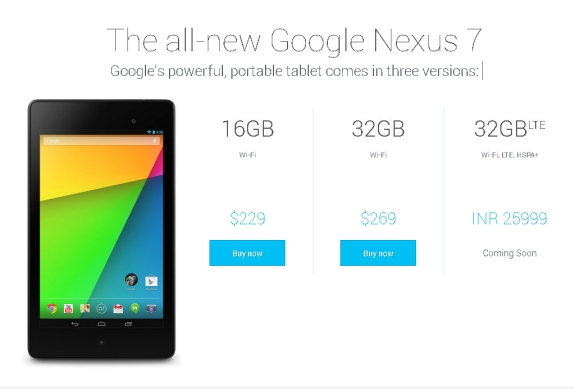 Google seems to be taking India seriously finally regarding launching new devices. The Nexus 5 which went on sale in the US recently is listed on the Google India Play Store as coming soon with even a price tag. Now the Nexus 7 2013 edition seems to have gotten a price on the  microsite for the product which was spotted by BGR India . Interestingly only the 4G LTE / Cellular version of the Nexus 7 2013 has gotten a Indian price, the WiFi versions have not got a price yet. The 32GB 4G LTE version which will work over our 3G/HSPA+ networks too is expected to be launched at Rs.25999. The tablet is sold in the US for a price of 349 USD which works out to roughly about Rs.23000 including taxes, so it seems like a  fairly decent price for the tablet India if you factor the import duty and shipping costs.
In terms of specs , the Nexus 7 2013 packs a really sweet Full HD screen on a 7 inch tablet , is pretty light at under 300 grams and is only 8.65 mm thick.
If you don't care about owning the latest Nexus 7 tablet but are ok with getting the previous generation tablet, now might be a good time to grab it is priced considerably lower than the 2013 edition.
We had already unboxed the Nexus 7 2013 tablet at FoneArena. Do check out the video below.
httpv://www.youtube.com/watch?v=Fh93yB3mktw
If you are interested in the Cellular version , we had unboxed the LTE version too.
We already have reviewed the tablet for you to incase you want to know if the tablet is worth your money – Nexus 7 2013 Review
Thanks to Akshay Agarwal for the tip!