Nokia World event, held at Abu Dhabi witnessed a lot of device announcements from the Finnish company and among the smartphones announced was Nokia's first phablet – Nokia Lumia 1520. Nokia Lumia 1520 is the first Windows Phone device to be powered by a quad-core processor and not only is it the first phablet from Nokia, but it is also the first Windows Phone phablet. We bring you a quick hands-on comparison video between Nokia's beast of a device and LG's flagship – LG G2. LG G2 is also powered by the same quad-core processor that powers the giant Lumia 1520, but everything else about the two phones is quite different.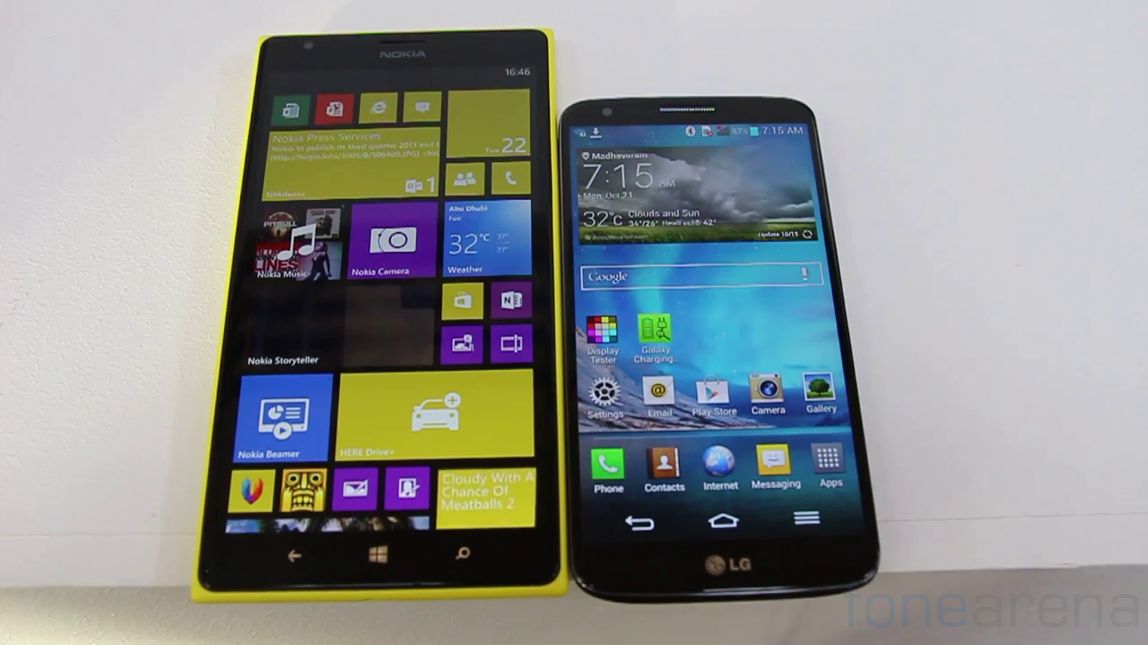 Check out the quick comparison video right below.
httpv://www.youtube.com/watch?v=LKJf1FTZSpM
In terms of looks and size, Nokia Lumia 1520 is no doubt a phablet and LG G2 looks small despite its 5.2inch display. Nokia Lumia 1520 follows the typical Nokia Lumia build which consists of a polycarbonate matte-finish unibody while LG G2 is made of a glossy and slippery plastic body with its power lock button and volume rocker on its back. Nokia Lumia 1520, being a phablet comes with a giant 6inch Full HD IPS LCD display with Nokia's ClearBlack technology and a pixel density of 367ppi that dwarves the otherwise big 5.2inch FullHD True IPS+ display of LG G2 which has a pixel density of 424ppi. In terms of dimensions, the Lumia 1520 is wider, taller but thinner than LG G2. In terms of weight, the Lumia 1520 weighs around 209g while LG G2 is much lighter around 143g.
Both the devices are powered by Snapdragon 800 SoC, have 2GB RAM and Adreno 330 GPU. In terms of internal storage, Nokia Lumia 1520 comes with 32GB internal storage and a microSD card slot for expansion while LG G2 comes in 16/32GB variants and there is no microSD card slot for expansion. Camera continues to set these two phablets further apart as Nokia Lumia 1520 comes with a 20MP PureView camera that produces 16MP images and over-sampled 5MP images while LG G2 comes with a nice 13MP camera. Both the phones are equipped with OIS and LG G2 can record 1080p videos at 60fps which is not possible in Lumia 1520(atleast yet). There is a dual-LED flash on Lumia 1520 while LG G2 has just an LED flash.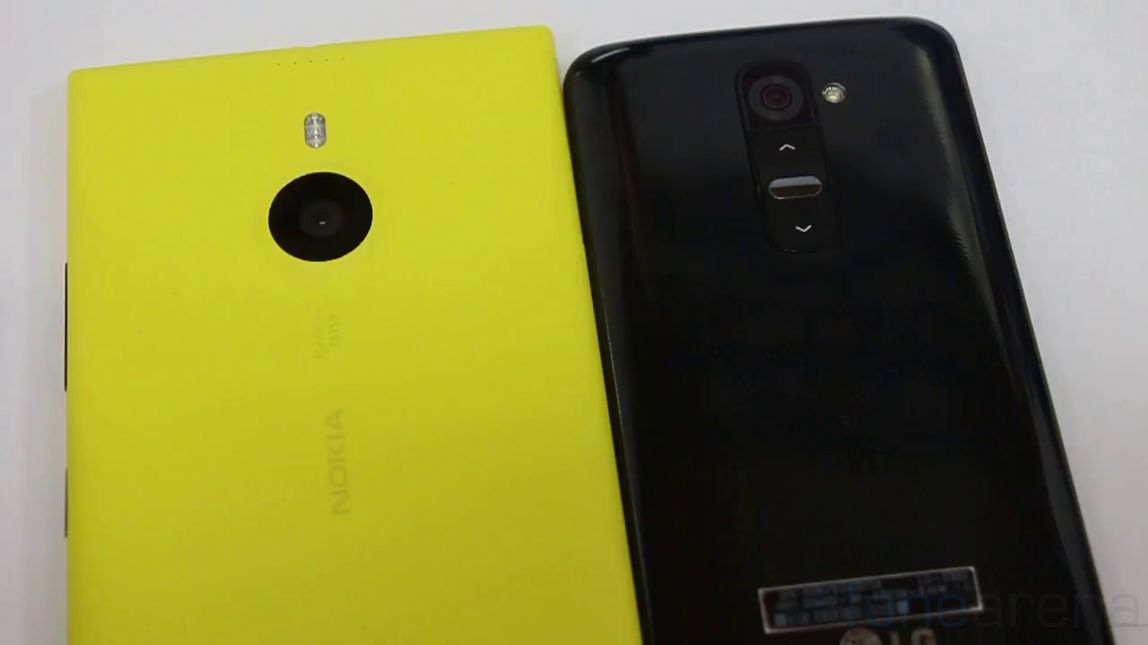 Nokia Lumia 1520 runs on Windows Phone 8 Black while LG G2 runs on a skinned version of Android 4.2.2 Jellybean. It comes some software features for multitasking and note-taking.
Which of two would you prefer? Windows Phone phablet or the Android powerhouse? Let us know in the comments below.
If you din't know already, we are giving away a LG G2. You can head over to our giveaway page here and stand a chance to win the LG G2.