The final Nokia World event at Abu Dhabi was an eventful one for Windows Phone fans as Nokia finally introduced a phablet. Nokia Lumia 1520 will be known as the first Windows Phone phablet, the first Windows Phone 8 smartphone to feature a quad-core processor and the first Windows Phone device to come with a 1080p display. We bring you the hands-on comparison between Nokia's first phablet and Sony's first phablet- Xperia Z Ultra. Both the devices share some similarities despite being on completely different planets.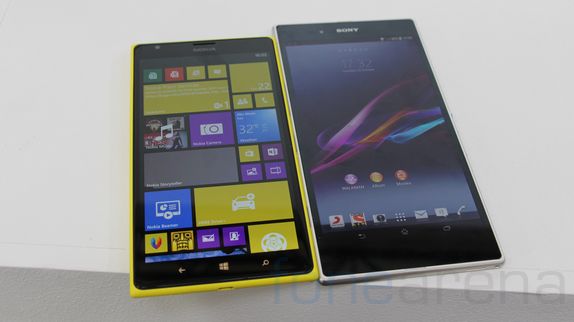 You can find our quick hands-on comparison video between the Lumia 1520 and Xperia Z Ultra right below.
In terms of looks, the phablets couldn't be any different. Nokia Lumia 1520 has a polycarbonate matte-finish unibody which is the trademark build of a high-end Lumia device while the Xperia Z Ultra follows Sony's omni-balance design in a slab-like build with glass at the front and back. Both the phones have a huge FullHD display – Lumia 1520 has a 6inch Full HD IPS LCD display with Nokia's ClearBlack technology with a pixel density of 367ppi while Sony's Xperia Z Ultra has a 6.44inch Full HD Triluminous display with a pixel density of 344ppi. In terms of dimensions, the Xperia Z Ultra is wider and taller than the Lumia 1520, but is considerably thinner and both the phones weigh nearly the same around 210g. Xperia Z Ultra is water and dust resistant while the Lumia 1520 is not.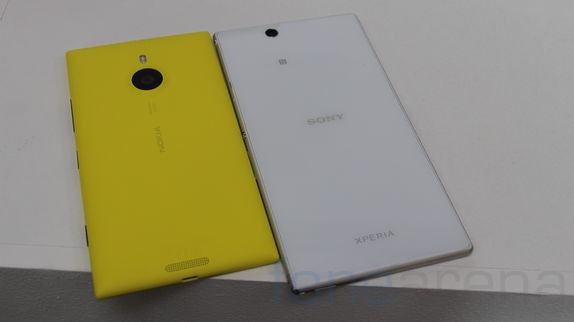 Both the phones are powered by Snapdragon 800 SoC clocked at 2.2GHz, have 2GB RAM and Adreno 330 GPU. There is also a microSD card in both the phones and the Lumia 1520 has 32GB internal storage while the Xperia Z Ultra has just 16GB internal storage. Camera is one of the major distinguishing feature between the two phablets as Nokia Lumia 1520 comes with a huge 20MP PureView camera that produces 16MP images and over-sampled 5MP images while the Xperia Z Ultra has a mediocre 8MP camera. There is a dual-LED flash on Lumia 1520 while Xperia Z Ultra does not have even a LED flash.
Which phablet appeals to you better? Will you choose Windows over Android for a phone like Lumia 1520? Let us know in the comments below.