Among the many phones launched at the Nokia World event in Abu Dhabi, only one product was capable of being the flagship – Lumia 1520. Nokia Lumia 1520 is the first Windows Phone phablet, it is the first Windows Phone device with a 1080p display and the first Windows Phone 8 smartphone to feature a quad-core processor. We bring you a hands-on comparison with HTC's current flagship – HTC One right from the event floor. HTC One was announced way back in February earlier this year and it continues to be one of the best looking Android smartphones.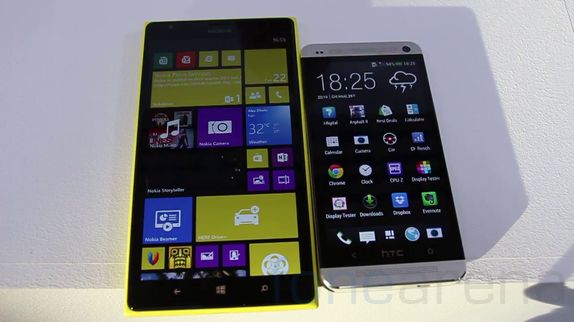 Check out our quick hands-on comparison video between the Lumia 1520 and HTC One right below.
Among many differences between the two, the most noticeable is display – Lumia 1520 has a huge 6inch Full HD IPS LCD Nokia ClearBlack display(367ppi) while HTC One has a 4.7inch Full HD SLCD3 display with a pixel density of 469ppi. The Lumia 1520 is a phablet while the HTC One is a phone and hence the dimensions of Lumia 1520 are much bigger than the HTC One. In terms of weight, Lumia 1520 weighs are 209g while the aluminum clad HTC One weighs just around 143g. Lumia 1520 has a typical Lumia finish with a polycarbonate unibody while the HTC One has an aluminum unibody.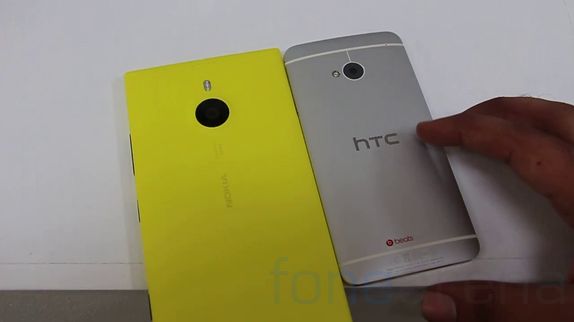 Nokia Lumia 1520 is powered by a Snapdragon 800 SoC with its four cores clocked at 2.2GHz, has 2GB of RAM and Adreno 330 GPU while HTC One is runs on a 1.7GHz Snapdragon 600 SoC, has 2GB RAM and Adreno 320 GPU. There is also a microSD card in the Lumia 1520 in addition to the 32GB internal storage while HTC One has just an internal storage of 32/64GB. In terms of camera, both the phones come with OIS(Optical Image Stabilization). But Nokia Lumia 1520 comes with a huge 20MP camera that produces 16MP images and over-sampled 5MP images while the HTC One has a 4UltraPixel camera. There is a dual-LED flash on the Lumia 1520 while the HTC One has a single LED flash.
What do you think of the two phones? Which one grabs your attention?