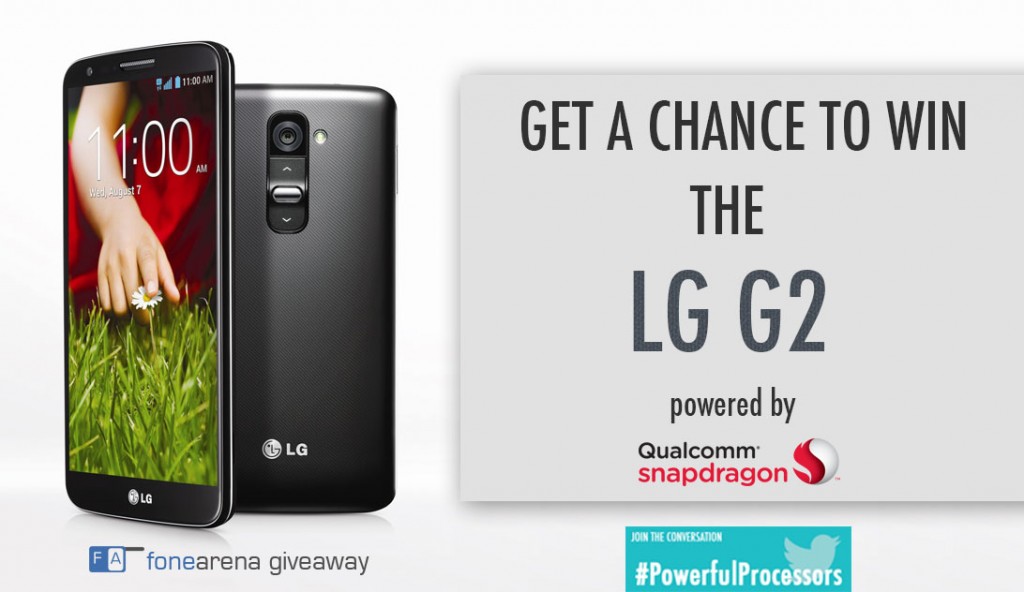 Thanks to the great response for the second Qualcomm Snapdragon Powerful Processors Giveaway, we are pleased to announce the 3rd and final giveaway in the series. All you have to do is just answer a couple of questions and you can walk away with one brand new Snapdragon device – LG G2 which is powered by a blazing fast Snapdragon 800 processor. Dive into the contest below and send in your entry.
There are three small tasks to complete, for a single valid entry to the giveaway contest.
One – To be eligible for the contest –
Two – Fill the contest form below with your answers. Please do make sure you enter the right details, like the e-mail and the postal address, else it will be hard for us to track you down.
Three – You can also increase your chances of winning by mentioning @fonearena and @qualcomm_in with your answers to the questions along with the hashtag #PowerfulProcessors
For example : @fonearena @qualcomm_in 1a 2b  #PowerfulProcessors <— THIS IS JUST AN EXAMPLE!
Please make sure you pick the answers before you tweet. Tweeting does increase your chances of winning but refrain from spamming or we will not consider your tweets.
In case you are looking for a clue , check out the Qualcomm Snapdragon hub on FoneArena. There are several devices powered by Snapdragon available in the market in India.
This giveaway is sponsored by Qualcomm Snapdragon and is open to participants only in India. One winner will be picked in a lucky draw from all the valid entries.