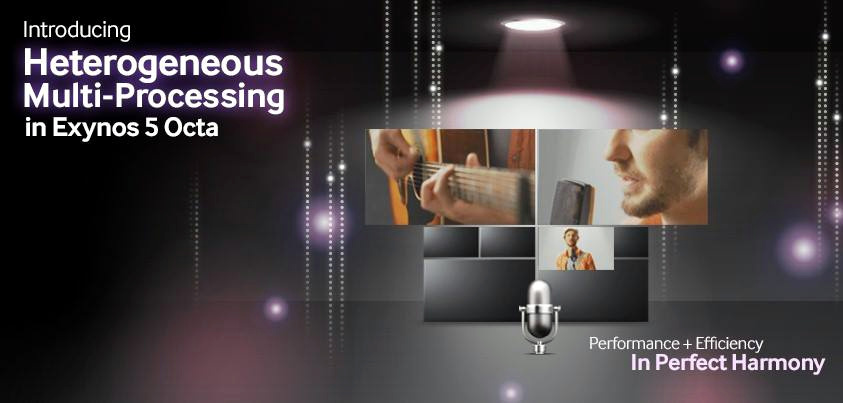 Samsung has announced that the company's Exynos 5 Octa chip would get Heterogeneous Multi-Processing (HMP) that would let each CPU to be switched on or off as needed and also enables the use of all physical cores at the same time. This would offer  high-performance and low-power to carry out tasks such as 3D gaming, complex augmented reality and advanced web browsing, says Samsung. MediaTek announced the new MT8135 quad-core chip and True Octa-Core solution with ARM big.LITTLE architecture, which also uses a similar Heterogeneous Multi-Processing technique to use all the core at the same time.
The Multi-processing software controls the scheduling of threads of execution to the appropriate core. In earlier versions of the big.LITTLE software, the whole processor context is moved up to the 'big' core or down to the 'LITTLE' core based on the measured work load.
In the new Heterogeneous Multi-Processing method Software threads with high priority or high computational intensity can be allocated to the big Cortex-A15 cores, while threads with less priority or are less computationally intensive can be performed by the LITTLE Cortex-A7 cores, achieving high-performance with low-energy for  multi-processing capability in mobile devices.
The Heterogeneous Multi-Processing (HMP) solution for Samsung Exynos 5 Octa application processors would be available in Q4 2013.
Here is a video from Samsung that shows off the uses of Heterogeneous Multi-Processing (HMP)
httpv://www.youtube.com/watch?v=Zwbeb08W27U