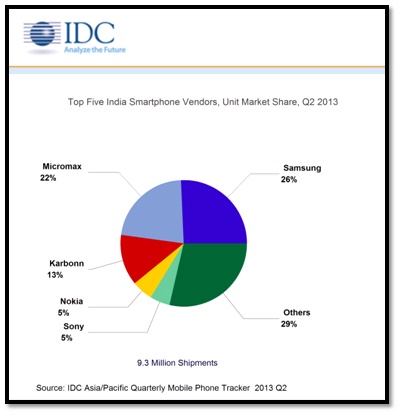 You might have seen us reporting on various marketshare reports each month coming from a company called IDC. Usually, the company provides a wider perspective of the global market for mobile phones as well as smartphones, but this time, they have focused on the second fastest growing mobile phone market in the world, India. We saw in June that the overall shipments of Smartphones in India was at just 6.1 million devices, but in a quarter, it has risen to 9.3 million shipments, according to IDC. And over half of the shipments were from local players like Micromax, Karbonn and the others, with the former taking the no. 2 and 3 positions of the Top 5 Smartphone vendors in the Indian market respectively.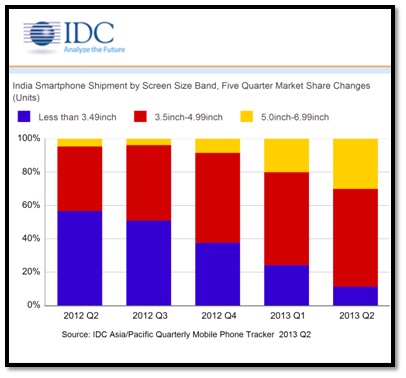 Micromax is now the no. 2 Smartphone player with 22% marketshare, just behind the market leader Samsung, at 26%. This amazing change is all thanks to the Phablet revolution in India, with >5 inch devices taking up more than 25% of the overall Smartphone sales. While Micromax has capitalized on the Phablet revolution, Karbonn has taken a similar, but even more aggressive approach, with high spec'd devices being offered at a comparatively lower price. Also, Samsung might have retained the lead with its own large screened devices in a wide range of prices and the best seller Galaxy Star, but the threat is clear.
The overall market volumes are currently low for Smartphones when compared to global trends, but the growth rate has been phenomenal, with companies like Micromax crossing 2 million devices in overall shipments. IDC says that the local players are the ones that have successfully transitioned from feature phones to Smartphones, like, for example, Celkon, Intex and Lava, apart from Karbonn and Micromax that is. This has left legacy players like Sony and Nokia to the 4th and 5th places in the market respectively, with 5% of the marketshare each. IDC also adds that Nokia has picked up, thanks to the Lumia 520 and is positioned for growth, while Sony has also picked up with competing EMI schemes and more dual SIM devices in the mid range price bracket.
Commenting on the growth, IDC says that it is clearly the mass volume-centric devices at the low end that has spurred the Smartphone's rate of adoption. These devices, with large screens and Dual SIM functionality are the main contributors to growth, especially with really attractive price tags. But will this endure? What will the next year look like? Sound off in the comments section below!
Source IDC