It's been long rumoured that Nokia is launching a Windows tablet, and that might actually come true if the recent leaks are to be believed. Windows Phone Central reports that Nokia is having a launch event in New York on September 26th and 27th spanning two days, for a rumoured tablet announcement. The above image is a screenshot of a purported event invite that is doing the rounds internally. Is this actually the Nokia World event this year? Quite possibly.
The timeframe of the event suggests that this is possibly a grand reveal, just like the reveal of the Lumia 920 last year. After having launched the Lumia 1020 just now, Nokia might not be launching yet another flagship or a range of devices soon, so the possibility of a tablet launch is high. Also, according to WPCentral, the Nokia phablet is scheduled to be announced only after the Windows Phone GDR3 update in November, that adds support for 1080p displays. So that rules out yet another possible release, which makes us wonder about the tablet again.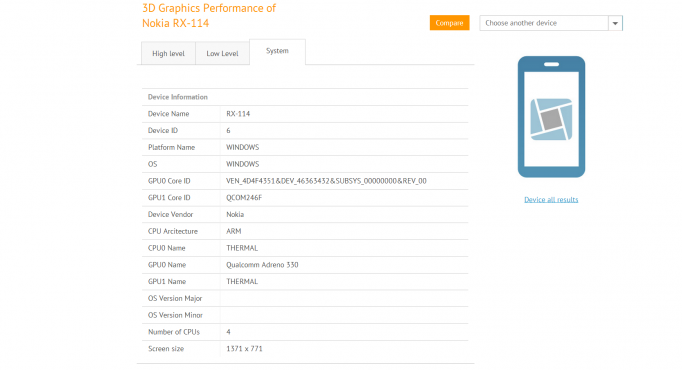 To reinforce our suspicions, there was a recent leak in GFXBench, a benchmarking tool used by testers. This revealed a Nokia device codenamed RX-114, running on Windows, with the Adreno 330 GPU. The Adreno 330 reference suggests the Snapdragon 800 chipset, which has been officially confirmed to support Windows RT 8.1. It also has a weird screen resolution(1371×771), which is highly inaccurate, according to people familiar with the matter. But apart from the resolution, other details seem to be on the money, with a Windows RT 8.1 powered Nokia tablet in the works. WPCentral also quotes a reliable source claiming –
[The Nokia Tablet is]…smallish, something like 11 inches, using Windows of course. I have very little detailed information, but the design was very much in the same style as their Lumia phones with bright colors and rounded corners. The model they showed me was bright red.
If the rumours, leaks and "people familiar with the matter" are to be believed, the Nokia Windows RT tablet is indeed real. Like any pre release device, the plans might change, and who knows, it might be a haswell based Windows 8 tablet too, so we cannot be sure of anything as of now. But the timing, which coincides with the sale of Windows 8.1(RTMs in August) might just be perfect for a Nokia tablet launch.
It's a good two months away from the supposed launch date, and we hope to uncover more information as time goes by. Till then, stay tuned to our blog for the latest updates.
Source WPCentral