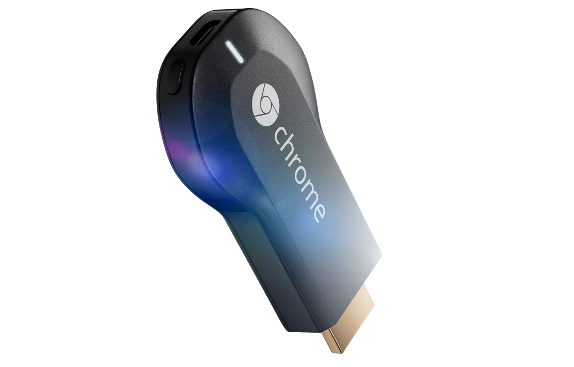 Google has announced a new product called Chromecast that allows you to use your phone, tablet or laptop to cast online content to your TV screen by plugging the Chromecast device in to your high-definition (HD).  It works with Netflix, YouTube, Google Play Movies & TV, and Google Play Music and more. Google promises that  more apps like would be available soon.
httpv://www.youtube.com/watch?v=cKG5HDyTW8o
This doesn't require a remote, once your Chromecast is set up, you can use your phone, tablet or laptop to browse and cast content to your TV, play and pause, control the volume, and more at the same time multitask. The Chromecast has HDMI out and WiFi 802.11 b/g/n support to connect to your devices. You need a Wi-Fi enabled device and HDTV to use Chromecast and a Wi-Fi router.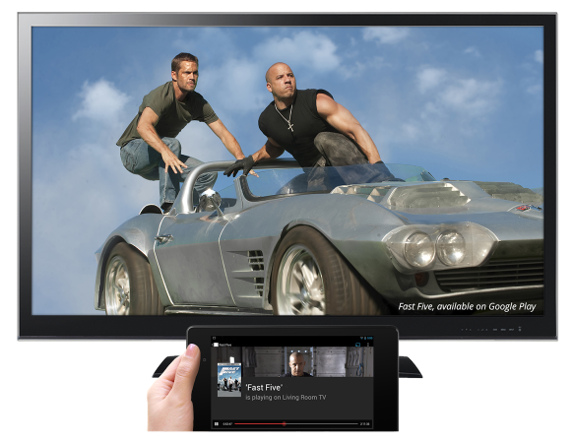 Features of Chromecast
Watch thousands of TV shows and movies on your TV using Netflix
Enjoy trending videos, old favorites, and everything in between on your TV via YouTube
Send movies, TV shows, and music from Google Play to your TV
Cast a tab from Chrome to enjoy online videos, music, photos, and more on your TV
It works on Android smartphone 2.3 and higher, iPhone and iPad with iOS 6 and higher, Laptops or PCs running on Windows 7 and higher, Mac OS 10.7 and higher and  Chromebook Pixel that runs on Chrome OS with additional Chromebooks coming soon. Google has also announced Google Cast, a technology that enables developers to build consistent, intuitive multi-screen experiences across mobile devices and TVs. They are also working with partners on bringing the technology in a range of hardware in the future.
The Google Chromecast costs $35 and is available for order from Google Play, Amazon and Best Buy in the U.S.
[Update: Google has released the Chromecast app for Android devices on Google Play, but it is available only in the U.S.]