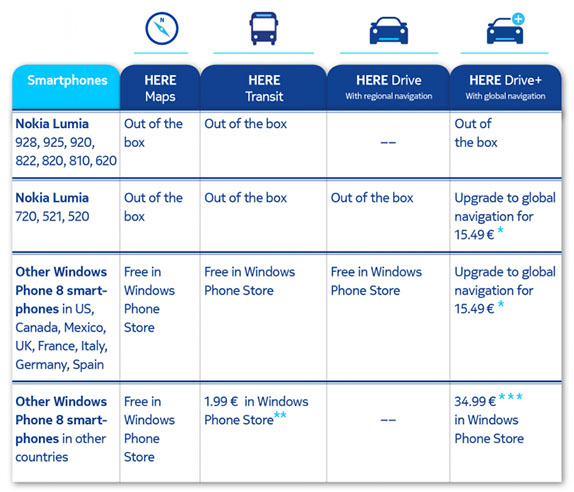 HERE, the location asset that Nokia is proud of, has just been announced for all Windows Phone 8 devices, not just a Nokia Lumia. This is a significant step towards Nokia's contribution to the Windows Phone ecosystem, even though Nokia owns a majority of the market share. Devices like the HTC 8X will now be graced with HERE navigation and location apps that you get for free on Nokia Lumia smartphones. The apps include HERE Maps, HERE Transit and HERE Drive(with Drive+ for Global navigation). The picture above tells you the availability and the pricing of the new HERE apps that will be released for all Windows Phone 8 smartphones this week, with an update for all the Nokia Lumia devices.
As you see above, the Nokia Lumia high end devices right from the 8 and the 9 series devices, including the 620 get HERE Drive+ and all the apps free out of the box, while the lower end 520, 521 and the 720 get everything except the HERE Drive+ app, which costs 15.49 EUR for a global navigation license. This license can be bought in-app.
Coming to other Windows Phone 8 devices, there seem to be some region level differences with countries like US, Canada, Mexico, UK, France, Ital, Germany and Spain getting the free Transit app as well as the free local navigation license through HERE Drive while all the other countries supported by HERE need to pay 1.99 EUR for HERE Transit while doling out a hefty 34.99 EUR for the global navigation license, which is the only navigation solution available. No regional navigation license is available for free for devices in other countries.
It is good that Nokia is trying to make a business out of their Location assets, but considering that almost 90% of the Windows Phones sold in the world are Nokia's, there is little concern of being left out. While it definitely creates a differentiation factor, the move rather indicates Nokia's commitment to the platform as a whole, which might actually entice other manufacturers to actually take a look at the platform. More information at the source link.
Source Nokia