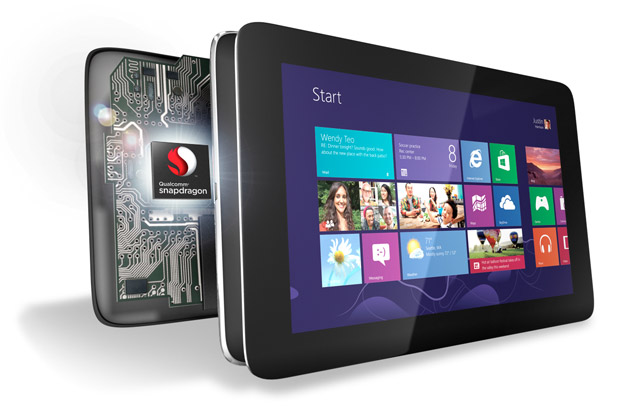 It is a well known fact that Qualcomm is one of the leading chip providers for the Windows RT ecosystem as well as the Windows Phone ecosystem. At the Computex event in Taipei, they have gone ahead and announced that their Snapdragon 800 series of powerful high end chipsets will include support for the Windows RT 8.1 platform. Powered by quad core processors with upto 2.2 GHz clock speeds per core, this marks a huge upgrade from the yesteryear dual core S4 plus chipsets that were used for the first Windows RT tablets, like the Dell XPS 10 for example. The Adreno 330 graphics is supposed to offer even greater graphics performance, and with additional support of in-built LTE and USB 3.0, the performance and feature gains for the Windows RT 8.1 are massive.
Talking of the collaboration –
"Qualcomm Technologies is committed to the Windows ecosystem and we are excited to be supporting Windows RT 8.1 with our flagship Snapdragon 800 processors," said Luis Pineda, senior vice president of product management, computing and consumer products at Qualcomm Technologies, Inc. "Our Snapdragon 800 processors offer the best combination of high performance, efficient power usage and LTE network support and will help enable greater flexibility and connectivity options to Microsoft and device manufacturers. Snapdragon 800 processors deliver significant performance improvements across the entire SoC along with support for new Windows RT 8.1 features and services."
There has been a lot of confusion lately with most people questioning the future of Windows RT, if you are one of them we suggest you read this, to make better sense of the platform. Qualcomm has said that the new Snapdragon 800 powered Windows RT 8.1 tablets will be arriving later this year, with no usual specifics announced, in terms of partners or dates. We will be bringing you more information on this as it arrives.