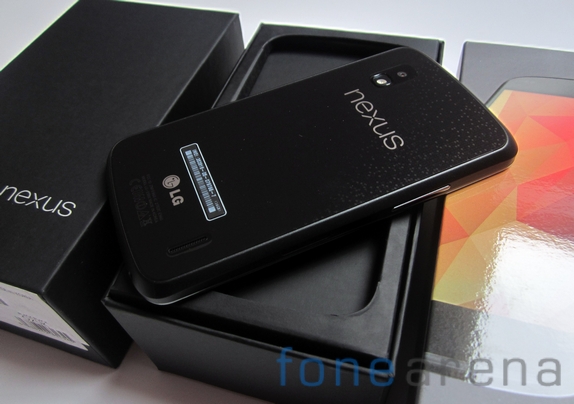 Google is yet to release the Nexus 4 in India on their official Play Store, but the phone has appeared on the online retail site Flipkart at a price tag of Rs. 25,990. Google started selling the Nexus 7 through their official Play Store in India back in March 2013 and the Nexus 4 page on the Google Play said it is not available in India. The 3G version of the Nexus 7 went on sale from retail stores last month and from online retailers earlier this month, but it is not available from Google Play Store.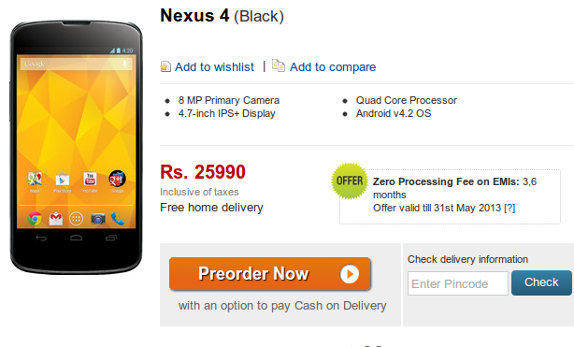 LG and Google announced the Nexus 4 back in October last year, and it packs a 4.7-inch (1280 x 768 pixels) True HD IPS Plus display, powered by a 1.5GHz Quad-Core Qualcomm Snapdragon S4 Pro processor and runs on Android Jelly Bean OS. It comes with a 8-megapixel rear camera and a 1.3-megapixel front camera. It has 16GB of internal memory and packs a 2100 mAh battery. It is priced at US$299  for a 8GB version and US$349 for a 16GB version in the U.S. We can't expect a new Nexus device at the Google I/O that is scheduled later today, but the White Nexus 4 is expected to launch at the I/O.
The Flipkart page says out of stock, with out any expected availability. Hope we can expect Google to launch the device officially on the Google Play in India soon.
[Update: Flipkart has just tweeted that the Google Nexus 4 is on pre-order from them. It is expected to ship in the 4th week of May]
Source: Flipkart