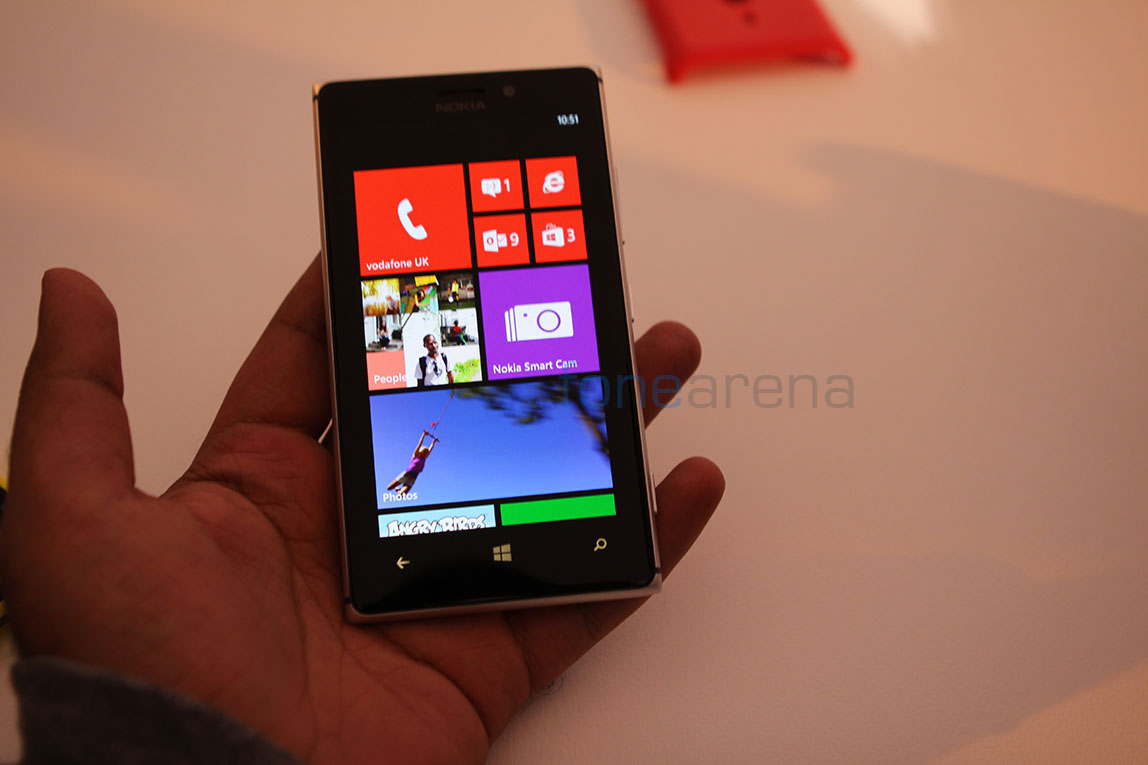 I am here in London , United Kingdom for the Nokia Lumia event where the handset maker announced the latest addition to its Lumia line up of Windows Phones. I got some hands on time with Lumia 925 and here are my first impressions. The Lumia 925 might be the best Windows Phone device to be announced till now. It is also one of the most well made phones we have had a chance to play with in the recent times like the HTC One or iPhone 5. Nokia decided to use an aluminum frame for the 925 and the phone has a premium feel to it because of this. The back is not made of metal but uses plastic, polycarbonate material. The main highlight of the Lumia 925 is the Camera with supposedly best-in class low light camera performance. Watch the hands-on video below
httpv://www.youtube.com/watch?v=SAjAHjf6PWY
The 4.5 inch display is a nice AMOLED screen but sadly only sports a resolution of 1280×768 pixels. But still pictures look pretty good on the display and considering the screen size is not too big , the resolution is not too bad.The phone is relatively light weight at 139 grams compared to the Lumia 920. It is also a lot thinner at 8.5 mm. In terms of the internals , the 925 packs 1 GB of RAM and is powered by a 1.5GHz Dual-core Qualcomm Snapdragon CPU. There is 16GB of inbuilt memory on board and there is no microSD card slot. There is 7GB of free Skydrive cloud storage though.
The camera is a 8.7 MP sensor on the back and a 1.2 MP wide angle front facing camera. The rear camera seem pretty impressive from our limited time with the device.It is surely a huge step from the Lumia 920 in terms of quality and features the same Optical Image Stabilization for video capture in 1080p HD.
The right side of the phone has the dedicated camera key , the lock key and the volume key. The left side and the bottom are plain and smooth. The microUSB port, the microSIM card tray and the 3.5mm audio jack all sit on the top of the phone and is a small change from the 920. The loud speaker also is bigger and is present at the back below the pins present for the wireless charging cover.
Nokia has decided to remove the built-in Wireless Charging feature on the 925, instead there are pins on the back which when connected to a compatible wireless charging cover , make the phone compatible with Wireless Chargers. This cover also provides a small amount of protection to the phone itself including the Camera while adding capability for wireless charging.
As expected , the Lumia 925 runs on Windows Phone 8 with a lot of software enhancements from Nokia like smart camera and creative studio and the usual Nokia goodies like Maps and Music.
The Lumia 925 is priced at around 469 euros and launching in some markets in June.It is coming soon to India as well.