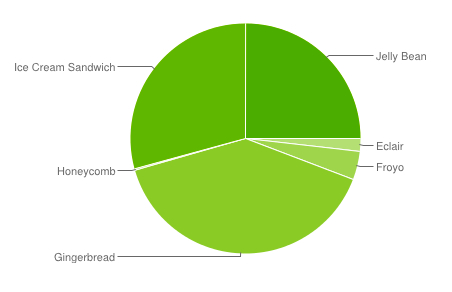 Google has released the Android's Platform Distribution Numbers for the March to April 2013. Devices running on Jelly Bean (Android 4.1 and 4.2) has jumped from 16.5% to 25% compared to February to March stats. This 8.5% jump in a single month shows that manufacturers have started releasing new Jelly Bean devices. Companies like Samsung and Sony have started releasing Jelly Bean updates for their high-end and mid-range devices. Even Indian companies have started rolling out Jelly Bean updates for their devices, but the contribution of these devices might be very less. Micromax A110 Canvas 2 and Salora PowerMaxx got the Android 4.1 Jelly Bean update last month.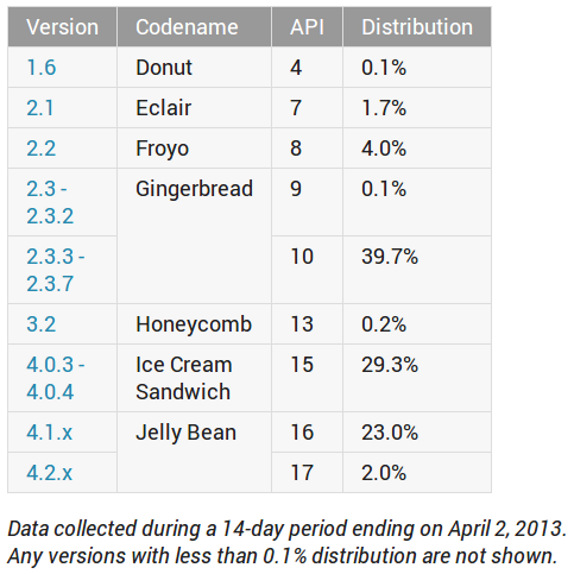 Gingerbread continues to descend, which is down from 44.1% to 39.8% compared to last month, which is still at the top. Ice Cream Sandwich still continues to increase, which is now present on 29.3% of devices.
 Devices running on Froyo and Eclair continue to decrease, which are at 4.0% and 1.7%, respectively.
Google has changed the Android distriution tracking method. It now collects data based on user visits the Google Play Store, instead of the old method which collected the disctribution stats when a user checked-in to Google servers. They say this method would be more accurate.