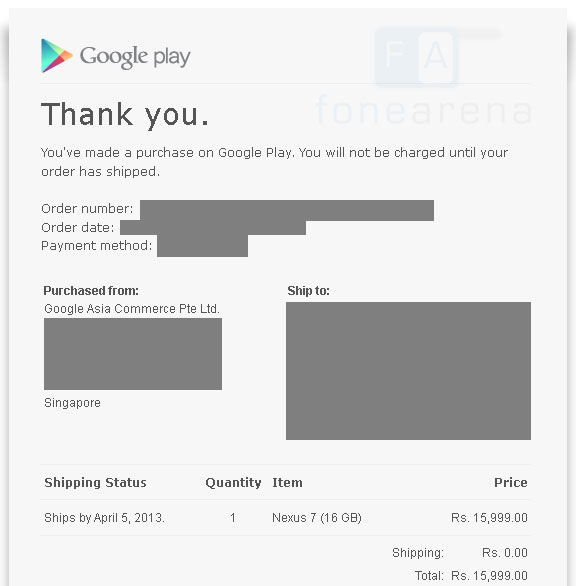 The Nexus 7 16GB WiFi version is the first device to be sold officially by Google in India. We brought you the news of the launch yesterday and we have some interesting info to share . The device will be shipped by April 5th 2013 from Singapore ! One of our readers sent us this order receipt which indicates the same. Google has tied up with Fedex and Aramex to handle the logistics including the delivery of the device to your door.
While the price of the 16GB Nexus 7 in the US is about $237 or Rs.13000 approx including taxes and shipping.There is a import duty of about 16% imposed on tablet computers which puts the final cost at around Rs.15000 approx. Although the price is marginally expensive compared to US, it is still much lower than the ridiculous pricing of Rs.19981  by Croma for the device back in November last year.If you plan to travel to the US or have any friends or family members , it still makes sense to purchase it there. Google might also announce the successor to the Nexus 7 at the company's Google I/O developer conference in May. But if you still want an Android tablet with a supreme Android experience without much hassle, you could go for it .
Since this is the final price and Google is handling the shipping and delivery,  it does not seem like there would be extra charges payable by the customer upon delivery.Ironically Singapore has not got the Nexus 7 through the Play Store till date.
Thanks to Anonymous reader for the tip!