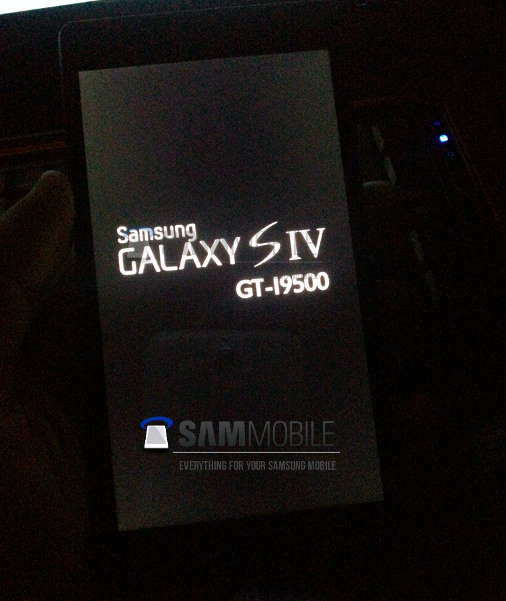 Samsung Galaxy S4 cases leaked recently, now the first image of Galaxy S4 has surfaced online showing the boot screen. According to SamMobile, the Galaxy S4 would not feature a Exynos processor and AMOLED display, instead the next phone in the Galaxy S series would feature a 1.9 GHz quad-core Qualcomm Snapdragon 600 and have a 4.99-inch Full-HD SoLux Display.
We have already seen the LG Optimus G Pro and the HTC One with the quad-core Snapdragon 600 processor clocked at 1.7 GHz. The reason behind the use of Qualcomm processor is rumored to be over heating issues with the Exynos processors. It would be 7.7 mm thick and weigh 138 gram. It would come with Home button with touch buttons and have a removable plastic back similar to the previous versions but it would have aluminium sides.
According to the earlier rumors, the Galaxy S4 would come with a Android Jelly Bean OS, 2GB of RAM, up to 64GB internal memory, 13MP Camera, 2MP front-facing camera and wireless charging. Samsung is expected to unveil the Galaxy S4 at the unpacked event on March 14th. Looks like we have to wait for the official announcement to see what Samsung has to offer.
Source: SamMobile